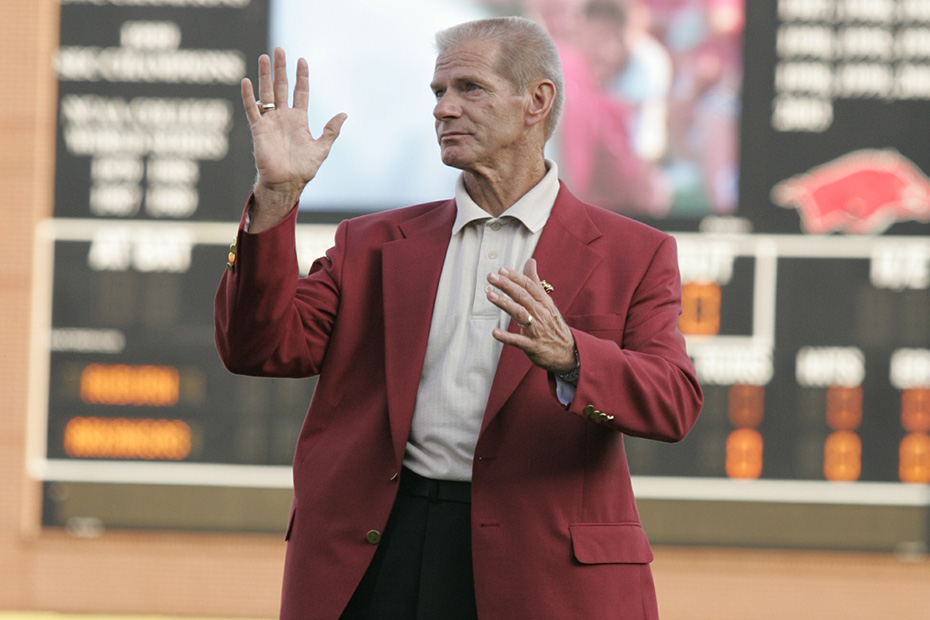 DeBriyn Named Interim Executive Director of Razorback Foundation
FAYETTEVILLE, Ark. – Former Arkansas head baseball coach and current Associate Director of the Razorback Foundation Norm DeBriyn has been selected as the interim executive director of the Razorback Foundation it was announced on Monday. DeBriyn will serve in the leadership role until a new executive director is selected to replace Sean Rochelle, who announced his resignation from the position, effective September 1, earlier this summer.
"During this time of transition, I appreciate the confidence Jeff Long and Ken Mourton have expressed in me to lead the Razorback Foundation," Norm DeBriyn said. "I'm looking forward to the opportunity to work with the outstanding team we have here at the Razorback Foundation. It truly is a team effort and each one of our team members brings a different expertise in working to better serve our membership. We are moving forward with so many exciting things at the Razorback Foundation. I want to thank Sean Rochelle for his outstanding leadership and wish him the very best. We are excited for the upcoming year and our continued work in support of Razorback student-athletes."
DeBriyn has also announced his plans to retire from the Razorback Foundation on January 8, 2016. DeBriyn joined the Razorback Foundation in 2002 after 33 seasons as the head baseball coach at the University of Arkansas.
"Often in life, you know when it is time," DeBriyn said. "I knew it was time when I retired from coaching. And now, I know that, beginning in January, it is time for me to make the transition into something else I am also very passionate about. I thank God for longevity and appreciate the support through the years from all the Razorback Foundation members, fans and colleagues I have worked with through my career at Arkansas. I am looking forward to spending the next five months saying thank you and working to help position the Razorback program for even more success in the years to come."
DeBriyn has been associated with the Razorback program for more than 45 years, including 33 years as a coach and 12 years with the Razorback Foundation. Hired as the head baseball coach in 1970, DeBriyn guided the Razorbacks to two Southwest Conference titles, one Southeastern Conference title, one SEC Western Division title, 15 NCAA Tournament appearances and four NCAA College World Series appearances.
Upon his retirement from coaching, DeBriyn ranked 14th all-time in career wins among NCAA Division I head coaches with a record of 1,161-650-6 and a career winning percentage of .641. He still ranks as the University of Arkansas' all-time victories leader. He was inducted into the Arkansas Sports Hall of Fame and the Razorback Hall of Honor in 1991. He is scheduled to be inducted into the Southwest Conference Hall of Fame in October.
"As we work to identify our next executive director, it was imperative that we have someone serve on an interim basis to help maintain the momentum we have built within the Razorback Foundation," Razorback Foundation Board Chairman Ken Mourton said. "Coach DeBriyn has a great understanding of our membership and how we can continue to better serve them. It is fitting that as Coach DeBriyn prepares for his retirement in January, that he has stepped up for one more important pinch hitting role for the benefit of the Razorbacks. Our Board and everyone associated with the Razorback Foundation appreciate his leadership and his distinguished service."
A search committee has been formed to conduct the search for a full-time executive director of the Razorback Foundation. The committee is comprised of Razorback Foundation Board Chairman Ken Mourton, University of Arkansas Vice Chancellor and Director of Athletics Jeff Long and Razorback Foundation Board members Charles Balentine, Rick Chapman and Rick Massey.
"I want to thank Coach DeBriyn for agreeing to serve in this important leadership role as we conduct the search for our next executive director," Vice Chancellor and Director of Athletics Jeff Long said. "For more than four decades, Coach DeBriyn has served the University of Arkansas and Razorback Athletics as one of our finest ambassadors. After a hall of fame coaching career, he has been instrumental in the development and growth of the Razorback Foundation. Coach DeBriyn has served in a variety of roles and has always had a heart for service. When he informed me of his intent to retire from the Razorback Foundation, it didn't surprise me that his future plans included becoming even more active in ministry. We look forward to working alongside him in the coming months and wish him and Caroline the very best with his approaching retirement."