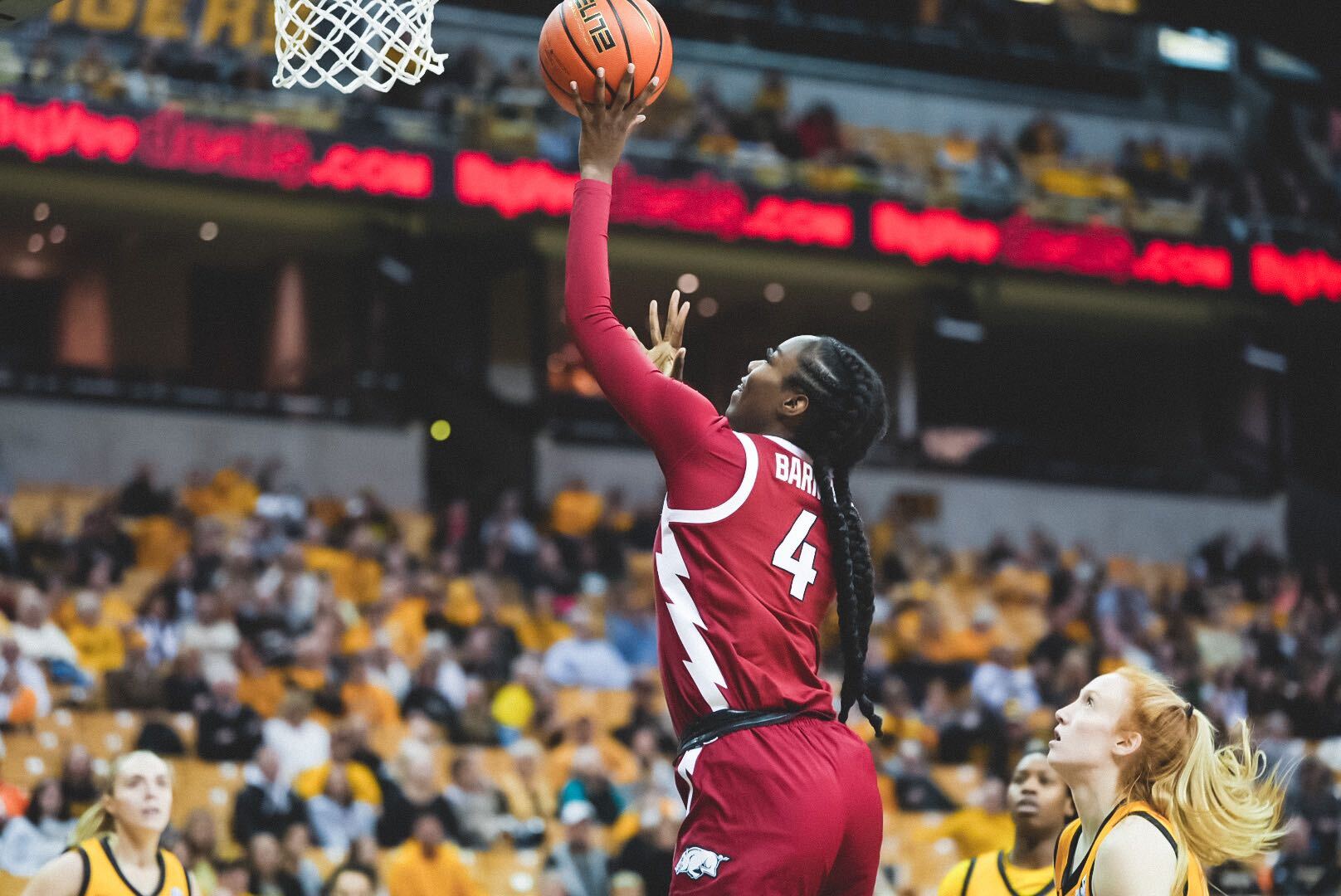 Defense, Timely Offense Gives Arkansas Eighth Straight Win Against Missouri
COLUMBIA, Mo. – The Arkansas women's basketball team (16-3, 3-1 SEC) dominated at Missouri (14-3, 3-1 SEC), 77-55, to earn their eighth straight win against the Tigers. Arkansas held Missouri to 29 percent shooting (18-of-62) and a season-low 55 points. In the win, Saylor Poffenbarger paced the Razorbacks with a career-high 24 points, while Erynn Barnum also tallied 21 points and 11 rebounds for her second double-double of the season. Chrissy Carr, who finished with 16 points, made timely 3-pointers down the stretch. Arkansas is now 3-1 in SEC play, its best start in league play since 2005-06.
 Mizzou got off to a little bit more of a better start offensively than Arkansas, as the Tigers held the 8-4 edge at the media timeout. After a three-minute scoring drought, Barnum came up with a layup and Jersey Wolfenbarger came off the bench to deliver one of her own. Mizzou ended the quarter in a four-minute scoring drought, while Arkansas was held off the scoreboard for over three minutes, as the Tigers led 9-8 after one quarter.
Poffenbarger pulled the Razorbacks ahead for the first time of the game with a tough layup. Barnum followed with another hard-fought layup, and Arkansas led 12-9 with 8:27 left in the second quarter while Mizzou was shooting 9 percent, 2-for-23, from the field. While still holding Mizzou scoreless for 11 minutes and some change, Arkansas took advantage, as a Carr 3-pointer, Arkansas' first triple of the day, pulled the Razorbacks ahead 17-9 with 5:30 left in the first half. The Razorbacks were ahead 19-9, but Mizzou broke its 11-minute scoring drought with a layup. Arkansas didn't put their foot off the gas, as Poffenbarger drained a 3-pointer. Mizzou got rolling offensively to score 13 points in the final three minutes of the quarter. Following a Tiger second-chance layup with five seconds left to inch the Tigers within six, Rylee Langerman hit a triple and the Razorbacks pulled ahead 31-22 going into the locker room.
Mizzou got rolling first with a layup off a steal, but Poffenbarger and Makayla Daniels answered with 3-pointers on back-to-back possessions. Another tough layup by Poffenbarger put the Razorbacks ahead 41-27 with seven minutes and some change remaining in the quarter. The Tigers were held in a scoring drought for two minutes, but following a Mizzou layup, the Razorbacks had the 43-29 advantage at the media timeout. Out of the break, Arkansas was held scoreless for three minutes, but Barnum got the team out of the hole with a nice layup. Mizzou scored five straight points, but a Carr jumper sent Arkansas to the final quarter up, 49-38.
The Razorbacks began the quarter on a 7-2 run, which was initiated by a second-chance layup by Barnum and capped off by a Carr triple. Following an and-1 by Poffenbarger, the Razorbacks were ahead by 22 with five minutes and some change left in the game. Missouri responded with a triple, as Arkansas led 68-47 with 4:45 remaining in the contest. Arkansas outscored Missouri 9-5 in the next four minutes and with a Poffenbarger free throw, the Razorbacks took their largest win of the day with 25 points. Missouri nailed a 3-pointer on their final possession, and Arkansas cruised to a 77-55 victory.
HOG HIGHLIGHTS
Poffenbarger earned a career-high 24 points off 8-of-16 shooting from the field and 6-of-7 from the free throw line. She added six rebounds and a block to her stats. Her most impressive performance was her defensive effort against the Tigers' leading scorer, Haley Troup, who was held to five points off 2-of-10 shooting
Barnum logged 21 points and 11 rebounds for her second double-double of the season, first since the season-opener at Arkansas – Pine Bluff. She also logged two assists, as well as a block and steal
Carr finished with 16 points, 4-of-6 from 3-point. She had four rebounds as well
Daniels finished with nine points, five rebounds and two assists
Samara Spencer pulled down a career-high nine rebounds, all on the defensive side, as well as six assists
Arkansas shot 46.8 percent (29-of-62) from the field and 33.3 percent (8-of-24) from beyond the arc. The Razorbacks were locked in on defense by holding the Tigers to 29 percent from the field (18-of-62)
The Razorbacks outrebounded Missouri, 45-37
Arkansas tallied 40 of its points in the paint
The program is off to its best start in SEC play since 2005-06
UP NEXT
Arkansas has eight days off from game action before the Razorbacks host Vanderbilt on Monday, Jan. 16, Martin Luther King Day, at 6 p.m. The game will be broadcast on SEC Network at Bud Walton Arena.
 MORE INFORMATION
For more information about Arkansas Women's Basketball, follow us on Twitter and Instagram at @RazorbackWBB and on Facebook at Facebook.com/RazorbackWBB. Be sure to subscribe to our YouTube Channel, "Kickin' It In The Neighborhood" for an inside look at the Razorback women's basketball program and check out The Neighborhood podcasts at CoachNeighbors.com.