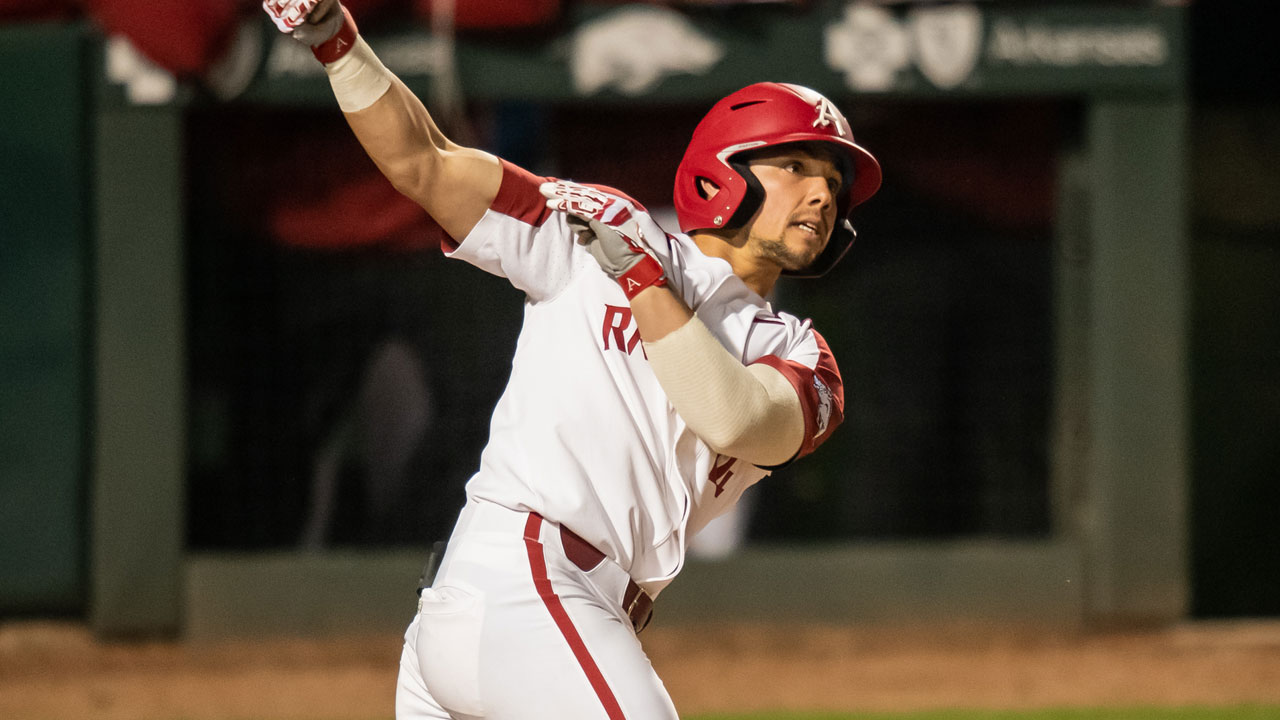 Demons Top Razorbacks To Split Series
FAYETTEVILLE, Ark. – The sixth-ranked Razorback baseball team saw its six-game winning streak snapped Wednesday afternoon as Northwestern State defeated the Hogs, 10-7, splitting their two-game midweek series at Baum-Walker Stadium.
Arkansas (31-11) struck out 12 times in the game, tying for its fifth most in a game this year. The Hogs were still able to get two-hit performances by Trevor Ezell, Casey Martin, Dominic Fletcher and Heston Kjerstad. Fletcher drove in a team-best four runs all from a grand slam in the bottom of the first inning. Fletcher finished the game 2-for-5 with two runs scored.
Fletcher has had one of the best bats in Arkansas' lineup since the wild 14-12 win at No. 6 Vanderbilt. He's hitting .438 (14-for-32) over the last seven games with 15 RBIs, four home runs and only four strikeouts. For the year, he's third on the team with a .329 batting average and eight home runs. He now has 30 home runs in his career, just outside the top-10 career totals in Arkansas history.
The grand slam was Arkansas' fourth of the year and second of the homestand. Martin, Kjerstad, Christian Franklin and now Fletcher have all hit grand slams this year and all were their first grand slams of their careers except for Kjerstad, who hit his second against Oral Roberts earlier this month.
Fletcher's slam looked to have the Hogs' offense rolling once again after putting up 19 runs the day before. However, Northwestern State reliever Peyton Graham worked through the fifth inning and limited Arkansas to only three runs, all coming in the fifth inning, while striking out seven.
Two of those Razorback runs came off a Jack Kenley triple, his team-leading fourth triple of the year, and another came from a sacrifice fly by Jacob Nesbit, which tied the game at 7-7. Unfortunately, it would be the last time Arkansas plated a run as it only got three runners on base in the final four innings.
Northwestern State's Tyler Smith led all players with a big day at the plate as he went 3-for-4 with three two-run home runs. Smith finished the game with seven RBIs and three runs scored as he hit a home run in the third, fifth and ninth innings.
Razorback Quotables
"They just beat us. I mean they played well. They had a guy on their team, (Tyler) Smith, stepped up and had a great day. He hit three home runs and drove in seven runs and we couldn't overcome it. We had a couple of chances to maybe break the game open or maybe extend a lead and we just didn't get that big hit. We did hit a lot of balls hard. You think about a couple of the balls that (Matt) Goodheart hit and (Dominic) Fletch(er) hit. Sometimes that's the way the game works. We didn't play real good, obviously. We struck out too much." – Head coach Dave Van Horn on the team's 10-7 loss to Northwestern State
"The Tennessee series is going to be a tough series. They can really, really play. They have a good team and a lot of people are just talking about their pitching – every time you look up, they're shutting teams out and giving up one run – but they're swinging the bats pretty good now, scoring runs. I think they've won five out of their last six SEC games, something along those lines, maybe six out of six, I don't know. They're playing at a high level. They're ranked now. It'll be like every weekend in the league for the most part. You're playing a really, really good club and we'll have to play well." – Head coach Dave Van Horn on playing Tennessee this weekend
Up Next
Arkansas and will take on No. 18 Tennessee for a three-game series starting on Friday at Baum-Walker Stadium. Game times are slated for 6:30 p.m. on Friday and Saturday, followed by a 4 p.m. start on Sunday. The finale will be televised on the SEC Network.
For more information on Razorback Baseball, follow @RazorbackBSB on Twitter.