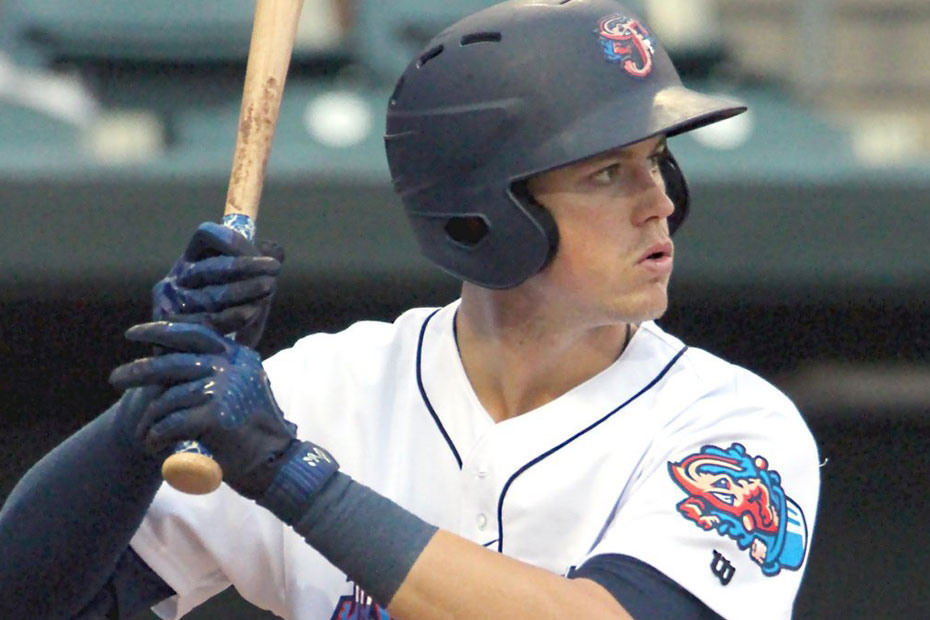 Down on the Farm: Anderson on Cusp of MLB
FAYETTEVILLE, Ark. – It's been a steady rise through the minor leagues over the last four years for former Razorback infielder Brian Anderson. The hard work has seemingly paid off as Anderson's recent promotion to Triple-A has him close to becoming the newest former Hog to reach the Major Leagues.
On July 15, Anderson was promoted from Double-A Jacksonville to Triple-A New Orleans after spending just over a year at the Double-A level. Anderson was drafted by the Miami Marlins in the third round of the 2014 MLB Draft and has slowly developed into one of the top prospects in the Marlins organization.
Since the promotion, Anderson has been hitting .344 in nine games, including two home runs with a .948 OPS. It's still early in his Triple-A career, but Anderson's play for Double-A Jacksonville was what earned him some high recognition throughout the minors.
As the third-ranked Marlins prospect by MLBPipeline.com, Anderson was one of the most consistent hitters for Jacksonville this year as he compiled a .251 average with 55 RBIs, which still leads the team even after his promotion.
Anderson was recently selected to the 2017 MLB Futures Game in Marlins Park becoming the fifth former Razorback to take part in the annual game showcasing the best minor leaguers. He was also named a Southern League All-Star marking his third consecutive All-Star season just before his promotion.
He didn't disappoint on the big stage at All-Star Weekend as he earned the start as the designated hitter for the U.S. team and went 2-for-4 with a double in the U.S.'s 7-6 victory.
Anderson will be a name to watch down the stretch of the MLB season as Miami is 44-52 this season and 11 games or more back of the National League Eastern Division and the National League Wild Card races.
Jim Callis' #FuturesGame Top 10: Honeywell, Kopech, Anderson, Vieira, 2 @Rockies, Vlad, Nido, Burrows, Fisher. More: https://t.co/5rYnc8PSmO pic.twitter.com/XS2DJ4YaYZ

— MLB Pipeline (@MLBPipeline) July 10, 2017
Marlins promote Brian Anderson, their top-ranked position-player prospect, to Triple-A New Orleans. https://t.co/LnB7p7G00Q

— Tim Healey (@timbhealey) July 15, 2017
Brian Anderson goes deep again, hits his 2nd in five games with @cakesbaseball. #Marlins No. 3: https://t.co/jE4OvtDW1b pic.twitter.com/lrA9FfN8sJ

— MLB Pipeline (@MLBPipeline) July 20, 2017
| Anderson Stats Through July 24 | AVG | G | AB | R | H | TB | 2B | 3B | HR | RBI | BB | SO | OBP | SLG | OPS |
| --- | --- | --- | --- | --- | --- | --- | --- | --- | --- | --- | --- | --- | --- | --- | --- |
| Total | .260 | 96 | 343 | 59 | 89 | 157 | 14 | 3 | 16 | 61 | 40 | 77 | .348 | .458 | .805 |
| Brian Anderson (NO) | .344 | 9 | 32 | 6 | 11 | 17 | 0 | 0 | 2 | 6 | 4 | 6 | .417 | .531 | .948 |
| with Jacksonville (AA) | .251 | 87 | 311 | 53 | 78 | 140 | 14 | 3 | 14 | 55 | 36 | 71 | .341 | .450 | .791 |
Spanberger Leads Newest Crop of #ProHogs
Less than two months after helping the Razorbacks reach another NCAA Regional in its storied history, five players were able to extend their careers by getting drafted into the MLB and have already started making waves in the minor ranks.
First baseman Chad Spanberger might have made the best transition from college to the pro game. Since being taken in the sixth round by the Colorado Rockies, Spanberger has taken the rookie league by storm as he has already hit six home runs and driven in 19 runs in 24 games with the Grand Junction Rockies. His homers tie for the best on the team and his RBIs are good for second. In the Pioneer League, Spanberger's six long balls are the third-best among all players.
Among the other Razorbacks in the 2017 draft class (Dominic Taccolini, Cannon Chadwick, Josh Alberius, Trevor Stephan), all but Taccolini have been promoted to low Single-A and have already had good outings in the New York-Penn League.
Trevor Stephan earned his first professional victory last night for the Staten Island Yankees after pitching four shutout innings and striking out a season-high seven batters. So far this year, the third round pick has four starts and has given up just two earned runs in 14 innings and is holding hitters to a .196 batting average.
Both Chadwick and Alberius have made seven appearances this summer for their respective teams. Chadwick has yet to give up a run in 12.1 innings and also picked up his first professional save last week for the Brooklyn Cyclones. Alberius earned a win in his first appearance for Single-A Batavia, but has run into trouble as of late, giving up nine runs in his last four appearances.
The Southeastern Conference isn't just known for football, since its baseball teams seem to routinely rule the College World Series. In terms of SEC schools, Arkansas may not be the first one that jumps to mind — though it has produced boppers like Brett Eibner, Kevin McReynolds and Red Sox standout Andrew Benintendi.
For more information on Razorback Baseball, follow @RazorbackBSB on Twitter.