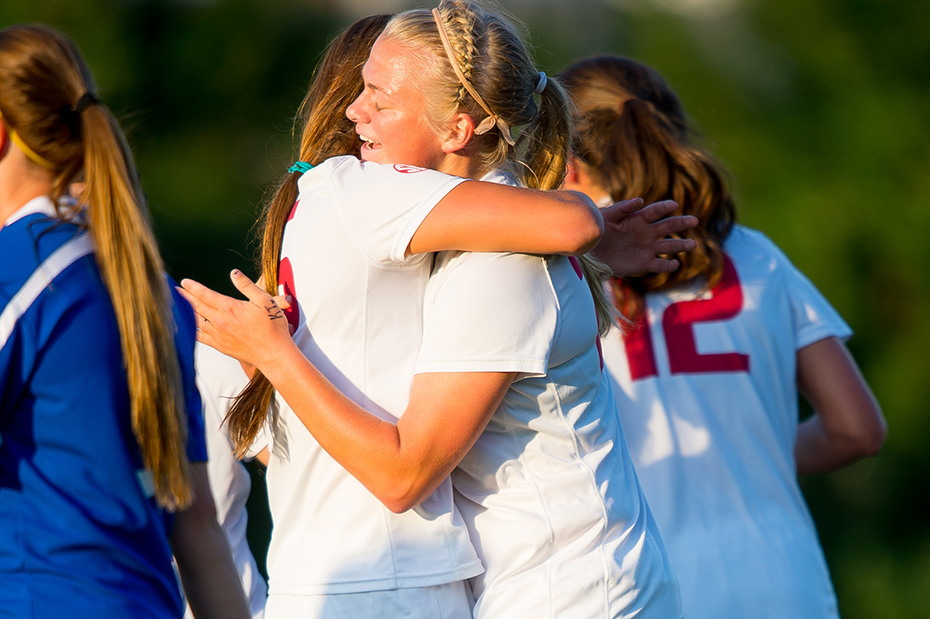 Early Goal Propels Soccer to 1-0 Win Over UMKC
FAYETTEVILLE, Ark. — An early goal by Ashleigh Ellenwood held up as Arkansas soccer posted its second clean sheet of the season in a 1-0 victory over UMKC on Sunday night. Goalkeeper Cameron Carter played the full 90 minutes in net and made five saves for the shutout.
"We found a way to win," head coach Colby Hale said. "UMKC was very good. Honestly I thought better than us for large parts of the game. Full credit to them."
Continuing their strong offensive push from the Tennessee match on Friday, the Razorbacks put the pressure on UMKC early and often. In the eighth minute of the match, Katie Moore pickpocketed a defender and flew down the left side of the box. She made a cross in front of 'Roos keeper Nina Tzianos and through to a streaking Ellenwood who knocked it into a wide open cage for her fifth goal of the season. Overall, it was her 30th career score, putting her into sole possession of fourth all-time in program history.
Of Carter's five saves, two in the second half were of the spectacular variety. In the 54th minute after a foul on Arkansas in the attacking end, UMKC's Emily Herndon lined up for a 25-yard free kick. She fired a dipping liner that would have snuck under the crossbar, if not for a leaping Carter who got a few fingers on it to deflect it over the net. Then, with only 70 seconds left, Nikki Lynch took a running left-footed shot that forced Carter to lay out to her left and knock it out of bounds.
With the win, Arkansas snapped a three-match losing skid and improved to 4-3-0 on the season. With Carter's clean sheet, she now has 14.5 for her career. She capped off a 180-minute weekend with six saves and only one goal allowed. Moore's assist gives her two for the season, which is now tied for the second-best best mark on the team with Claire Kelley.
The Razorbacks continue their four-match homestand with Kansas and Mississippi State visiting next week. The Jayhawks come in for a Thursday night contest on Sept. 17 at 6:30 p.m., then the Bulldogs are in Fayetteville on Sunday, Sept. 20 for an SEC Network broadcast match that beings at 12 noon.
For more information on Razorback Soccer during the season, follow @RazorbackSoccer on Twitter.