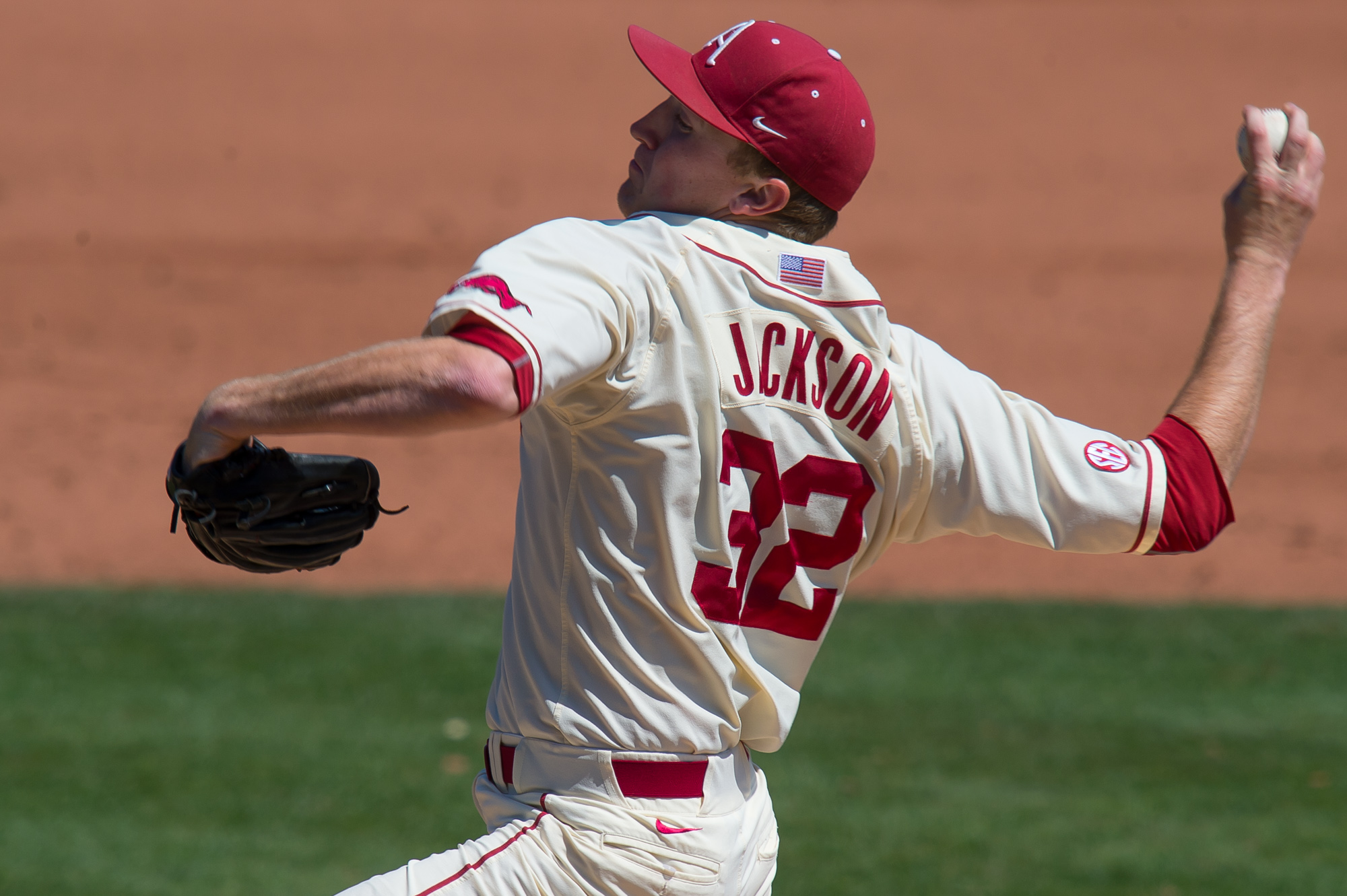 Early Deficit Too Much For Razorbacks
OXFORD, Miss. – In his first start of the season, junior pitcher Zach Jackson didn't have his best stuff through the first two innings, giving up four runs to put No. 21 Arkansas in an early hole. But after settling down, the Hog offense couldn't get the bats going until late in the game and fell to 14th-ranked Ole Miss, 14-9, Saturday at Swayze Field.
Jackson, who went on to toss three scoreless innings after the two-run first and second inning, struck out eight batters in his five innings of work, tying a career high. However he had to take the loss, falling to 2-3, as the four early runs given up was a lead that Ole Miss never relinquished.
Arkansas (20-11, 4-7) totaled 13 hits to go with its nine runs Saturday night. Five different players recorded multi-hit games, led by Luke Bonfield, who scored three times to go with his home run in the fourth and a double in the ninth. The home run gives Bonfield six for the season, which ties him with Michael Bernal for the most on the team.
Along with Bonfield, Carson Shaddy, Cullen Gassaway, Tucker Pennell and Grant Koch each ended up with two hits in the game. Koch came away with a team-high two RBIs.
Bonfield's solo home run was the only offense Arkansas could muster through the first seven innings of play. Ole Miss starting pitcher David Parkinson threw 5 2/3 innings, giving up just one earned run and three total hits with two walks.
Once Arkansas got to the Rebels' (24-7, 5-6) bullpen, the bats pulled the game within three after a four-run eighth inning. The Razorbacks utilized four singles from Clark Eagan, Bernal, Pennell and Koch along with an Ole Miss error and a sacrifice fly from Rick Nomura to make it 8-5 with another at-bat remaining.
But every time Arkansas had a big inning, Ole Miss added more insurance runs. A six-run bottom of the eighth by Ole Miss ended up being the final blow as the Rebels knocked out seven hits in the inning.
Arkansas scored four more runs during the top of the ninth to pull within 14-9. After a one-out single from Shaddy and a double down the left field line by Bonfield, the Hogs got two runs back on a pass ball and a Gassaway single. On the next at-bat, Arkansas loaded the bases on a Bernal walk, followed by an RBI double by Nomura.
Koch singled home a bases-loaded run two batters later, but it was the final run that Arkansas could score. Austin Catron grounded into a double play to end the game in the next at-bat with the tying run on deck.
Arkansas and Ole Miss will finish the three-game series Sunday with game three's first pitch set for 12 p.m. CDT in Oxford. The game will be broadcast on the SEC Network with Clay Matvick and Chris Burke on the call.
For more information on Razorback Baseball, follow @RazorbackBSB on Twitter.