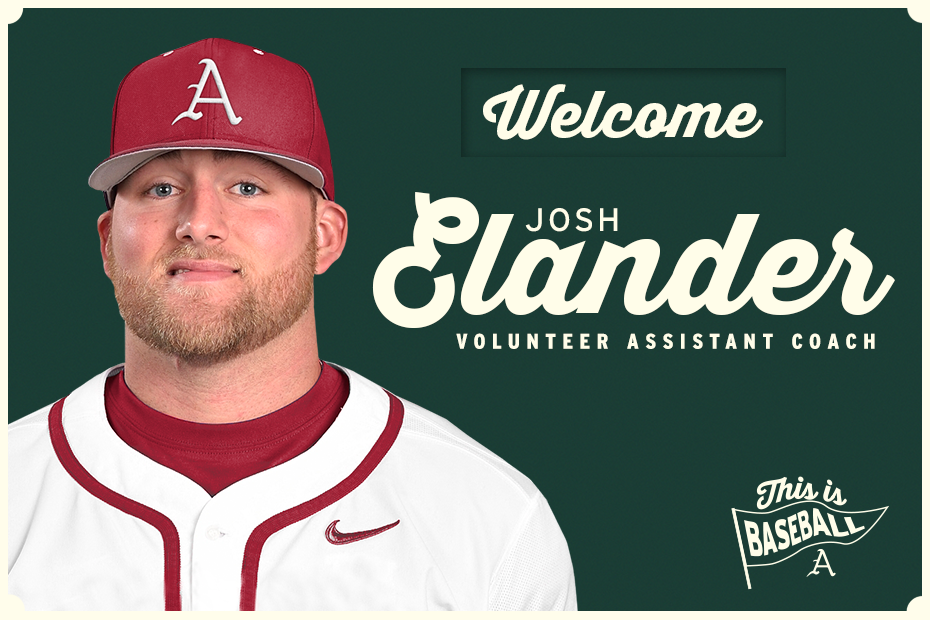 Elander Named Volunteer Assistant Coach
FAYETTEVILLE, Ark. – Former sixth round draft pick and freshman All-American catcher Josh Elander has been named a volunteer assistant coach for the Razorback baseball team, head coach Dave Van Horn announced Tuesday.
Elander played for TCU from 2010-12 and spent four seasons in professional baseball after being drafted in 2012 by the Atlanta Braves. Elander was part of the same TCU teams that current Arkansas assistant coach Tony Vitello helped guide to the NCAA Regionals in 2011 and the Super Regionals in 2012.
"I'm humbled and honored to join such an incredible staff," Elander said. "My wife and I are excited to join the Fayetteville community. I am looking forward to developing these student athletes at the highest level and continuing the great tradition of Arkansas baseball."
Elander put together a solid three-year career for the Horned Frogs, garnering freshman All-America honors in 2010 and second-team all-conference honors as a junior. As well as excelling on the field, Elander shined in the classroom as a three-time academic all-conference performer.
Last season, Elander returned to TCU as a student assistant and was able to complete his degree in communications while helping guide TCU to its third-straight College World Series as a member of NCBWA National Coach of the Year Jim Schlossnagle's staff.
TCU finished 2016 with a 49-18 record and were Big 12 Conference Tournament champions as well as touting one All-American in Luken Baker and four freshman All-Americans. The Horned Frogs sophomore catcher Evan Skoug was also a semifinalist for the Johnny Bench Award and was invited to the USA Baseball Collegiate National Team this summer.
Elander burst onto the college scene as a freshman on the 2010 College World Series team for TCU. He tallied 69 hits, including 16 doubles, four triples and two home runs en route to hitting .356 in 59 games played. Elander tallied 33 RBIs and was successful in stealing 11-of-19 bases.
As a sophomore, Elander took over the catching duties and started 48 games. He hit .333 with 11 doubles, 2 triples and 5 home runs while driving in 38 runs. His solid season helped him join an elite group of Horned Frogs as he earned a spot on the 2011 USA Baseball Collegiate National Team.
In his final campaign in the Purple and White, Elander was the only TCU player to start all 62 games as the Horned Frogs won their first-ever road NCAA Regional. He hit safely in all five games of the NCAA College Station Regional, earning a spot on the All-Regional team. Elander hit .314 on the year with a career-high 70 hits, 11 home runs and 43 RBIs.
For his career, Elander was a .333 hitter in 169 games played. He tallied 39 doubles, 7 triples, 18 home runs and 114 RBIs. Elander was successful in 34 of 49 career stolen base attempts and posted a .985 fielding percentage.
He spent parts of four seasons playing minor league baseball with the Atlanta Braves and the Arizona Diamondbacks and he was named the 2013 Atlanta Braves Minor League Player of the Year. That season, he hit .293 with 15 home runs and 93 RBIs in 135 games played. For his professional career, Elander hit .273 in 222 games and collected 21 home runs with 135 RBIs.
For more information on Razorback Baseball, follow @RazorbackBSB on Twitter.