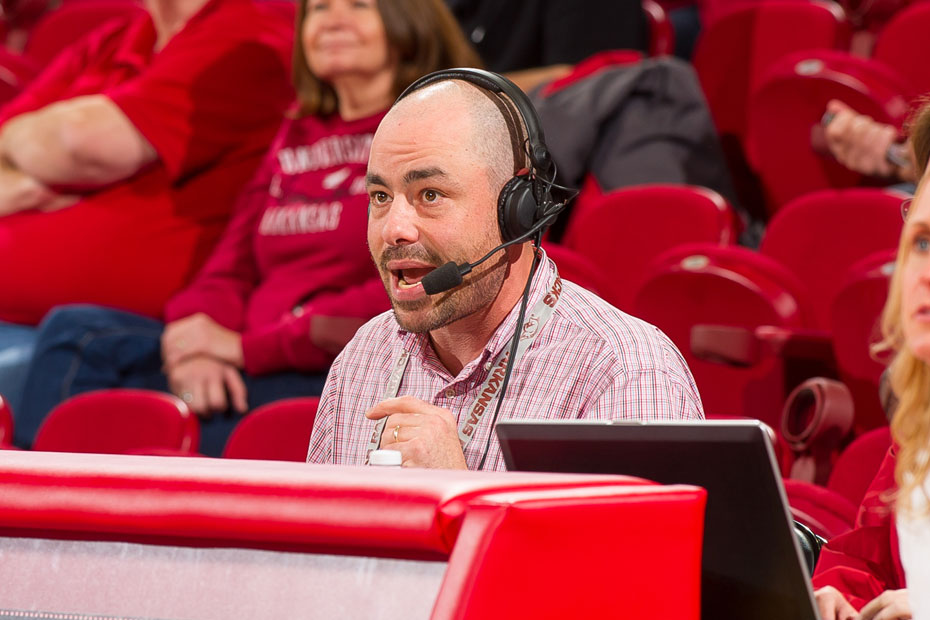 Elson Wins Arkansas Sportscaster Of The Year Award
WINSTON-SALEM, N.C. – Phil Elson, the radio voice of Razorback Baseball and Women's Basketball, was named the Arkansas Sportscaster of the Year by the National Sports Media Association (NSMA) Tuesday afternoon.
Elson has been the Razorbacks play-by-play voice for baseball and women's basketball since 2014, as well as fill-in roles for men's basketball. He was previously named the Arkansas Sportscaster of the Year in 2009 for his work with the Arkansas Travelers, the AA affiliate of the Seattle Mariners.
He spent 17 years in professional baseball, including 14 as the Director of Broadcasting and Media Relations for the Travelers before joining the Razorbacks. Prior to the Travs, Elson called games for the Helena Brewers, Ogden Raptors, and Mudville Nine. He also filled in for Razorback Baseball broadcasts from 2011-13.
"Being the play-by-play talent on a radio broadcast takes a lot of quick-thinking and creativity and Phil Elson is one of the best," Arkansas women's basketball head coach Mike Neighbors said. "The art of telling a story to listeners who can't see the action is a talent that not many people have. Phil does the prep work and puts in the hours to fully understand our team as well as the opponent and then provides that information to the fans in a fun way. But even with all that prep, talent, and experience, play-by-play seems shallow and disingenuous if the voice doesn't care about the players and the team. Phil obviously cares. You can hear it in his voice and feel it through the radio. I love working with him and he is very deserving of this honor."
"Phil Elson is one of the best baseball play-by-play guys in the country," Arkansas baseball head coach Dave Van Horn said. "His passion for the game and for the Razorbacks is apparent in each of his broadcasts and I know our fans love tuning into him for every game. Phil's dedication to the program has made him a valuable asset for us and this is a tremendous honor for him."
Elson has also been the play-by-play announcer for Henderson State football since 2011. Previously, Elson served nine seasons as the play-by-play broadcaster for the Little Rock women's basketball broadcasts. He currently works for Fox Sports Radio Arkansas.
The National Sports Media Association & Hall of Fame seeks to develop educational opportunities for those who are interested in pursuing a career in sports media, through networking, interning, mentoring and scholarship programs. The NSMA also honors, preserves and celebrates the diverse legacy of sports media in the United States.