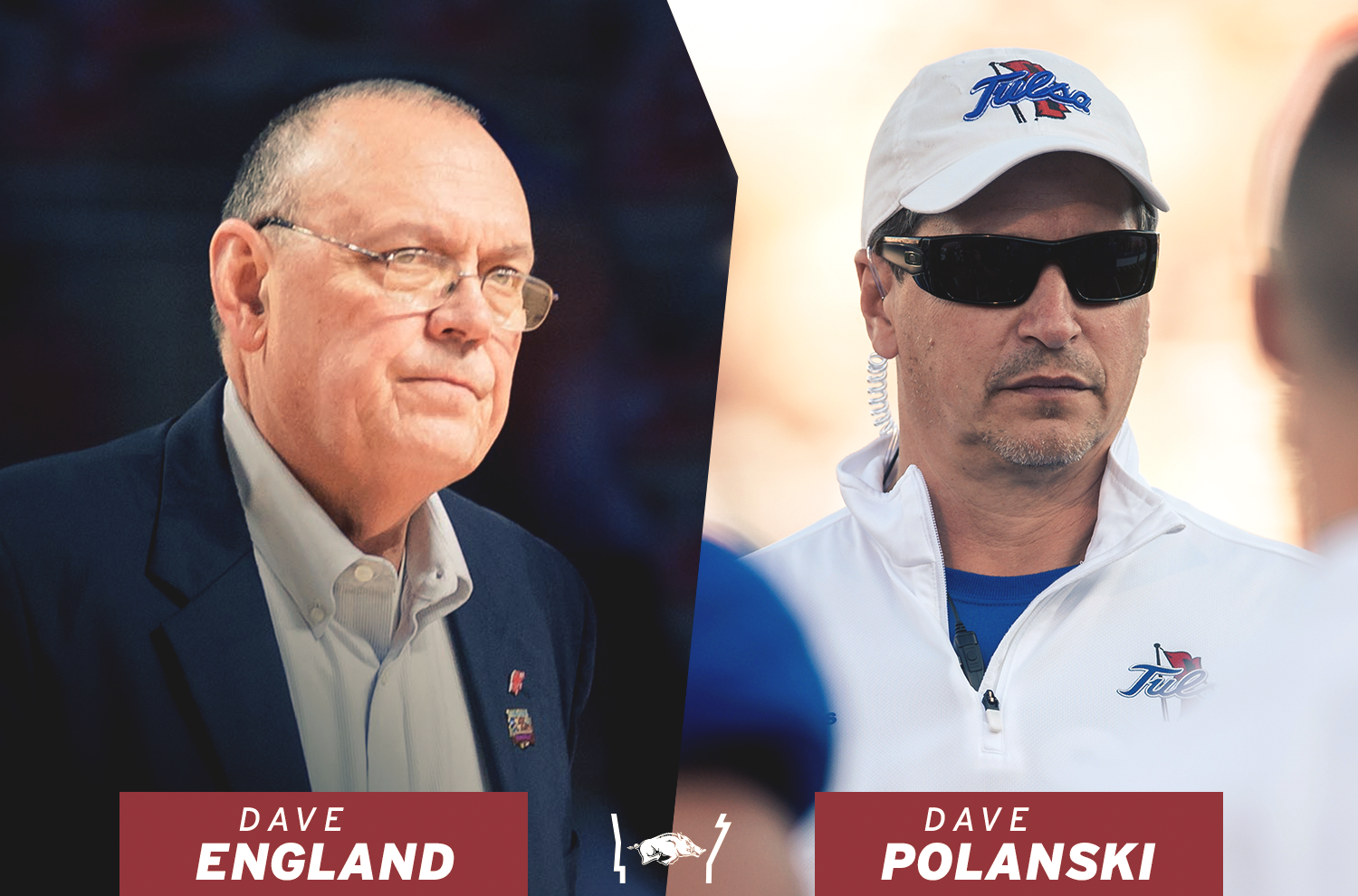 England promoted and Polanski joins Athletic Training Staff
FAYETTEVILLE, Ark. – Arkansas has named longtime athletic trainer Dave England the interim Director of Athletic Training and Dave Polanski as the head athletic trainer for football.
"Our athletic training program is integral to the health and wellbeing of our student-athletes," Vice Chancellor and Director of Athletics Hunter Yurachek said. "The promotion of Dave England and the addition of Dave Polanski provides our student-athletes with two outstanding individuals and athletic training professionals who provide great expertise and a breadth of experience to our program.
"Dave England has been at the forefront of care at the University of Arkansas for more than 30 years. His dedication to meeting the athletic training needs of student-athletes has benefitted thousands of Razorbacks in all sports. With his leadership, we will continue to provide our student-athletes with best-in-class care to help them compete and succeed in the SEC and nationally.
"The addition of Dave Polanski, as the head athletic trainer for football, provides Coach Chad Morris and our football student-athletes a tenured and well-respected member of the athletic training community. His outstanding work at Tulsa and UCLA was instrumental in the success of those programs. We are happy to welcome Dave, his wife Krista and their daughters Aileen and Naomi to the Razorback Family."
England will continue to be the head athletic trainer for the men's basketball program while taking on additional duties as the interim Director of Athletic Training. England has been with the Razorbacks since 1984 and has earned numerous awards since returning to his alma mater, including the 2016 Chris Patrick Award which is given annually to the most outstanding athletic trainer in the Southeastern Conference. He has been recognized multiple times for his work by the National Athletics Trainers Association and the Arkansas Trainers Association. England was a founding member of the Arkansas Athletic Trainers Association in 1987 and was inducted into the organization's hall of fame in 1999.
In his role as interim director, England will have administrative oversight of the Razorbacks' sports medicine program and will continue to enhance the department's relationships with medical providers, team physicians and other service providers. In addition to men's basketball, he will also continue to work with baseball, men's and women's tennis, men's golf and the Razorback spirit squads.
Polanski joins the Razorbacks after spending the last 19 years at Tulsa, where he served as the school's Director of Sports Medicine and Assistant Athletics Director for Student-Athlete Health & Performance. Prior to joining the Golden Hurricane, he worked at UCLA beginning in 1994 as an assistant athletic trainer with the football program and one year handling all medical aspects for the men's basketball team. Before going to UCLA, Polanski was the athletic trainer for men's basketball, women's lacrosse and men's soccer at The College of William & Mary. He started his career at St. Andrew's Presbyterian College.
Polanski earned a bachelor's degree in athletic training from Purdue in 1990 and a master's in athletic training from Arizona in 1992.