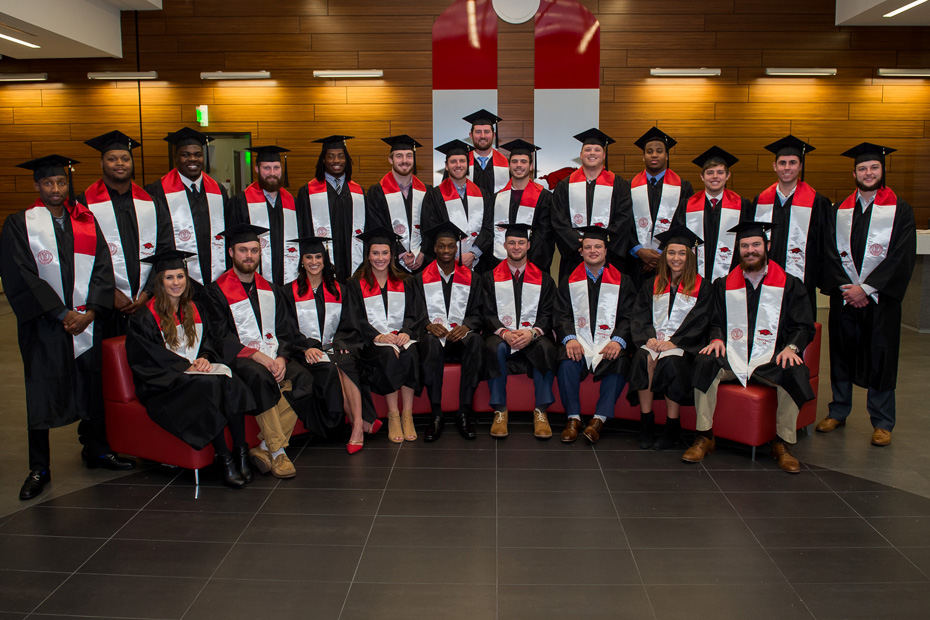 Enhancing the Student-Athlete Experience
More Time on Campus to Pursue Academics, Work, Internships, or Additional Rest and Recovery
-Action Taken Today by the Autonomy Five Conferences at NCAA Convention in Nashville-
FAYETTEVILLE, Ark. – University of Arkansas students who play sports will soon see changes to their schedule, giving them, in most cases, at least an additional 21 days away from athletics so they can study, pursue an internship, or get additional rest and recovery.
The changes result from a vote taken today at the annual NCAA Convention in Nashville, Tenn., by a group of fellow student representatives and administrators of the Autonomy Five conferences.  The purpose of these reforms is to enhance the student experience so these individuals can spend more time engaging in non-athletic activities on campus.
"I am encouraged by the movement within the NCAA structure allowing institutions that have the resources, to do even more for our student-athletes related to enhancing the impact of the academic and athletic experience," Vice Chancellor and Director of Athletics Jeff Long said.  "In the past few years, specifically, we have made major strides in providing student-athletes with the tools and time they need to be successful in their collegiate careers and in life.  With any change, there are differing views on the ultimate impact of those changes on intercollegiate athletics. And while there remains differing opinions on whether all the adopted legislation regarding mandatory time restraints are the correct course, it is clear our student-athletes have a voice in the governance process and are using that voice to help shape the future of intercollegiate athletics."
The changes, known as "Flex 21" will give these students, in most cases, at least an additional 21 days in which they are free from required athletic activities during the academic year. Flex 21 days are in addition to current rules related to time off.
Recognizing that every sport has different needs, the proposal includes flexibility so coaches, students and athletic directors can develop an appropriate student-athlete time management plan that best suits each sport.  The changes are the result of in-person meetings and survey feedback from students, head coaches, faculty and athletics administrators.
"I think it is important that these issues are being discussed and debated with the welfare of student-athletes being a focal point," All-American women's track and field student-athlete and Student-Athlete Advisory Committee (SAAC) President Taliyah Brooks said. "Through open dialogue on our campuses and nationally, student-athletes have a voice in the future of college athletics. Personally, I think this rule can be detrimental to elite level student-athletes because of the amount of time that will be required to be missed from our sports. Teams that fly commercial to most, if not all, away sanctioned events, will lose more days of practice, possibly lose competition time, and will take the risk of not being prepared for competitions because of the amount of time that will be required to have off.
"I am entering my third year competing at the collegiate level, have already graduated with my bachelor's degree, and will be in graduate school for my last two years of eligibility. I believe the amount of time our coaches and supporting staff (athletic trainers, weight coaches, etc.) have given us in the years past, has been more than enough, and has allowed me to be successful not only in sport, but in academics and life on and outside of campus.
"Coming into collegiate sports, we knew as athletes there would be sacrifices that would have to be made in order to be the best and to make the most out of our time while in school. Although there are some cases where student-athletes are over worked, this does not happen with all student-athletes, and the rules adopted may lead to negative experiences for those wanting to compete at the highest of levels in their respective sports."
The changes apply to four time periods:
Post Season:  Under the plan, all students would be free of required athletic activities for at least one week (seven consecutive days) at the conclusion of their season in order to provide additional rest and recovery.  Exceptions would exist for students participating in elite national/international events.  For spring teams that end their season in summer break, the seven-day period is not necessary as the summer break would accomplish the goal of this requirement – recovery directly after the season.
Academic Year:  To allow students to engage in other collegiate activities, each student would be provided at least 14 additional days during the academic year during which there would be no required athletic activity.  These days-off may take place either during the playing season, or outside the playing season when classes are in session.
In Season:  Beyond Flex 21, every student playing a sport will have at least one day a week free from sports, including travel, during the season.  While current rules require one day off per week, teams may currently use travel days to meet that requirement.  The new proposal would recognize that individual circumstances may require a flexible approach in the application of this proposal, but is intended to provide these students with more time away from athletic activities (e.g., travel delays, etc.).
Overnight:  In addition, students would have a consecutive eight-hour block of free time overnight, between the hours of 9:00pm and 6:00am.
To implement the proposed changes and to assist these students in managing their time, head coaches and athletic directors will be required to develop a time management plan that would provide adequate notice of all scheduled athletic activities as well as any subsequent changes to that schedule. Further, the plan must also provide an opportunity for these students to collaborate with their coaches in scheduling such required athletic activities. The definition of "required athletic activities" is intended to be broader than the current definition of countable hours which includes activities such as practice, games, and conditioning. For example, this expanded definition would include, but not be limited to activities such as media requirements and mandatory community service.
The five autonomy conferences that voted to change the time balance requirements are the ACC, Big Ten, Big 12, PAC-12 and SEC.