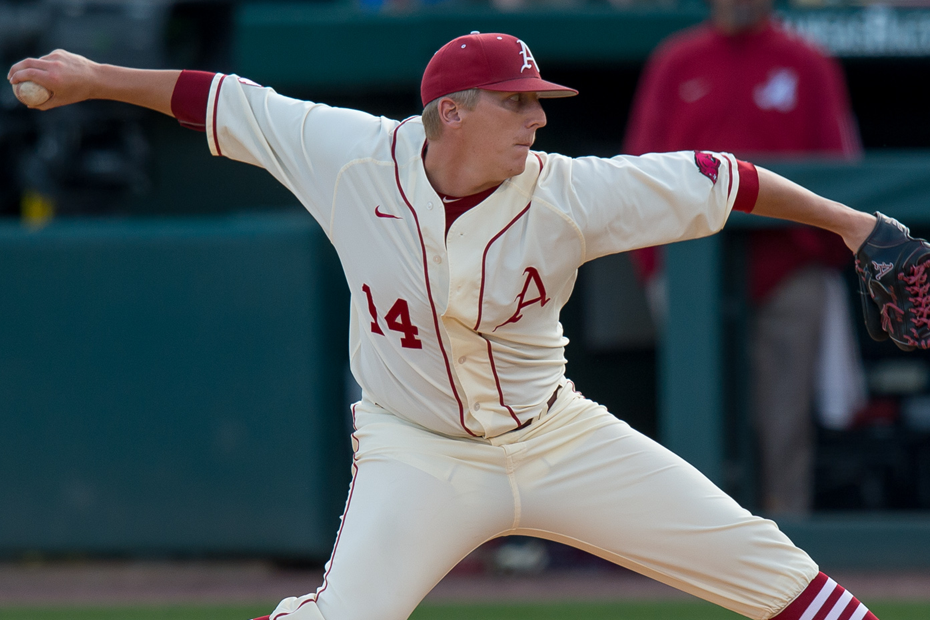 Errors Drop Razorbacks In Series Opener
STARKVILLE, Miss. – Arkansas committed 5 errors in Thursday night's series opener with No. 3 Mississippi State and only scratched across 5 hits against the Bulldogs' starting pitcher, falling 7-0 at Dudy Noble Field.
The Razorbacks committed 3 errors in the third inning and two more on the same play in the sixth inning, marking the third time this year that the Hogs have had five or more errors in the same game. In both innings that the Hog errors occurred, Mississippi State scored a combined 5 runs.
The errors didn't help Taccolini's cause as only three of the 7 runs scored by the Bulldogs were earned. Taccolini went 5 1/3 innings Friday night, but allowed 11 hits with only 3 strikeouts. Taccolini was charged with the loss, dropping his overall record on the season to 5-5.
Dakota Hudson earned the win for Mississippi State, his ninth of the year as he extended his scoreless innings streak to 18-straight going back to his complete game shutout of Auburn last week. Hudson walked just one Hog batter with 10 strikeouts.
Carson Shaddy, Luke Bonfield, Clark Eagan, Chad Spanberger and Tucker Pennell each had one hit in the game. The Hogs' best chance for a run came in the seventh inning when Eagan was thrown out at home after a Spanberger single to left field. Eagan was initially held up at third, but then tried to go home as the throw in got away from the catcher. However, Bulldog catcher Jack Kruger flipped the ball back to Hudson covering the plate and tagged out a sliding Eagan.
Mississippi State's Jake Mangum came away with a game-high five-hit night, scoring three of the Bulldogs' 7 runs. Jack Kruger and Nathaniel Lowe also added 2 hits for MSU.
AfterTaccolini, Jake Reindl, Doug Willey and Anthony Dahl each got time on the mound. All three pitchers had scoreless outings, retiring seven of the last eight batters they faced in the game. For Reindl, it was his first appearance in an SEC game this season and second-straight scoreless outing as he tied his season-high with 2 strikeouts.
UP NEXT
The Razorbacks will play game 2 of the series with the Bulldogs on Friday with first pitch scheduled for 6:30 p.m. CDT. It will be broadcast on SEC Network+ and Phil Elson will be back on the radio call for the Razorback Sports Network from IMG.
For more information on Razorback Baseball, follow @RazorbackBSB on Twitter.