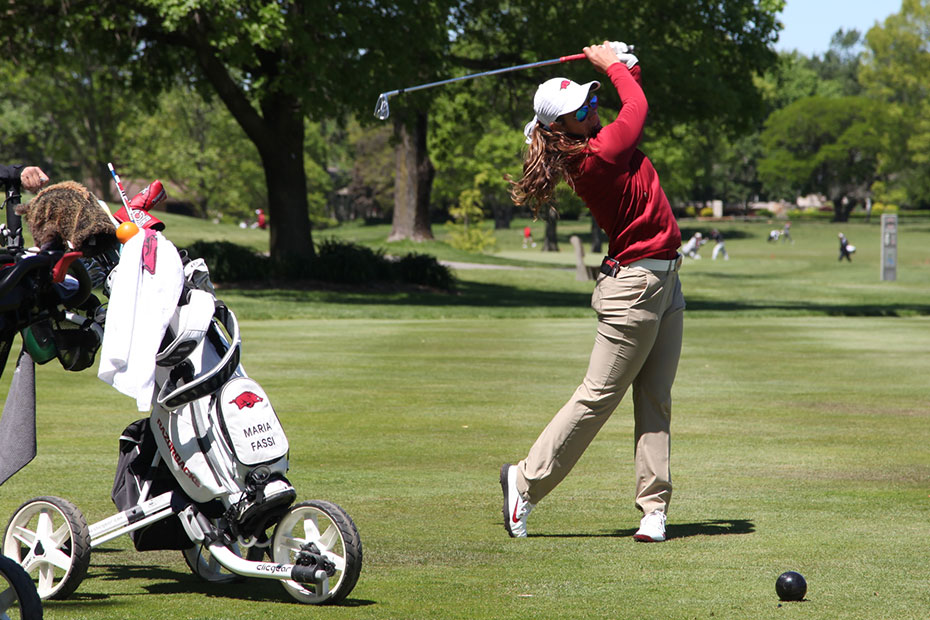 Fassi, Kim Help Arkansas To Top Of Leaderboard
Results | Results (PDF)
SAN ANTONIO, Texas – The No. 1-ranked University of Arkansas women's golf team came out of the gates strong, posting a seven-under 281 to lead after round one action at the Maryb S. Kauth Alamo Invitational in San Antonio, Texas, on Sunday.
The Razorbacks were the only team under par and had four of the five players in the top-10 of the field at day's end. Juniors Maria Fassi and Dylan Kim are tied for second overall shooting 3-under 69 in the final event of the fall season to lead Arkansas with two rounds remaining.
Junior Cara Gorlei added a 1-under 71 while senior Alana Uriell was even with a 72 at the Briggs Ranch Golf Course. Junior Kaylee Benton finished the day with a 77 and freshman Maria Hoyos, playing as an individual, posted an 80 in her first collegiate round.
Fassi and Kim's rounds were nearly identical with both players counting three birdies and no bogeys on Sunday, Fassi birded Nos. 5, 6 and 14 while Kim made her move on Nos. 5, 10 and 12. Both players birdied the par-5 fifth hole and both of the other birdies for each player came on par-4 holes.
Inside The Ropes
• It is the seventh time in 10 rounds that Arkansas has led a round.
• It is the 10th time in 10 rounds that Maria Fassi and Dylan Kim's scores have counted toward the team total.
• It is the fifth round in the 60s for Maria Fassi and the fourth round in the 60s for Dylan Kim.
• Arkansas was the only team under par in the first round.
The Razorbacks won the first two tournaments of the season and finished fourth in the most recent event at Chapel, Hill. Fassi won back-to-back medalist honors to start the year and she, along with Kim are in position to challenge for the win this week.
From Coach Taylor
"I'm really proud of our start. It was a completely different golf course than what we saw in the practice round. It was completely different wind but we adjusted well and converted when we had those opportunities. Dylan (Kim) and Maria (Fassi) were very solid as did Cara (Gorlei). Alana (Uriell) was a little frustrated out there but she did a lot of good things she can build on. She has good memories of Briggs Ranch. We are in a position to accomplish our goals and we need to focus on process over product for the last two rounds."
Arkansas Lineup

| Arkansas Lineup | Score | To Par |
| --- | --- | --- |
| T2 Maria Fassi | 69 | -3 |
| T2 Dylan Kim | 69 | -3 |
| T7 Cara Gorlei | 71 | -1 |
| T9 Alana Uriell | 72 | E |
| T46 Kaylee Benton | 77 | +5 |
| T63 Maria Hoyos (Ind) | 80 | +8 |
The Field

| The Field | Score | To Par | |
| --- | --- | --- | --- |
| 1 | No. 1/3 Arkansas | 281 | -7 |
| 2 | No. 68/79 TCU | 290 | +2 |
| 3 | No. 73/76 Kansas State | 291 | +3 |
| 4 | No. 54/50 UTSA | 294 | +6 |
| T5 | No. 31/28 Houston | 295 | +7 |
| T5 | No. 29/34 Oklahoma | 295 | +7 |
| T7 | No. 58/58 Maryland | 296 | +8 |
| T7 | No. 41/38 Texas A&M | 296 | +8 |
| 9 | No. 30/24 Denver | 297 | +9 |
| 10 | No. 110/115 North Texas | 300 | +12 |
| 11 | No. 39/31 Auburn | 301 | +13 |
| 12 | No. 94/97 Texas State | 307 | +19 |
| 13 | No. 67/63 MTSU | 319 | +22 |
| 14 | No. 27/30 Texas Tech | 311 | +23 |