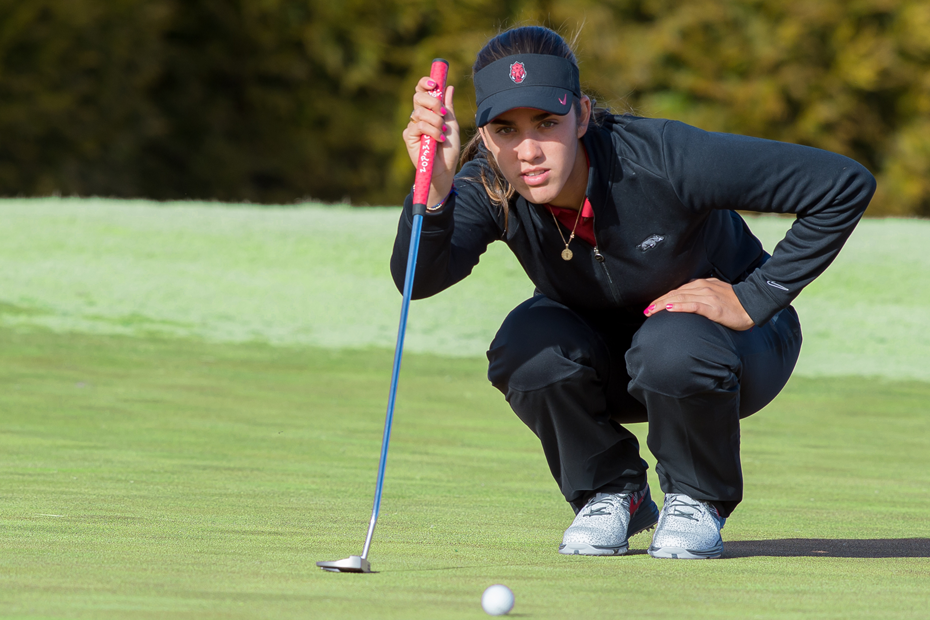 Fassi Moves Up The Leader Board Saturday
Team Scores | Player Leaderboard | Round Two Results (pdf)
HILTON HEAD ISLAND, S.C. – Freshman Maria Fassi continued her strong play and senior Regina Plasencia rebounded in round two of the Fifth Annual Darius Rucker Intercollegiate at Long Cove Club in Hilton Head Island, South Carolina, Saturday.
Fassi, who joined the team as a true freshman in January, opened play with an even par 71 and counted a one-under 70 Saturday. She is in the clubhouse with a 141 and tied for third, just two strokes behind the leaders.
Fassi won her first collegiate tournament in Puerto Rico in February and moved up from a tie for ninth to a tie for third Saturday. Her round featured five bogies, four birdies and an eagle. She is just one of two players to record an eagle at the Darius Rucker this year.
Plasencia shaved nine strokes off her round one total moving up to a tie for 53rd overall with 80-71=151. The tough conditions, however, took their toll on Arkansas as the Razorbacks fell two spots in the standings into a tie for sixth place shooting 289-296=585. The Razorbacks are just nine strokes off the lead with one round remaining.
Razorback freshman Cara Gorlei is tied for 39th overall shooting 72-77=149, followed by sophomore Alana Uriell and junior Summar Roachell, both of whom are tied for 63rd. Uriell opened with 74 and posted a 78 Saturday while Roachell shot 72-80 and both are off the course with a 152.

From Shauna Estes-Taylor
When you don't have your 'A' game, you have to do things to keep yourself in it and we did that today. It was a tough day but I can't say enough about Regina to come back from an 80 to shoot 71. We worked hard on the range yesterday and for her to come out and trust that shows great leadership. Maria is just so solid and continues to be a good leader for us on the golf course. We have one more round and if all five players play their best golf we are in reachable contention. I'm excited about it and if we go out and play our best golf our goal is in reach.