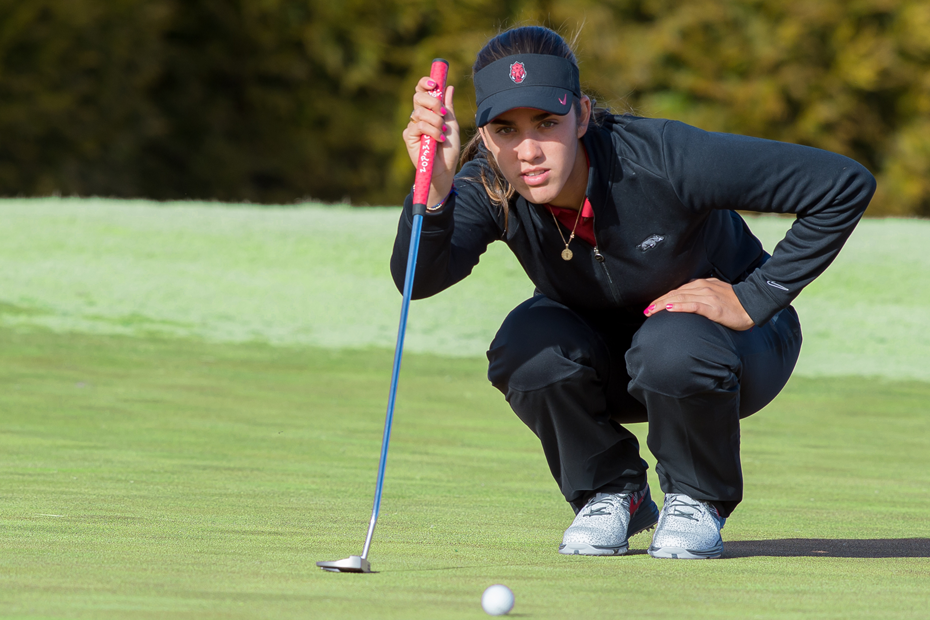 Fassi Named To WGCA Watch List
FAYETTEVILLE, Ark. – University of Arkansas junior Maria Fassi was named to the 2017-18 PING WGCA Division I Player of the Year watch list the organization announced today.
Fassi is one of six student-athletes named to the watch list and is one of two Southeastern Conference representatives. The award will be announced after medal play at the NCAA Championship.
From The Women's Golf Coaches Association
The PING WGCA Player of the Year Award is awarded annually to the best player in Division I women's golf. The top 60 players from the Golfstat and Golfweek/Sagarin Rankings are considered. Each player must complete a minimum of 15 rounds during the competitive year including NCAA Regional Championships.
Player of the Year Watch List
• Maria Fassi, JR, University of Arkansas. Leads Division I with a 69.43 scoring average. She placed in the top-10 at every tournament this season, including six first-place finishes. Won the NCAA Austin Regional title.
• Lilia Vu, JR, UCLA. Averaging 69.64 and has seven top-five finishes, including four wins. She placed first at the Battle of the Beach, Northrop Grumman Regional Challenge, Bruin Wave Invitational and Wildcat Invitational. She also tied for first at
the Pac-12 Championships.
• Patty Tavatanakit, FR, UCLA. Scoring average of 70.20 and has six top-three finishes, including four wins. She won both the Pac-12 Championships and the NCAA San Francisco Regional.
• Lauren Stephenson, JR, University of Alabama. Has a 69.60 scoring average and eight top-five finishes, including wins at the Mason Rudolph Championship and the Liz Murphy Collegiate Classic.
• Andrea Lee, SO, Stanford University. Averaging 70.73 and has eight top-10 finishes. She placed first at the Branch Law Firm/Dick McGuire Invitational, Stanford Intercollegiate and Pac-12 Preview. Lee won the 2016-17 WGCA Freshman of the
Year Award.
• Leona Maguire, SR, Duke University. Scoring average of 70.41. She has nine top-10 finishes with three wins, including the ACC Championship title. Maguire is a two-time PING WGCA Player of the Year, winning the award in both 2016-17 and 2014-15.
More Information
Keep up with all of the latest news and information and get behind the scenes looks into our program on our social media accounts. Follow us on Twitter at @RazorbackWGolf and check out our Facebook page "Razorback Women's Golf." Stats, news and player information can be found at ArkansasRazorbacks.com.