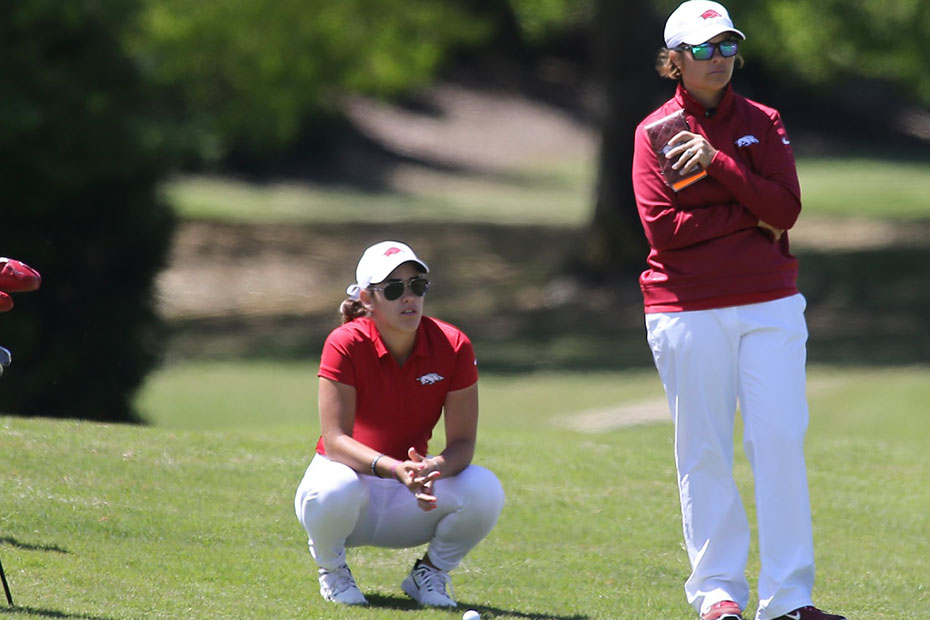 Fassi Plays To SEC Runner-Up Finish
Results | Match Play Pairings
HOOVER, Ala. – Fifty-four holes wasn't enough to decide the individual winner of the 2018 Southeastern Conference Women's Golf Championship as University of Arkansas junior Maria Fassi forced a playoff in Hoover, Alabama, on Friday.
Fassi and South Carolina's Ainhoa Olarra were neck-and-neck playing together in the final group on the Legacy Course at Greystone Golf and Country Club. They remained tied through 19 greens before Olarra was able to take advantage of an errant tee shot by Fassi to win on the second playoff hole.
The third-ranked Razorbacks finished third in the stroke play portion of the championship. They move on to face Florida in the 3 seed-6 seed contest in the first round of match play action on Saturday morning beginning at 7 a.m.
The first playoff hole was a nail-biter with Fassi out-driving Olarra by 50 yards off the tee. She dropped her second shot to 20 feet from the pin, slightly closer than her opponent. Her first putt attempt picked up speed and slid passed the hole about four feet. Olarra two-putted meaning Fassi would have to make the long putt to force another playoff hole.
And she did.
The players and the growing gallery of fans moved across the cart path to the No. 9 tee box for the second playoff hole. Olarra hit a good tee shot to the middle of the fairway but Fassi's first attempt pulled to the left. The ball struck a large drainage area filled with flat stones and bounced further away into the thick pine needle mulch.
After a long look at the shot, Fassi made her move but her ball came out low and sailed over the green into a bunker. She flew her third shot up onto the green leaving herself about eight feet to the pin. She would make the long putt counting a four putting pressure on Olarra but the Gamecock made her eight-footer for birdie and the win.
From Maria Fassi
"I love the adrenaline and the shaky hands. I hit the putt a little too hard (on the first playoff hole) and had a four-footer coming back. The hole looks awfully tiny with a four-foot putt to force another playoff hole. I was to the left on the second (playoff) hole and she (Ainhoe Olarra) hit a good tee shot. I gave it my best effort, but it went her way."
From Shauna Taylor
"I'm really proud of the way our team fought the last two days. Getting off to a slow start put us behind big early but we played some fantastic golf these last two days. It was fun to watch the players rebound and play well.
"Standing with Maria on the 18th fairway, we knew that if we made eagle we would win, and a birdie would probably tie. Fortunately, she has a lot of length and we were able to put together a plan, so Maria could hit a wedge in there to about 30 feet. It's a pretty tough golf shot but she did an amazing job of execution under those conditions. I thought she had a great opportunity on the first playoff hole and obviously drove it a little funky on the second hole. She made an amazing recovery and a good up-and-down to put a lot of pressure on Ainhoe (Olarrra) who made an eight-footer to birdie and get the win.
"Overall, it's pretty incredible to have three players in top 15 at the SEC Championship. I'm really proud of their efforts. I'm excited for our matches tomorrow. I think we match up with Florida really well. Alana (Uriell) and Dylan (Kim) lead us out of the gate with Cara (Gorlei) and Kaylee (Benton) in the middle followed by Maria (Fassi) in the anchor. We're in a good spot and can't wait to get out and tee it up for match play."
Stroke Play
No. 10 South Carolina was first after three rounds of stroke play leading the field with a 3-over 867. Second-ranked Alabama posted an 872 followed by No. 3 Arkansas with 875. The rest of the top-8 include No. 44 Georgia (895), No. 20 Auburn (896), No. 13 Florida (896), No. 24 Vanderbilt (899) and Missouri (907).
Fassi finished regulation play with a 4-under 209 (70–70–69). Razorback junior Dylan Kim picked up a top-5 finish, tying for fourth place overall with a 2-over 216 (70–73–73) and senior Alana Uriell rallied from a slow start to tie for 15th overall with a 221 (79–72–70). It is the first time in program history Arkansas has placed two players in the top-5 and the first time the Razorbacks have had three players finish in the top-15 at the league championship.
Juniors Cara Gorlei and Kaylee Benton also finished strong. Gorlei was nine shots better in her final round and finished 46th shooting 231 (80–80–71). Benton tied for 49th but dropped seven shots off her round one score to shoot 233 (81–78–74).
Razorback Lineup

| PLACE | PLAYER | SCORE | TO PAR |
| --- | --- | --- | --- |
| T1 | Maria Fassi (1) | 70–70–69—209 | -4 |
| T4 | Dylan Kim (3) | 70–73–73—216 | +2 |
| T15 | Alana Uriell (2) | 79–72–70—221 | +7 |
| 46 | Cara Gorlei (5) | 80–80–71—231 | +17 |
| T49 | Kaylee Benton (4) | 81–78–74—233 | +19 |
Match Play
The quarterfinal matches will feature No. 1 South Carolina vs. No. 8 Missouri, No. 2 Alabama vs. No. 7 Vanderbilt, No. 3 Arkansas vs. No. 6 Florida and No. 4 Georgia vs. No. 5 Auburn. Play begins at 7 a.m. CT on Saturday the semifinals to follow later in the day.
The 2018 event will mark the first in which the championship will extend to five days, with match play on Saturday and Sunday. The championship match on Sunday, April 22 will also be televised live on SEC Network.
No. 3 Seed Arkansas vs. No. 6 Seed Florida
Alana Uriell (Arkansas) vs. Elin Esborn (Florida)
Dylan Kim (Arkansas) vs. Marta Perez (Florida)
Cara Gorlei (Arkansas) vs. Sierra Brooks (Florida)
Kaylee Benton (Arkansas) vs. Addison Baggarly (Florida)
Maria Fassi (Arkansas) vs. Taylor Tomlinson (Florida)
More Information
Keep up with all of the latest news and information and get behind the scenes looks into our program on our social media accounts. Follow us on Twitter at @RazorbackWGolf and check out our Facebook page "Razorback Women's Golf." Stats, news and player information can be found at ArkansasRazorbacks.com.