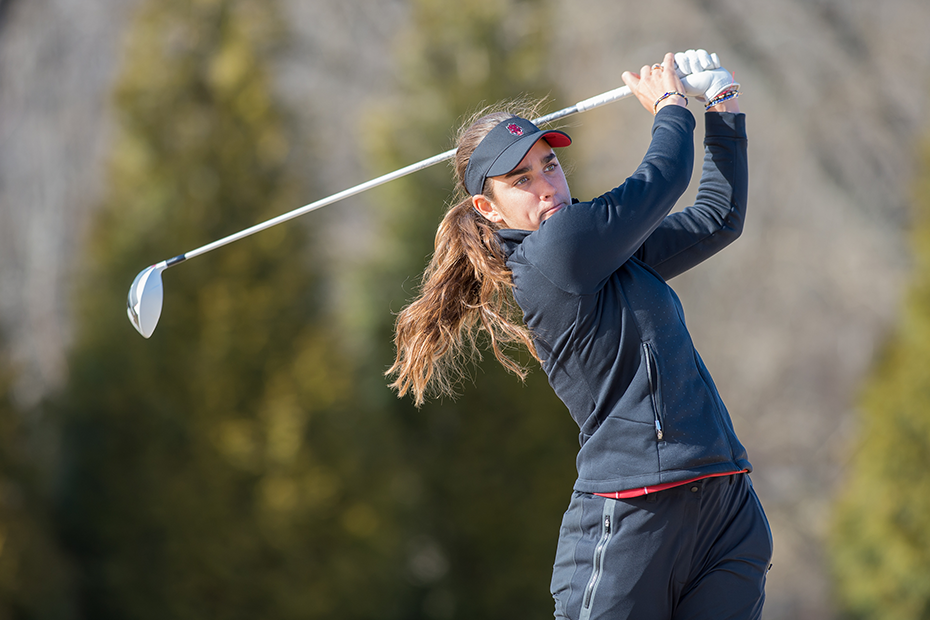 Fassi, Razorbacks in First Place
RIO DEL MAR, Puerto Rico – University of Arkansas freshman Maria Fassi and the No. 8/4 Razorback women's golf team vaulted up the leader board to the top spots after round two action at the 2016 Lady Puerto Rico Classic at the Rio Del Mar Country Club, in Rio Del Mar, Puerto Rico, Monday.
Fassi, who graduated high school in December and joined the team for the spring semester, was even in her first round and posted a five-under 67 for a 139 and a tie for first place in the tournament.
Aided by Fassi and sophomore Alana Uriell who moved up to fourth place overall, the Razorbacks posted the only under-par round of the day shooting a seven-under 281. The 281 paired with round one's 289 puts Arkansas in the clubhouse with a 570 and a seven-shot lead over No. 5 Georgia with one round remaining.
Fassi, a Pachuca, Hidalgo, Mexico, native, was one of four Razorbacks who opened with a bogey on the first hole. She got it back with a birdie on the second hole moving to even. Fassi then picked up birdies on holes No. 7, 8, 12, 15 and 18 to finish five-under for the day.
Uriell, who was tied for sixth after round one, started the same way with a bogey/birdie combination on holes No. 1 and 2. She turned one-under with a two more birdies and a bogey on the front nine. The Carlsbad, California, native went on to a busy back nine with three birdies and two bogeys counting a two-under 70 in round two.
Junior Summar Roachell rallied from a three-over 75 in round one counting a one-under 71 Monday and moving up from a tie for 40th place into a tie for 12th place with 146. Teammate senior Regina Plasencia is also though two rounds with a 146 that include scores of 71-75.
Freshman Cara Gorlei rounds out the Razorback team scoring. Gorlei knocked two strokes off her round one total counting a 73 Monday. She moved from a tie for 40th place into a tie for 19th place shooting 75-72=148.
Sophomore Jordy LaBarbera is competing as an individual. The Allen, Texas, native shot 78-88=166 and is 86th overall.
First round leaders No. 5 Georgia and No. 25 Texas Tech fell off the pace in the second round. The Bulldogs carded a six=over 294 and moved down a spot into second place with 577. The Red Raiders were 12-over on the day and are in third with 583. Eighteenth-ranked Iowa State is fourth with 585 and No. 6 Northwestern rounds out the top five with a 588.
Play concludes Tuesday with a shotgun start.
For more information on Arkansas women's golf, follow @RazorbackWGolf on Twitter.
FROM SHAUNA ESTES-TAYLOR
I'm really proud of the whole team. It was tough today with a lot of rain and wind. It showed a lot about our passion and joy for the game because it would have been easy to go out there and not play well. I'm so happy for Maria (Fassi). To go out and shoot five-under in her second event in college and lead us is a testament of what this young lady is capable of. Summar (Roachell) and Alana (Uriell) continue to be rock solid and I was pleased with Cara (Gorlei). She was four-over at the turn and finished three-under on the back side. It takes that kind of team effort to be successful and win tournaments. We are in a good position to go out and reach our goal of winning this tournament tomorrow.
TEAM RESULTS
| | | | |
| --- | --- | --- | --- |
| 1 | 8 Arkansas | 289-281=570 | -6 |
| 2 | 5 Georgia | 283-294=577 | +1 |
| 3 | 25 Texas Tech | 283-300=583 | +7 |
| 4 | 18 Iowa State | 294-291=585 | +9 |
| 5 | 6 Northwestern | 290-298=588 | +12 |
| 6 | 9 Kent State | 293-297=590 | +14 |
| 7 | 29 Louisville | 294-297=591 | +15 |
| T8 | 45 TCU | 299-293=592 | +16 |
| T8 | 27 NC State | 290-302=592 | +16 |
| 10 | 49 Augusta | 296-299=595 | +19 |
| T11 | 19 Purdue | 302-304=606 | +30 |
| T11 | 40 Michigan | 302-304=606 | +30 |
| 13 | 117 Maryland | 302-306=608 | +32 |
| 14 | 70 Indiana | 307-305=612 | +36 |
| 15 | 61 Auburn | 305-310=615 | +39 |
| 16 | 28 Clemson | 304-313=617 | +41 |
ARKANSAS INDIVIDUALS
| | | |
| --- | --- | --- |
| T1 | Maria Fassi (5) | 72-67=139 |
| 4 | Alana Uriell (4) | 71-70=141 |
| T12 | Regina Plasencia (2) | 71-75=146 |
| T12 | Summar Roachell (1) | 75-71=146 |
| T19 | Cara Gorlei (3) | 75-73=148 |
| 86 | Jordy Labarbera IND | 78-88=166 |