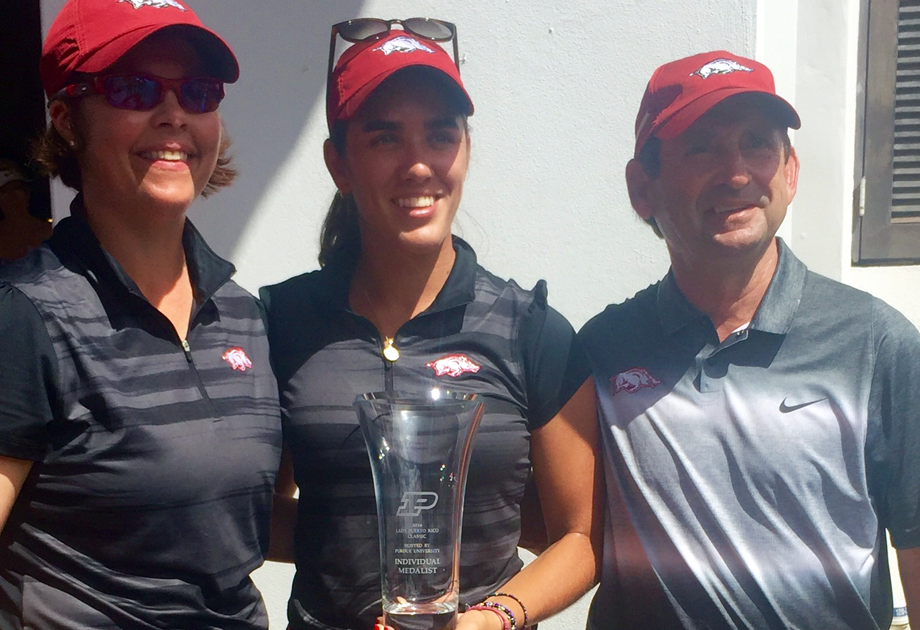 Fassi Wins, Razorbacks Runner-Up
RIO DEL MAR, Puerto Rico – University of Arkansas freshman Maria Fassi did what no other first-year player in the history of Razorback women's golf has ever done – she won her first tournament as a Razorback.
Fassi moved up from a tie for 12th after round one into the lead on Monday and held on in touch conditions Tuesday picking up medalist honors. Fassi posted rounds of 72-67-69=208 going eight-under edging Texas Tech's Gabby Barker by one stroke.
In her final round, Fassi opened with three par rounds followed by a three on the par-five fourth hole moving to two-under. She added three birdies and two bogeys and finished with four consecutive par holes for the win.
As a team, the No. 8 Razorbacks finished 12-over Monday shooting 289-281-300=870, just three strokes behind winner No. 5 Georgia with 867.
Sophomore Alana Uriell tied for eighth place shooting 219 with rounds of 71-70-78. Junior Summar Roachell tied for 18th overall shooting 75-72-77-223, followed by freshman Cara Gorlei who tied for 26th overall shooting 75-73-76=224. Senior Regina Plasencia rounded out the Razorback scores tying for 54th overall shooting 71-75-84=230. Sophomore Jordy LaBarbera, playing as an individual, shot 249 with rounds of 78-88-82.
Arkansas and the Bulldogs led the field with 45 birdies each and the Razorbacks had one eagle in the three-day event.
FROM SHAUNA ESTES-TAYLOR
WE are disappointed that we didn't get the team victory today – we came up a couple shots short. We'll go back to work and make some repairs and get ready for our next tournament. I saw so many great things out there this week and we are in a great spot to keep getting better. Maria – what a great addition to our team. She is a great player and a great teammate. She has so many shots in her bag and she'll get better each time she plays. We have a lot of depth and we are all excited for the spring season.
For more information on Arkansas women's golf, follow @RazorbackWGolf on Twitter.
TEAM RESULTS
| | | | |
| --- | --- | --- | --- |
| 1 | Georgia | 283-294-290=867 | +3 |
| 2 | ARKANSAS | 289-281-300=870 | +6 |
| 3 | Texas Tech | 283-300-295=878 | +14 |
| 4 | Iowa State | 294-291-299=884 | +20 |
| 5 | Northwestern | 290-298-298=886 | +22 |
| | Kent State | 293-297-296=886 | +22 |
| 7 | TCU | 299-293-299=891 | +27 |
| | Augusta | 296-299-296=891 | +27 |
| 9 | Louisville | 294-297-307=898 | +34 |
| 10 | NC State | 290-302-310=902 | +38 |
| 11 | Maryland | 302-306-304=912 | +48 |
| 12 | Auburn | 305-310-299=914 | +50 |
| 13 | Michigan | 302-304-310=916 | +52 |
| 14 | Purdue | 302-304-312=918 | +54 |
| 15 | Indiana | 307-305-309=921 | +57 |
| 16 | Clemson | 304-313-307=924 | +60 |
ARKANSAS INDIVIDUALS
| | | | |
| --- | --- | --- | --- |
| 1 | Maria Fassi | 72-67-69=208 | -8 |
| T8 | Alana Uriell | 71-70-78=219 | +3 |
| T18 | Summar Rochell | 75-71-77=223 | +7 |
| T26 | Cara Gorlei | 75-73-76=224 | +8 |
| T54 | Regina Plasencia | 71-75-84=230 | +14 |
| 86 | Jorday LaBarbera (Ind) | 78-88-83=249 | +33 |