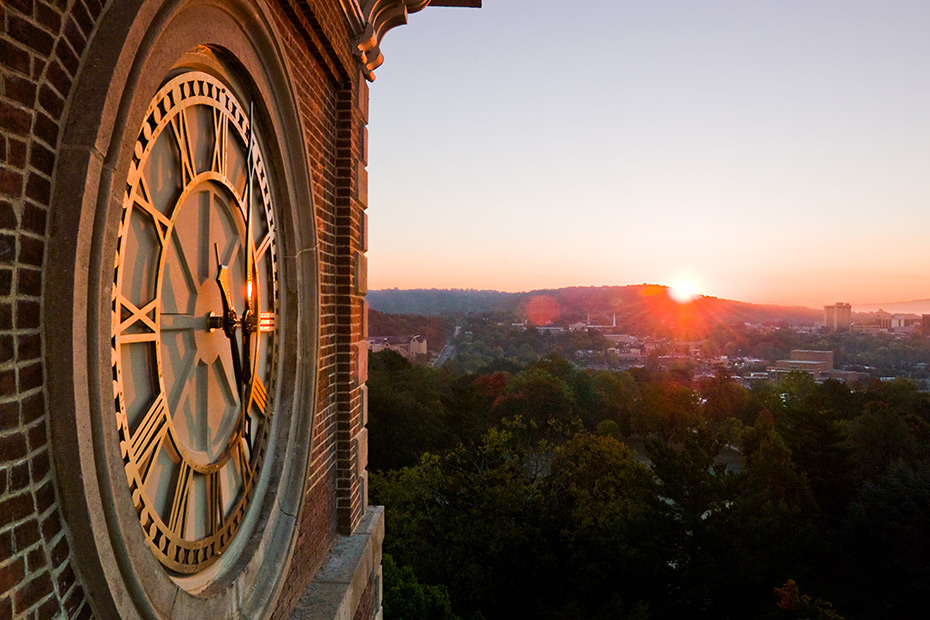 Fayetteville: No. 1 In SEC, No. 2 In Power Five
FAYETTEVILLE, Ark. – Earlier this spring, Fayetteville was ranked by U.S. News & World Report (USNWR) as the third-best city to live in the United States on the publication's "Best Places To Live" list. Our top three overall ranking places the University of Arkansas No. 1 in the Southeastern Conference and No. 2 among all Power Five Conference institutions.
That's a pretty big deal.
What makes Fayetteville a great place to live? We'll list 20 awesome reasons why Fayetteville – and by extension, Northwest Arkansas (NWA) – is such a special place:
1. Based on the list's Value Index which takes into account median annual household income and annual cost of living, Fayetteville's score of 9.1 ranks No. 1 by far among 100 cities analyzed by USNWR. It wasn't even close – the rest of the top-10 ranked cities received scores ranging as low as 5.3 (San Francisco), 6.0 (Seattle) and 6.5 (Austin). On the extreme end, New York City ranked dead last in Value with a 1.1 score.
2. In addition to Value, Fayetteville ranks favorably in Quality of Life, earning a score of 7.4. USNWR calculated this score by taking into account crime rates, availability of health care, quality of education, well-being scores from the Gallup-Healthways Well-Being Index and average commute times. Fayetteville topped, or equaled other top-10 overall ranked cities in this category, including No. 1 Denver (6.9), No. 2 Austin (7.2), No. 5 Colorado Springs (6.5), No. 7 Seattle (6.3) and No. 9 San Francisco (6.6).
3. Economic strength: Several Fortune 500 companies were founded/based in the Fayetteville/NWA area, including Walmart, Tyson Foods and J.B. Hunt Transport Services. Combined, these three companies generate a total of $529.4 billion in revenues, $17.6 billion in profits and are valued at $290.9 billion. As a result, complementary businesses, services and industries have sprung up in the area to do business with these commercial giants, further improving Fayetteville and NWA's economic standing.
4. University of Arkansas: Out of 1,600 four-year U.S. colleges and universities, Arkansas tied for 62nd place among public institutions and tied for 129th place among all national institutions in the 2016 edition of USNWR's "Best Colleges" list. The Sam M. Walton College of Business was also ranked 27th among public undergraduate business schools.
5. Billion-dollar impact: In addition to the quality of education offered by the institution, the U of A also has a significant, positive tangible effect on the community. According to a recent study, the University of Arkansas has a $1.2 billion economic impact on the region and state with an incredible $7 return to taxpayers for every dollar invested into the university.
6. Walmart: As the No. 1 overall-ranked company on the Fortune 500 list, the retail giant deserves its own bullet point. It generates almost half a trillion dollars in revenue annually, employs tens of thousands within the state and is an active patron to area arts and cultural initiatives.
7. Jobs & unemployment: The unemployment rate in Arkansas as of March fell to 4 percent, the lowest recorded rate since the metric was implemented by the state in 1976. The U.S. Bureau of Labor Statistics also ranked NWA as having the 18th lowest unemployment rate in the nation in February.
8. Affordable homes: At a time when housing prices are skyrocketing across the nation, single family homes are still affordable in Fayetteville and throughout NWA. According to USNWR, average housing costs in Fayetteville will cost $177,200 compared to the $218,867 national average.
9. Four seasons: If you like seasonal weather changes, Fayetteville is your type of town. Residents will experience four distinct seasons, with fall being an absolute visual treat.
10. Less time in gridlock: Hate traffic? Fayetteville's average commute time is only 21 minutes – 4.5 minutes less than the national average according to USNWR.
11. Parks and rec: Fayetteville's 70 free parks covers more than 4,000 acres, providing 40 miles of connected biking and hiking trails. One of these trails, the Razorback Regional Greenway, is a 36-mile trail stretching from Fayetteville to Bella Vista.
12. Razorback Athletics: Despite the lack of professional sports teams in Arkansas, the Razorbacks' 19 varsity sports programs serve as the public face of the state. Hundreds of thousands people from across the state and region travel to Fayetteville annually to watch the Hogs compete against other Southeastern Conference institutions in the university's world class facilities and venues.
13. Rivers and lakes: Despite being a landlocked state, there are several watersports opportunities in the Fayetteville and NWA area thanks to Lake Fayetteville, Lake Wedington, Beaver Lake and Lake Wilson. The local rivers – White, Kings and Mulberry – also provide distinct fishing experiences that range from bass, catfish, smallmouth bass, sunfish and many more.
14. Dickson Street: Adjacent to the University of Arkansas campus, Dickson Street is the entertainment and nightlife district in Fayetteville. From casual and upscale restaurants, to bars, theaters, coffee shops and boutique stores, Dickson Street appeals to families and college students alike as a place to unwind and have fun.
15. Live music: If you love live music, Fayetteville has several options ranging from headlining acts that perform at the 9,500-seat Walmart Arkansas Music Pavilion to various clubs and bars along Dickson Street and throughout the town.
16. Crystal Bridges Museum of American Art: Designed by world-renowned architect Moshe Safdie, Crystal Bridges contains a permanent collection that spans five centuries of American art as well as a diverse array of temporary exhibitions. The museum also contains sculpture and walking trails that link its 120-acre park to downtown Bentonville.
17. Theater: The Walton Performing Arts Center and TheatreSquared, among others, located along Dickson Street, are venues that offer a wide array of highly reviewed stage theater, plays, musicals and live performances that rival offerings from bigger cities.
18. The great outdoors: Want to get out of town? Fayetteville is within a short drive away from state and national parks that include Devil's Den State Park, the Ozark National Forest, Hobbs State Park, and many more. Some of the most picturesque areas in Arkansas can be found here and enjoyed free of charge.
19. Bikes Blues & BBQ: Motorcycles, live music and local food – need I say more? This annual fall event has generated more than $1.3 million toward local non-profits and further reinforces Fayetteville's diverse cultural and entertainment offerings.
20. Culture of entrepreneurship: According to an analysis of Census and Bureau of Labor Statistics published in the Journal of Economics and Management Strategy, Fayetteville was ranked as the second-best city for minority-owned businesses. Topped only by San Diego, this data falls in line with the "Keep Fayetteville Funky" campaign which aims to support and vitalize the city's eclectic small businesses and merchants.