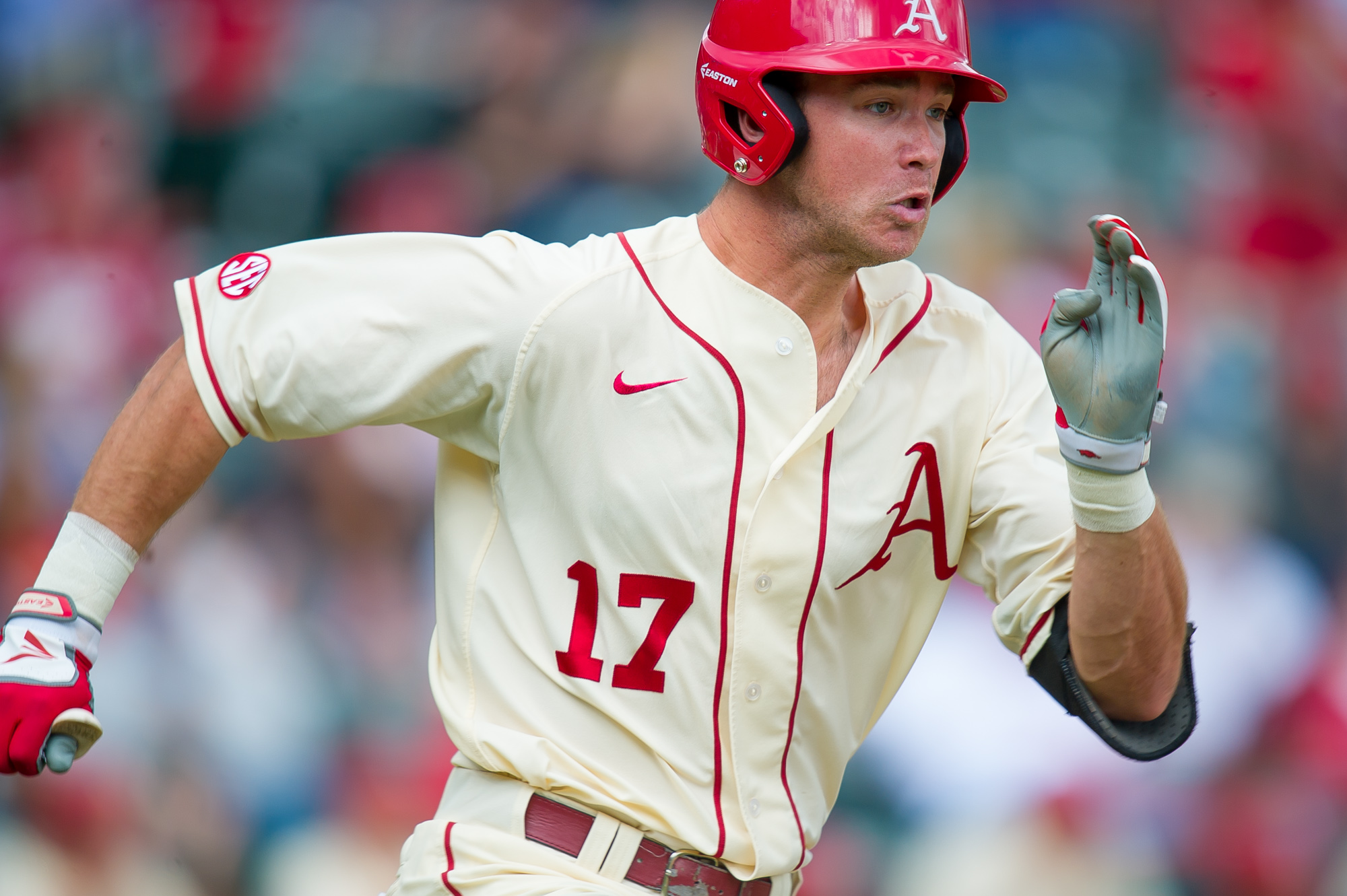 Final Tuneup Before SEC Play As Hogs Face Grambling State
Arkansas Notes vs. Grambling State (PDF) | WatchESPN/SEC Network+ | Listen on RSN
FAYETTEVILLE, Ark. – No. 13 Arkansas completes its 11-game homestand Tuesday and Wednesday when SWAC opponent, Grambling State, visits Baum Stadium for a two-game midweek series. The two games will be Arkansas' final games before SEC-play opens this weekend at No. 12 South Carolina. The Razorbacks are 13-3 on the season after sweeping Western Illinois last weekend by a combined score of 15-5, including getting its second shutout of the year on Sunday.
Follow Live
Fans can catch Tuesday's and Wednesday's games on SEC Network+ and WatchESPN app with Alex Perlman (PXP) and Troy Eklund (Analyst) on the call as well as on the radio on the IMG Sports Network. Phil Elson (PXP) and Rick Schaeffer (Analyst) can be heard on the Razorback Sports Network.
Probable Starters
Tue. | 6:30 p.m. | (ARK) RHP Isaiah Campbell (1-0, 3.86 ERA, 2/0 K/BB) vs. (GSU) TBA
Wed. | 3 p.m. | (ARK) TBA vs. (GSU) TBA
Tickets
Fans can purchase tickets for Wednesday's game at the Razorback Ticket Office, online on ArkansasRazorbacks.com or at the gate of Baum Stadium.
Leading Off
The Razorbacks are fresh off a three-game sweep of Western Illinois, its third weekend sweep of the season and fourth weekend series win, which includes the three wins at the Houston College Classic. Arkansas benefitted from good pitching performances on all three days, including a combined two-hitter in the Sunday finale, anchored by freshman Barrett Loseke.
Senior infielder Rick Nomura seemed to break out of his hitting slump as he hit his second home run of the season in Arkansas' 9-3 win over the Leathernecks Saturday to secure the series win. Nomura went 4-for-5 in the game, a career-high in hits and scored three runs, while driving in two. Over his last four games, the Hawaiian has gone 7-for-11 (.636) at the plate, driving in seven runs and hitting two home runs.
Arkansas pitchers Dominic Taccolini and Zach Jackson combined for one of the best performances on the mound this season when the two hurlers combined for a season-high 14 strikeouts Friday against Western Illinois. Taccolini turned in his second seven inning outing of the year, striking out nine (tying career-high) and had a no-hitter through the sixth inning. Jackson struck out five batters in his own right over the game's final three innings.
Freshman Barrett Loseke was given the opportunity for his first career start Sunday in the series finale against Western Illinois. Loseke didn't disappoint going a season-long four innings, while only giving up one hit with no runs. Over the 10 innings he's pitched this season, Loseke has yet to give up a run.
Two-Baggers For Bonfield
Over just the last two games, sophomore Luke Bonfield has been on a mission at the plate. In his last seven at-bats, he has recorded five hits, three RBI and three doubles.
Bonfield has been hot and cold with the bat since the start of the season. He went 5-for-12 (.417) through his first three starts this season, highlighted by a 3-for-5 day with 5 RBI vs. Mississippi Valley State (2/23).
Over the next six games, Bonfield struggled to get any momentum, notching only two hits and no RBI, including going 0-for-4 in the series opener against Western Illinois.
Now, Bonfield has upped his average to .343 and his four doubles is tied for the second-highest on the team.
His three RBI on Sunday vs. Western Illinois tied his season-high and were the only three run Arkansas scored in the shutout.
Razorback History vs. Grambling State
Arkansas and Grambling State have only played three times in the all-time series. The Hogs and Tigers first met back in 2010 in the NCAA Fayetteville Regional. Grambling State was the SWAC champion that year, but the Razorbacks put 19 runs on the board to win the regional opener, 19-7.
Since then, the two teams have only played twice during a two-game midweek series in 2014 with Arkansas taking both by a combined score of 12-3.
HOGS AND GRAMBLING STATE ALL-TIME RESULTS
Date                 Location                       Result  Score
6/4/10               Fayetteville, Ark.           W         19-7
3/18/14             Fayetteville, Ark.           W         4-3
3/19/14             Fayetteville, Ark.           W         8-0
Scouting Grambling State
Grambling State is coached by James Cooper, who is in his fourth season as the Tigers' head coach. Cooper was the 33rd round draft pick of the Houston Astros in 2004.
Daniel Barnett leads all Grambling State hitters with a .420 average. Barnett has 21 hits in 50 at-bats, eight for extra-bases and 15 RBI.
He along with Darien Brown are the only two Tigers' hitters with a .400 average or higher and 20 or more at-bats. Brown is batting .409 in 10 games played with nine hits, one double and three RBI.
Issac O'Bear leads all Tiger pitchers as he has made four starts, going 2-2 with a 5.64 ERA. O'Bear has given up just 14 earned runs in 22.1 innings pitched and struck out eight.
Tanner Raiburn has been the Tigers other strong starting pitcher, but has struggled to keep the earned runs down. Raiburn has a 10.80 ERA in four starts, going 0-3, but leads the team with 14 strikeouts.