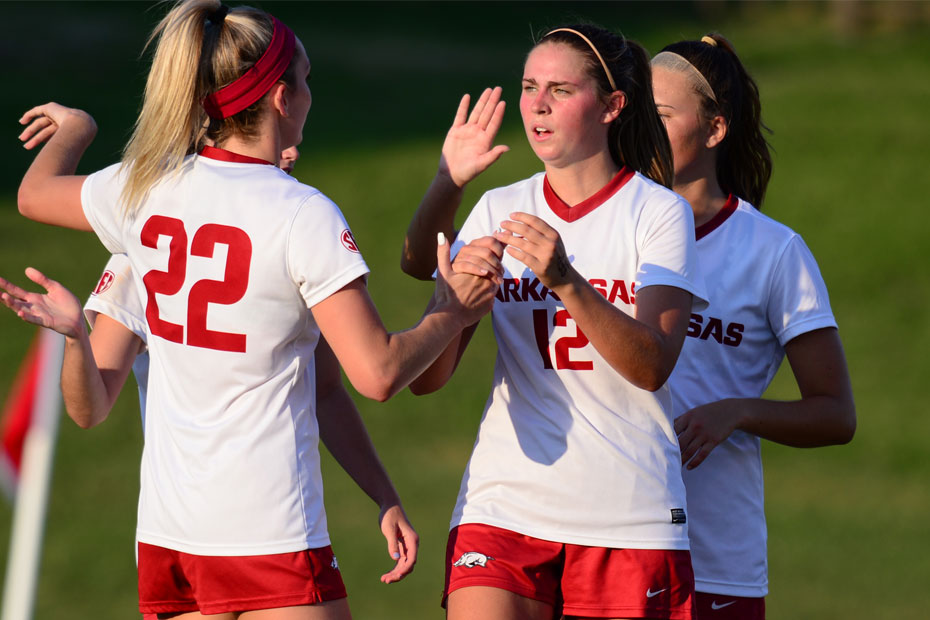 Final Tuneup Pits Arkansas At Nebraska
LINCOLN, Neb. — The Arkansas soccer team closes out exhibition play on Thursday evening in Lincoln, Nebraska when it takes on Big 10 Conference-member Nebraska inside Hibner Stadium. This is the final of two exhibitions scheduled by the Razorbacks prior to opening the 2018 season.
First kick with the Cornhuskers is scheduled for 7 p.m., but there will be no television coverage of the match. Admission is free for fans in attendance. Fans can also follow the action via Twitter by following @RazorbackSoccer.
Matchday Info
Opponent: Nebraska
Date: Thursday, Aug. 9
Location: Hibner Stadium (Lincoln, Neb.)
First kick: 7 p.m.
Live Stats: Click Here
TV: None
Tickets: FREE ADMISSION
Arkansas hits the road for its final friendly of the year one week after taking out Kansas State, 1-0, at Razorback Field. Sophomore Taylor Malham's 37th minute score did all the damage the Razorbacks needed to net the win. Defensively, the Wildcats were limited to six shots in the match, none on goal in the first 43 minutes.
Last week's exhibition was the earliest that head coach Colby Hale has ever had one of his teams play an outside opponent in the preseason. Hale says he was able to do that because of the depth of his team and that these preseason minutes will help them down the road.
"This is a deep team," Hale said. "This team might have the most leaders we've ever had. When you've played in the SEC with some of the minutes they've played, it puts them a step ahead. Everyone feels like they are very mature."
First Touches
>> The Razorbacks opened the 2018 season last week with a 1-0 exhibition shutout over Kansas State. Sophomore Taylor Malham scored in the 37th minute off a cross from the right from freshman Maddie Ricketts.
>> The shutout was a callback to last year when the Razorbacks totaled 10 clean sheets, five coming in SEC play. The team added shutouts in its first two contests of the SEC Tournament to tie the school record for shutouts in a season.
>> With the match against Kansas State coming on just the fourth day of preseason, head coach Colby Hale was able to utilize almost the full roster during the match with 21 different players finding significant minutes.
>> Sophomore Brooke Pirkle led all Razorbacks last week, going a full 90 minutes in the midfield.
>> In the net, goalkeepers Alexis Bach and Taylor Beitz were used evenly with each logging roughly 45 minutes. Beitz led the way with three saves in 46 minutes of action.
>> As a team, Arkansas is coming off its third season of 10 or more wins since 2012, all under head coach Colby Hale.
>> Last year marked the first time in program history that Arkansas has tallied consecutive 10-win seasons.
>> Arkansas has come out a winner in four of its last five exhibition matches, including a 3-0 win over Omaha last year and last week's 1-0 win over Kansas State.
Arkansas-Nebraska History
The Razorbacks have faced the Cornhuskers only four times in their histories with the first match coming in 1995. Thursday's match will be Arkansas' first trip to Lincoln since 2011. The last matchup between these two programs came in 2013 with Arkansas coming away victorious, 2-1, in double overtime. Evan Palmer scored the game-winner in the 104th minute and helped Arkansas continue its undefeated start at 6-0.
Hey Dude!
Last weekend, the team went on a team bonding retreat to a ranch near Jasper, Arkansas and the Buffalo River. There, the players and coaches were able to take part in hikes, zip lines, horseback riding and other activities while growing closer as a team. Check out a closer look at the trip below.
Season Tickets
Season tickets are now on sale for $25. Each season ticket order will come with one 2018 Razorback Soccer scarf.  Single-game tickets can be purchased for $5 at the Razorback Field box office, which opens one hour before kickoff on game days. Current students can be admitted with their UA ID, and children 17 and under are admitted free.
For more information on Razorback Soccer, follow @RazorbackSoccer on Twitter.