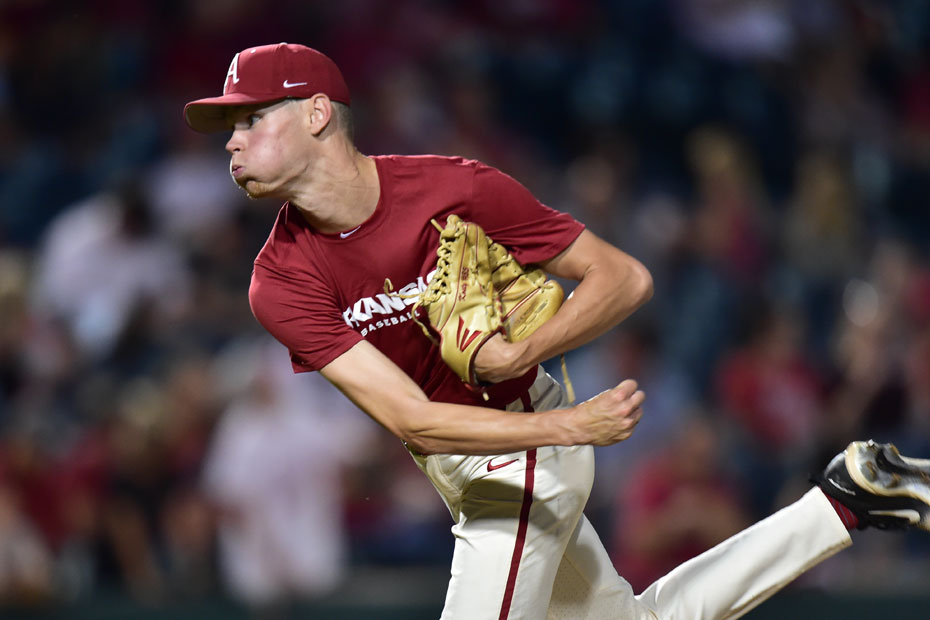 First Fall Exhibition A Success For Razorback Baseball
FAYETTEVILLE, Ark. – An announced crowd of 5,142 were in attendance Friday night at Baum Stadium as the Arkansas baseball team took on Wichita State in its first fall exhibition of 2018. Arkansas ended up winning the game, 10-1, over 14 innings as fans got a first-hand look at many veterans and newcomers alike.
2018 Fall Exhibition Schedule
Oct. 5 – vs. Wichita State – W, 10-1 (14 innings)
Oct. 12 – at Little Rock (4:30 p.m.)
Sophomore Heston Kjerstad, who is coming off an All-American and SEC Freshman of the Year campaign, went 1-for-5 in the opening nine innings. His lone hit was a two-run opposite-field home run in the first inning that got Arkansas' offense going.
On the mound, Arkansas' pitching staff excelled, allowing only one run on five hits throughout the entire night. Redshirt junior right-hander Isaiah Campbell got the start and battled through a shaky first inning to strike out eight over four innings. He only walked one batter and threw 63 pitches, retiring four of the last five he faced.
For the next five innings, the Arkansas coaching staff worked its pitchers as if it were a real game. With a 2-0 lead after the first, junior Jacob Kostyshock threw two perfect innings, striking out three. Then, redshirt junior Cody Scroggins threw a perfect seventh inning, followed by a perfect eighth by sophomore Kole Ramage.
With the score 3-1 going into the ninth, junior lefty Matt Cronin got his number called to close out the game. Cronin, who set the Arkansas single-season record for saves (14) last year, did what he does best, striking out the side in the ninth on 12 pitches.
Arkansas added five more runs in the 10th as its starting lineup got one more turn at the plate before giving way to the bench. Sophomore JUCO transfer Matt Goodheart turned in a good day at the plate, going 2-for-5 including a long home run over the right field bullpen. He finished with four RBIs in the game.
The Razorbacks will continue with fall practice next week before playing its final fall exhibition on Friday, Oct. 12 against the Little Rock Trojans. The team will travel to the capital city and play at Gary Hogan Field. First pitch is scheduled for 4:30 p.m.
For more information on Razorback Baseball, follow @RazorbackBSB on Twitter.
From Dave Van Horn
"There were some good things, but there were obviously some things we need to work on. Try to get everybody in in the second half, but obviously our pitching was outstanding and if you look how (Isaiah) Campbell started it out, his first five outs were from strikeouts before they got a hit. He didn't have his breaking stuff until his last inning and he did a nice job with it. Then it was one right after another came in and really threw the ball well, held them down. They only had four or five hits throughout the night. Offensively, the positive would be that we took advantage of things. We scored when they walked us or they made an error here or there. We punched in some runs and we got a big three-run homer after the walk, but there were too many strikeouts. We have to cut those in half and we have to give credit to their first pitcher (McGinness). He threw a lot of breaking balls, change-ups, and kept us off balance. They brought in another lefty, another guy throwing a lot of breaking balls and we didn't do a good job with it. It's early and it was a good learning experience for us." – On how the team managed their first fall exhibition
"On Kjerstad's, I think it was a change-up and he just stayed on it. We knew from the dugout as soon as it left the bat it was out of here. I think (Matt) Goodheart took some good swings early in the game and fouled some balls back, but then he got all of that one and drove it through the wind over the back wall. He's been swinging the bat good in practice that's why I DH'ed him, I also put him at first tonight and left field. Obviously, in a normal game you wouldn't be able to move him around and take him out like that. We discussed that before the game, if we had a DH, we wanted to move him around and that's what I did with him because I think that is what he'll do for us. I think he'll play a little outfield and some first base; a good DH and I want him to hit." – On the two home runs by Heston Kjerstad and Matt Goodheart