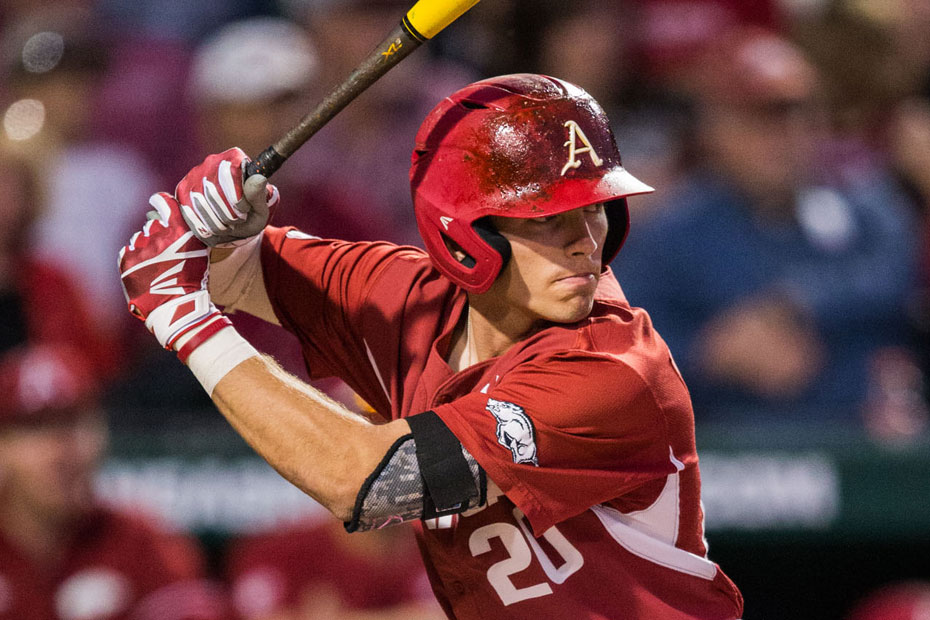 First SEC Road Test Takes Hogs To Missouri
COLUMBIA, Mo. – The 24th-ranked Razorbacks hit the road for the first time in Southeastern Conference play this weekend as they are set to play a three-game series against 18th-ranked Missouri starting on Friday at 6:30 p.m. in Columbia. Arkansas is a winner of 10 of its last 11 games, including six straight, while the Tigers have won 20 in a row since losing on Opening Day back in February.
The Hogs are coming off an 11-game homestand that included sweeps of ULM, Alcorn State, and Mississippi State. The 3-0 SEC start is the first for the Razorbacks since 2012 and a series win at Missouri would guarantee Arkansas' best start to conference play since the same year. During the previous 11-game run, Arkansas hit .286 as a team with 17 home runs and the pitchers had a 1.91 ERA with 122 strikeouts. Arkansas scored five or more runs in seven of the last 11 games and are averaging just over seven runs per game this season.
Follow Live
Friday and Sunday's game will be available online only on SEC Network+ via the WatchESPN app. Ben Arnet (PXP) and Tim Jamieson (Analyst) will call the action for games one and three. Saturday's game will be available on the SEC Network with Alex Perlman (PXP) and Todd Walker (Analyst) on the call. Phil Elson (PXP) and Rick Schaeffer (Analyst) will also call the game for the Razorback Sports Network on the radio.
Probable Starters
Fri. | 6:30 p.m. | (ARK) RHP Blaine Knight (2-1, 2.39 ERA, 34/1 K/BB) vs. (MIZZ) RHP Tanner Houck (3-1, 2.27 ERA, 37/10 K/BB)
Sat. | 2 p.m. | (ARK) RHP Trevor Stephan (4-0, 1.19 ERA, 40/8 K/BB) vs. (MIZZ) LHP Michael Plassmeyer (4-0, 2.89 ERA, 27/6 K/BB)
Sun. | 1 p.m. | (ARK) TBA vs. (MIZZ) RHP Andy Toelken (1-0, 3.57 ERA, 15/7 K/BB)
Soooieville Sluggers
The Razorbacks have been hitting home runs at an unreal pace this year. Currently leading the SEC with 32 home runs this year, the Hogs have 11 more home runs than Mississippi State, South Carolina, Georgia, and Kentucky, which are tied for second in the league in long balls.
The 32 homers is also the ninth-most in the country, trailing first-place Wake Forest by eight. Arkansas is the only team in the SEC with multiple players with five or more home runs this year. Catcher Grant Koch is second in the SEC with seven home runs, while infielder Carson Shaddy and outfielder Dominic Fletcher each have five long balls.
Fletcher's home run total is the most for a Razorback freshman since Zack Cox corked 13 during the 2009 season, setting the Arkansas freshman record.
California Dreamin'
Senior Jake Arledge has made big strides in his second year with the Hogs. The senior is currently leading the team with a .337 average and already has more home runs (3) and RBIs (14) than he did in all of 2016. The California-native has at least one hit in 17 of 19 games this year and recently had a 14-game hitting streak snapped in the first game of the Mississippi State series. The 14-game hit streak is the longest by a Razorback since Michael Bernal had a hit in 15 straight games in 2015.
None Shall Pass
After 22 games of the regular season, Arkansas pitchers have boasted some of the best strikeout-to-walk ratios in the country. As a team, the Razorbacks have allowed 66 walks, compared to 235 strikeouts, good for 3.56 ratio, which is seventh in the country. The 235 strikeouts is good for tops in the SEC and third in the country. Sophomore Blaine Knight has allowed just one walk in his five appearances and has an astounding 34:1 strikeout to walk ratio.
NCAA Leaders – Strikeout-to-Walk Ratio
| Rank | Name (Team) | K/BB Ratio |
| --- | --- | --- |
| 1. | Blaine Knight (Arkansas) | 34.00 |
| 2. | Daniel Procopio (Niagara) | 23.00 |
| 3. | Mike Reitcheck (Penn) | 19.00 |
| 4. | Beau Sulser (Dartmouth) | 18.00 |
| 5. | Nate Harris (La. Tech) | 17.50 |
Stephan Continues To Dazzle
Junior pitcher Trevor Stephan had only been a pitcher for two seasons before arriving at Arkansas, but he looks like a seasoned veteran on the mound after his first five starts to the year. Stephan has been the Saturday starter for all five weekends this year and he has yet to give up more than two earned runs each time. Stephan currently leads all Hog pitchers with a 1.19 ERA and a perfect 4-0 record.
He currently has the seventh-lowest ERA in the conference and his 13 strikeouts against Rhode Island were the most by a Razorback since Jess Todd had 17 in the 2007 SEC Tournament against South Carolina.
Stephan is off to the best start to a season for a Razorback starting pitcher since 2012 when former All-American Ryne Stanek began his sophomore season with five straight wins, 25 strikeouts, and a 1.52 ERA over 29.2 innings. The 40 strikeouts is also the most by a Razorback through the first 21 games of a season since Nick Schmidt, another All-American, totaled 40 through seven starts in the 2007 season.
Top Razorback Pitchers Through 22 Games (Five or more starts)
| Name | ERA | W-L | IP | K |
| --- | --- | --- | --- | --- |
| Trevor Stephan ('17) | 1.19 | 4-0 | 30.1 | 40 |
| Ryne Stanek ('12) | 1.52 | 5-0 | 29.2 | 25 |
| Nick Schmidt ('07) | 1.47 | 5-0 | 43.0 | 40 |
For more information on Razorback Baseball, follow @RazorbackBSB on Twitter.