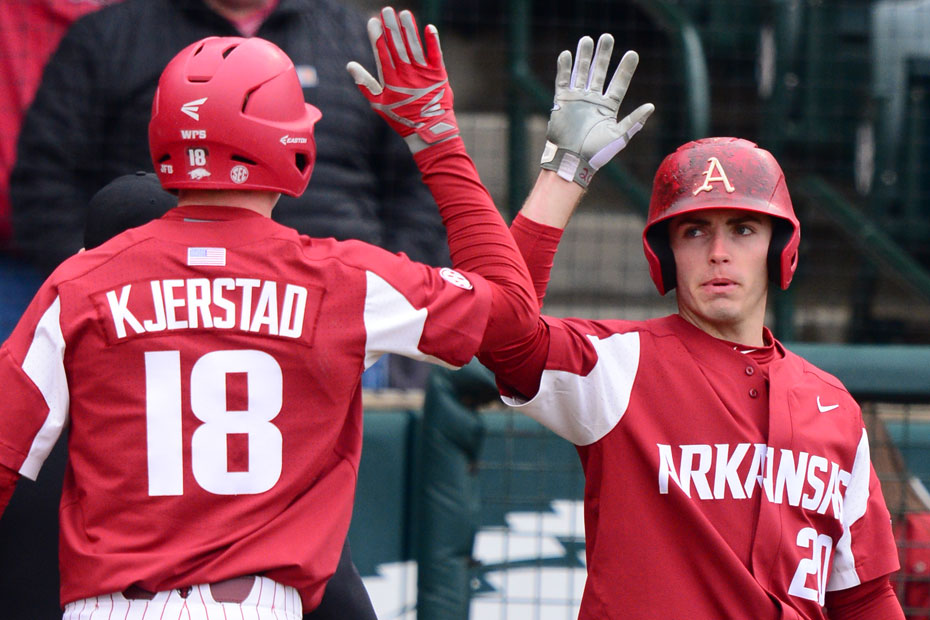 Five Games In Five Days Upcoming For Razorbacks
FAYETTEVILLE, Ark. – Home from its four-game road trip to San Diego, the No. 5 Arkansas baseball team is back home for its longest homestand of the year as it will play 13 games in Baum Stadium over the next 18 days starting with a two-game series against Dayton on Wednesday and Thursday. The Hogs (5-2) will then play a three-game series against Pac-12 foe USC starting on Friday.
The Razorbacks are coming off a week spent in San Diego where they took part in the Tony Gwynn Legacy tournament and won games against Arizona (1-0) and San Diego State (5-2). The Hogs did fall to Cal Poly (4-3) and San Diego (7-6), but got great performances across the board from its pitching staff, especially its starting pitchers.
Last week, Arkansas pitchers combined for a 2.31 ERA and struck out 39 batters. The starting pitching duo of Blaine Knight and Isaiah Campbell turned in its second strong week in a row with each going five innings or more and striking out seven batters with one earned run allowed each.
Follow Live
All five games will be available on SEC Network+ and the WatchESPN app with Brett Dolan (PXP) and Troy Eklund (Analyst) calling the action. Scott Inman (PXP) and former Razorback Bubba Carpenter (Analyst) will have the radio call on the IMG Sports Network.
Important Links
Wed, Feb. 28 – Arkansas vs. Dayton – LIVE STATS | WATCH
Thu, March 1 – Arkansas vs. Dayton – LIVE STATS | WATCH
Fri, March 2 – Arkansas vs. USC – LIVE STATS | WATCH
Sat, March 3 – Arkansas vs. USC – LIVE STATS | WATCH
Sun, March 4 – Arkansas vs. USC – LIVE STATS | WATCH
Probable Starters
Wed. | 3 p.m. | (ARK) RHP Caleb Bolden (0.00 ERA, 3.0 IP, 0 K, 1 BB) vs. (DAY) RHP R.J. Wagner (0.00 ERA, 6.2 IP, 8 K, 4 BB)
Thu. | 3 p.m. | (ARK) TBA vs. (DAY) Austin Cline (15.00 ERA, 0-2 W-L, 6.0 IP, 2 K, 3 BB)
Fri. | 3 p.m. | (ARK) Blaine Knight (0.82 ERA, 1-0 W-L, 11.0 IP, 11 K, 3 BB) vs. (USC) TBA
Sat. | 2 p.m. | (ARK) Isaiah Campbell (2.00 ERA, 1-0 W-L, 9.0 IP, 14 K, 3 BB) vs. (USC) TBA
Sun. | 12:30 p.m. | (ARK) Kacey Murphy (0.00 ERA, 1-0 W-L, 6.0 IP, 6 K, 1 BB) vs. (USC) TBA
Five For Five – This week's slate of games against Dayton and USC will be a rare instance that Arkansas will play five games in five days. Dayton will visit Baum Stadium for a two-game series starting on Wednesday before the USC Trojans come in for a weekend series. Last year, Arkansas played five games in four days en route to the 2017 SEC Tournament championship game. These five games kick off a 13-game homestand where the Hogs will play 13 times in a span of 18 days.
Soooieville Sluggers Year Two? – In 2017, Arkansas crushed an SEC-best 83 home runs. It was the most home runs by a Razorback team since 2010. The Hogs picked up where they left off during opening weekend, hitting eight homers, including six in the 32-4 victory over Bucknell. Arkansas currently third in the SEC and 12th nationally with 11 home runs this year. After seven games last year, the Hogs had just nine homers.
Pitchers Shine In Early Weeks – Arkansas has shown its depth on the mound through the first two weeks of the season and it was just as apparent last week in San Diego. Blaine Knight, Isaiah Campbell, and Kacey Murphy each went five or more innings in each of their respective starts and all three struck out six or more batters. As a pitching staff, the 2.03 ERA is sixth-best in the league and best seven-game start by an Arkansas pitching staff since 2014 (1.86). Among the starters only this year, the ERA dips to 1.76.
Cronin Shows His Stuff – One of the biggest bright spots to Arkansas' pitching staff this year has been the play of sophomore Matt Cronin. In three appearances this year, Cronin has one victory and one save and has yet to give up a run in 7.1 innings. Against Arizona last week, he retired seven of the final eight batters and also got out of a bases loaded jam in the seventh. Cronin is one of five pitchers and one of two relief pitchers in the SEC with an ERA of 0.00 through the first two weeks of the season. He also currently holds the lowest opponent's batting average in the league (.043).
Dvh Wins 600 Games As Razorback Head Coach – By defeating San Diego State, 5-2, last Saturday, head coach Dave Van Horn claimed his 600th win as the Razorback skipper. Van Horn is now one of only three head coaches in the SEC with 600 or more wins at their current school. Overall, Van Horn has 971 wins as a Division I head coach, good for eighth most among all active coaches.
Murphy And Kjerstad Will Hogs Past Wildcats – Playing a neutral site game as part of a warmup to the Tony Gwynn Legacy Tournament, Arkansas was able to gut out a 1-0 victory over PAC-12 power Arizona Wednesday night. Junior pitcher Kacey Murphy showed no drop off from his strong 2017 postseason by throwing six scoreless innings and totaling six strikeouts on 73 pitches. At the plate, freshman Heston Kjerstad continues to show he belongs by hitting the solo home run that provided the victory. Kjerstad has at least one hit in all four games this year and only one strikeout in 12 at-bats.
For more information on Razorback Baseball, follow @RazorbackBSB on Twitter.