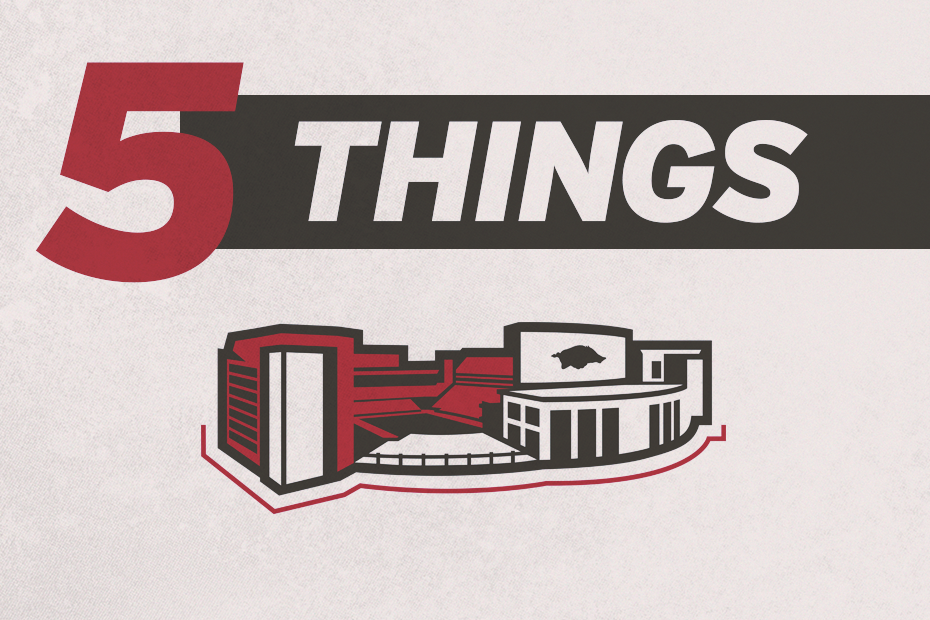 Five Things Razorback Football Guests Should Know To Enhance Their Gameday Experience
FAYETTEVILLE, Ark. – As Razorback fans prepare to head to Donald W. Reynolds Razorback Stadium this weekend, here are five things every guest at an Arkansas football game should know to help enhance their gameday experience this season.
1. Guests will scan their own tickets
Fans will make their entry into Donald W. Reynolds Razorback Stadium even more efficient by scanning their own tickets. Self-scanning stations are set up at all stadium gates. Fans should note that:
a. Each guest will need to scan their individual ticket
b. Guests should have their ticket out and ready to be scanned
c. For those using a digital ticket, guests should download their digital ticket before entering the self-scanning line
2. A new gate and seating section numbering system is in use for 2018
Donald W. Reynolds Razorback Stadium has been re-numbered to provide a sequential flow throughout the seat areas. The revised numbering system allows guests to access the gates and seating sections designated on their tickets more efficiently.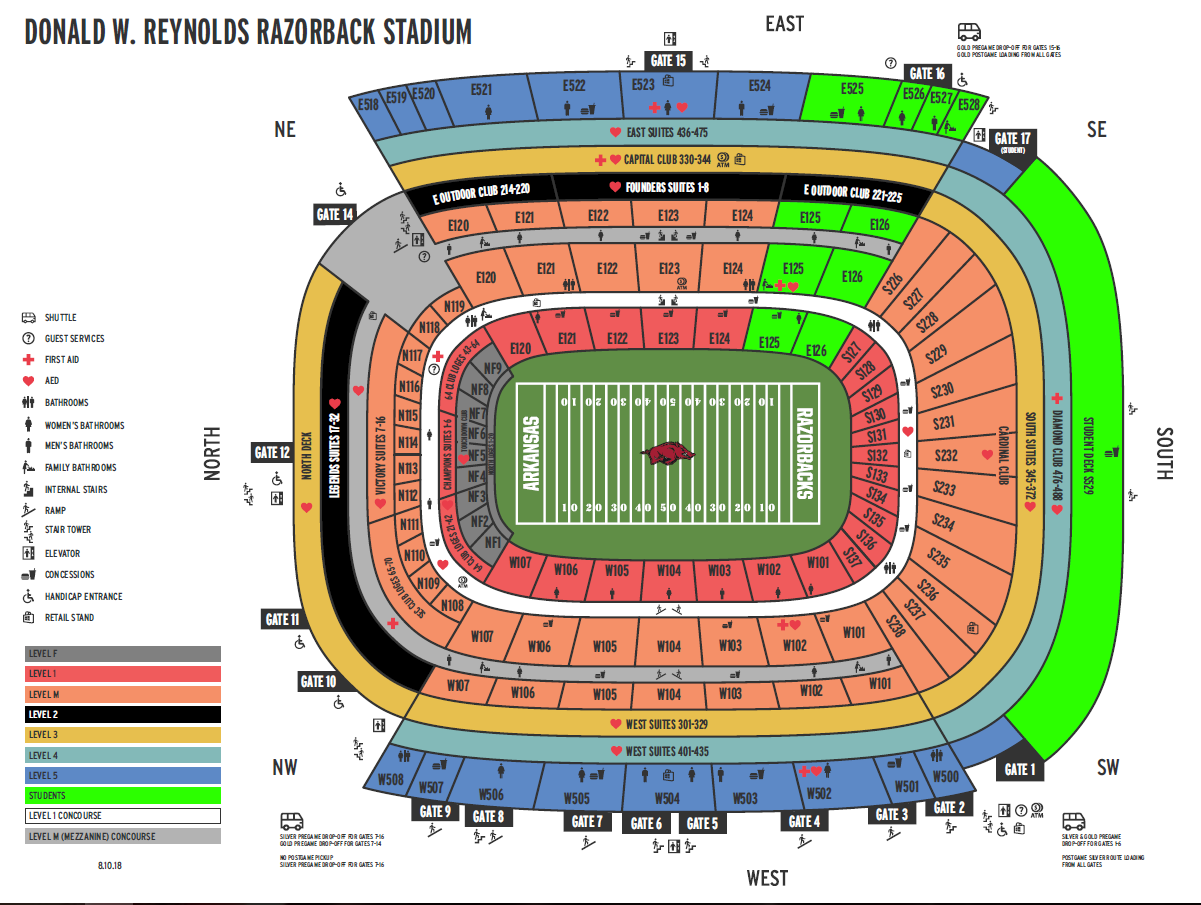 3. Gameday guests should enter the stadium at the gate indicated on their ticket
To expedite entry and access to their respective seating sections, guests should denote and enter at the gate designated on their ticket. While guests may access any gate of Donald W. Reynolds Razorback Stadium, entering at the gate designated on the ticket will assist in making the entry process the most efficient. The gate number is located in the lower middle portion of the Razorback game day ticket near the row and seat number.
4. Guests can now travel a full 360 degree Level 1 concourse
Never before have Razorback fans been able to move through Donald W. Reynolds Razorback Stadium with such ease! Guests may now access all sides of the stadium by utilizing the 360 degree Level 1 Concourse. The Level 1 Concourse is located one level below the Mezzanine or street level. In addition to the Level 1 Concourse, the Mezzanine level concourse allows movement throughout the east, west and north seating sections.
5. The SEC Clear Bag Policy is in effect
Guests may bring otherwise approved items into Donald W. Reynolds Razorback Stadium using bags that are clear plastic, vinyl or PVC and do not exceed 12" x 6" x 12" or one-gallon clear plastic freezer bag (Ziploc bag or similar). Individuals may also carry a small clutch purses, no larger than 4.5" x 6.5", with or without a handle or strap. All clear bags and clutch purses will be screened prior to entry into the venue. All bags and purses not meeting the above requirements will not be permitted. Although permitted, childcare items, including diapers, must also be carried in an approved clear bag. Individuals carrying required medical supplies or devices into the venue are not subject to the clear bag policy. However, a thorough screening of the bag and the medical items will be conducted prior to entry. The person requiring these supplies or devices must accompany the bag at all times. Medical exception bags will be tagged once cleared through security. For a list of approved and prohibited items fans may visit the Gameday page at ArkansasRazorbacks.com.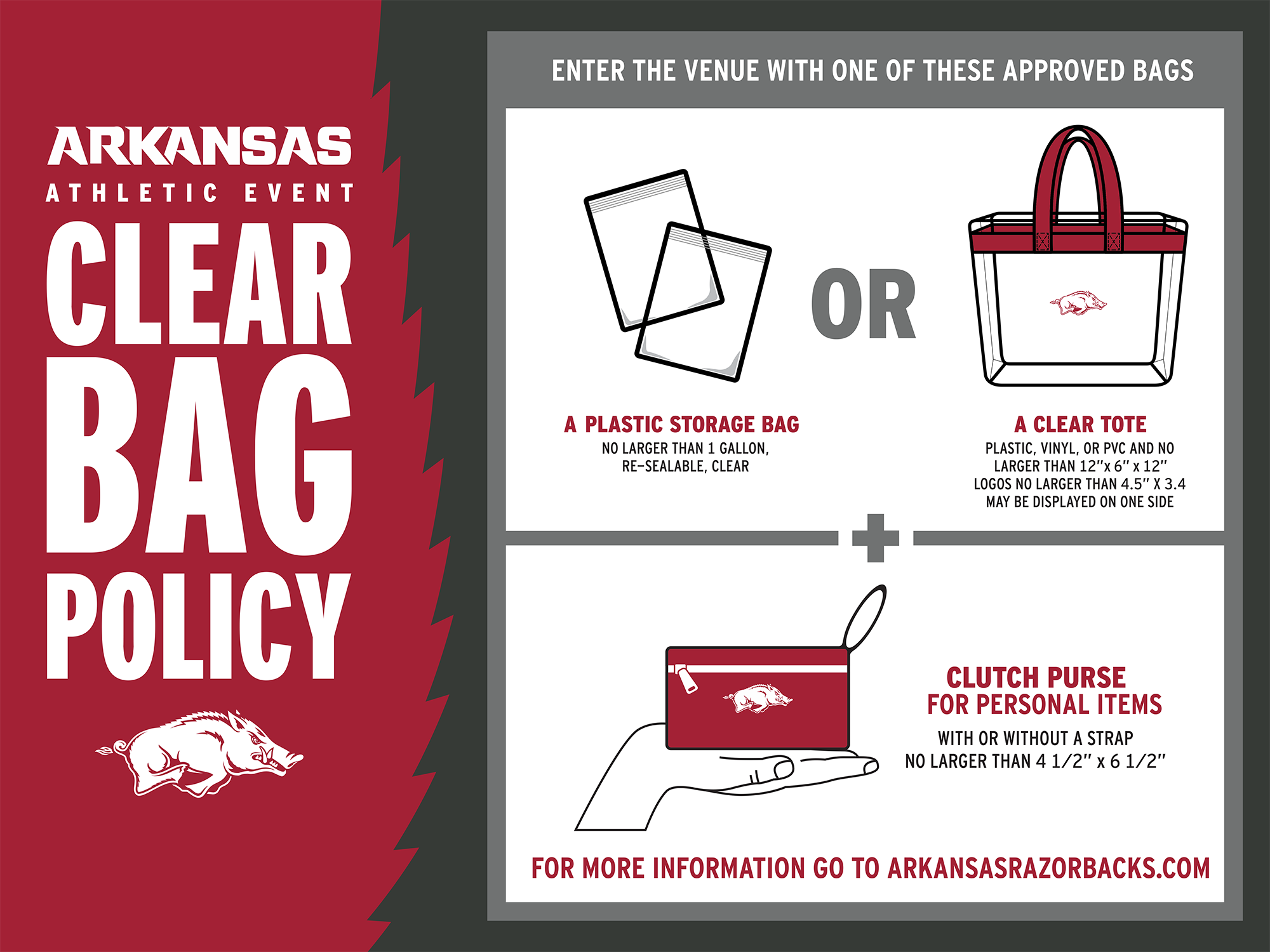 For more information on how best to enjoy your trip to Donald W. Reynolds Razorback Stadium, visit the Gameday page at ArkansasRazorbacks.com/Gameday. Arkansas opens the 2018 regular season against Eastern Illinois this Saturday, September 1 at 3 p.m. at Donald W. Reynolds Razorback Stadium. Tickets for the season opener are available here.