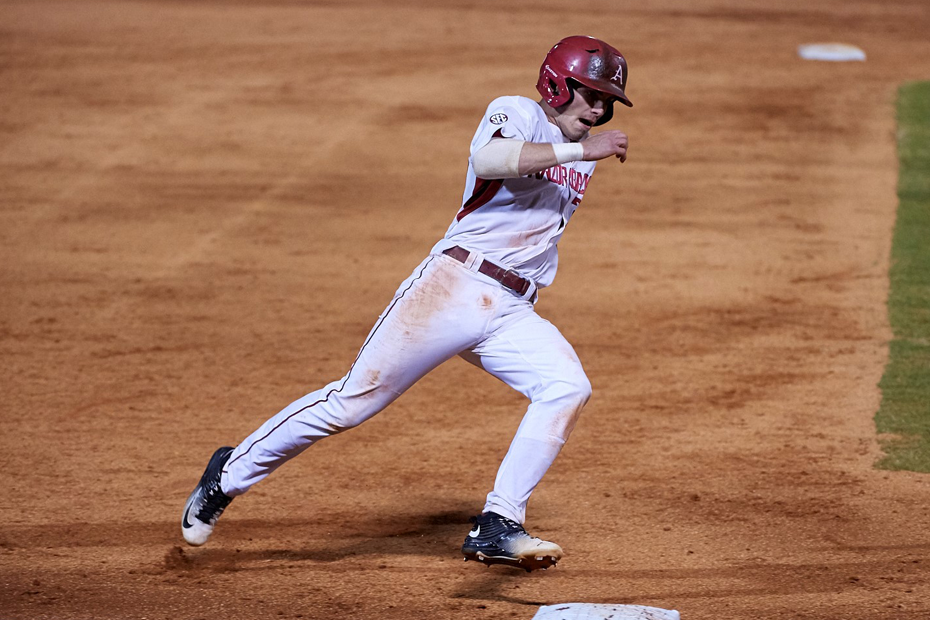 Focus Shifts For Razorbacks To No. 2 Florida
Arkansas Notes vs. Florida (PDF)
FAYETTEVILLE, Ark. – After a solid win in North Little Rock over Louisiana-Monroe in front of a raucous crowd, the Razorback baseball team hopes for the momentum to continue when it hosts No. 2 Florida for a three-game series starting Thursday, 8 p.m. CDT at Baum Stadium.
Arkansas (21-12, 4-8) is set to start junior right-handed pitcher Dominic Taccolini (3-1) for game one against the Gators (30-5, 8-4), opposite junior lefty A.J. Puk (1-2) for Florida. Taccolini will be making his eighth start of the year and first since April 1 against Missouri.
Taccolini pitched twice last week out of the bullpen, going 1 1/3 innings against Memphis and 3 2/3 innings against No. 14 Ole Miss. The junior has been one of Arkansas' go-to starting pitchers this year as he picked up three straight wins to start the year against Central Michigan, No. 23 Rice and Eastern Illinois. He has allowed a combined 5 earned runs, 14 strikeouts and 3 walks.
Sophomore right-hander Keaton McKinney (1-1) will pitch Friday against Florida junior right-hander Logan Shore (6-0). McKinney also pitched out of the bullpen last weekend going two innings against Ole Miss, allowing two earned runs while scattering four hits.
The Hogs are fresh off a 3-1 victory over ULM in North Little Rock, snapping a three-game losing streak and winning its 21st game of the year. The win was Arkansas' sixth out of the seven games it has played at Dickey-Stephens Park since 2010.
Things to know
The Razorbacks are 16-5 in games at Baum Stadium this season and are hitting .287 as a team in those 21 games. Four players are hitting .300 or higher at home this year with Clark Eagan leading the way (.329), followed by Rick Nomura (.328), Carson Shaddy (.325) and Cullen Gassaway (.300).
Sophomore Luke Bonfield is currently on a six-game hitting streak going into Thursday's game, the longest active streak on the team. During the streak, the New Jersey native is hitting .417 with 10 hits, 3 doubles and 2 home runs, the best out of any Razorback during that span.
Thursday's game will be the first between Arkansas and Florida in Baum Stadium since 2011. The Razorbacks faced the Gators twice in the 2015 SEC Tournament, winning the first game by a score of 7-6 before falling in the second game two days later 10-0 in what was an elimination game.
The Hogs have not lost a series to the Gators in Fayetteville since 2000 and have come out winners in 10 of the last 12 games played against Florida in Baum Stadium.
Junior pitcher Josh Alberius pitched two innings of scoreless relief Tuesday against ULM, striking out four. In his last five appearances, Alberius hasn't allowed more than one hit and hasn't allowed an earned run since March 9 against Gonzaga.
Follow Live
Thursday's game between the Razorbacks and the Gators will be broadcast on ESPNU as Clay Matvick (PXP) and Kyle Petersen (analyst) will be calling the action. Friday and Saturday's games will both be streamed online on SEC Network+.
Phil Elson (PXP) and Rick Schaeffer (analyst) can be heard on the radio waves via the Razorback Sports Network from IMG. Fans in the Fayetteville area can listen to the game on the flagship station 92.1 FM The Ticket or online on ArkansasRazorbacks.com.
Probable Starters
Thu | 8 p.m. CDT | (ARK) RHP Dominic Taccolini (3-1, 5.31 ERA, 32/12 K/BB) vs. (UF) LHP A.J. Puk (1-2, 3.38 ERA, 36/12 K/BB)
Fri | 6:30 p.m. CDT | (ARK) RHP Keaton McKinney (1-1, 6.25 ERA, 14/18 K/BB) vs. (UF) RHP Logan Shore (6-0, 2.66 ERA, 53/8 K/BB)
Sat | 2 p.m. CDT | (ARK) TBA vs. (UF) RHP Alex Faedo (6-1, 3.97 ERA, 65/8 K/BB)
HOGS AND GATORS LAST 11 RESULTS
| Date | Location | Result | Score |
| --- | --- | --- | --- |
| May 22, 2015 | Hoover, Ala. | L | 10-0 |
| May 20, 2015 | Hoover, Ala. | W | 7-6 |
| March 16, 2014 | Gainesville, Fla. | W | 9-3 |
| March 15, 2014 | Gainesville, Fla. | L | 1-0 |
| March 14, 2014 | Gainesville, Fla. | L | 2-1 |
| April 29, 2012 | Gainesville, Fla. | W | 3-1 (10) |
| April 28, 2012 | Gainesville, Fla. | W | 5-1 |
| April 27, 2012 | Gainesville, Fla. | L | 3-2 |
| May 7, 2011 | Fayetteville, Ark. | L | 5-3 |
| May 6, 2011 | Fayetteville, Ark. | W | 5-3 |
| May 5, 2011 | Fayetteville, Ark. | W | 4-3 |