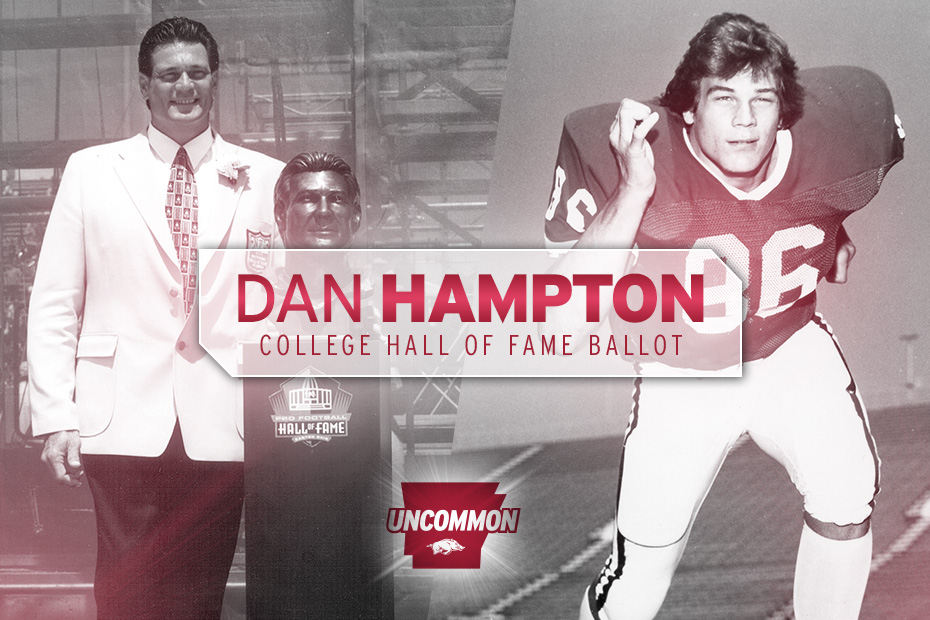 Former Hog Dan Hampton on Hall of Fame Ballot
FAYETTEVILLE, Ark. – Former Razorback All-American and National Football League (NFL) star Dan Hampton is one of 81 former players and coaches from the Football Bowl Subdivision included on the 2016 National Football Foundation (NFF) and College of Fame Ballot.
Hampton is making his debut on the ballot after earning a recommendation by one of eight district screening committees. Hampton was a four-year letterwinner at defensive tackle for the Razorbacks (1975-78). He played two seasons for Coach Frank Broyles (1975-76) and finished his career playing for Coach Lou Holtz (1977-78). Arkansas sported a 35-10-2 record during Hampton's career, including a mark of 22-8-1 in Southwest Conference (SWC) play.
Hampton totaled 239 tackles (126 unassisted tackles) in his career with 32 being behind the line of scrimmage while recovering six fumbles. He was an AFCA First-Team All-American in 1978 and helped Arkansas to finish third nationally after winning the 1978 Orange Bowl. As a senior, he logged 98 tackles, including 18 behind the line of scrimmage. He was named the SWC Defensive Player of the Year and earned first-team All-SWC honors in 1978. He also earned the outstanding SWC Player of the Year award from the Houston Post for his senior season. Hampton was named second-team All-SWC in his junior season (1977). As a freshman, Hampton helped the Razorbacks to a share of the SWC title and a victory over Georgia in the 1976 Cotton Bowl.
Hampton was drafted by the Chicago Bears with the fourth pick of the first round in the 1979 NFL Draft. He played 12 seasons for Chicago, becoming one of only two Bears' players to play in three decades for the team. He started 152 of his 157 career games with the Bears and finished third on the team's all-time career sacks list with 82. Despite overcoming 10 knee surgeries during his career, Hampton earned All-Pro honors five times and four trips to the Pro Bowl, twice as a defensive tackle and twice as a defensive end. Four other times, he was an alternate for the Pro Bowl. He also earned All-Madden team honors five times.
He was the starting defensive end for the famed Chicago Bears' 1985 Super Bowl Champions and was part of a unit that allowed only 198 points all season long, including shutouts of both teams in the NFC playoffs.
Hampton was named to the NFL 1980s All-Decade team and in 2002 was inducted into the Pro Football Hall of Fame. He was a member of the University of Arkansas' All-Century team (selected in 1994) and the Arkansas All-Decade team for the 1970s. He is a member of both the University of Arkansas Sports Hall of Honor and the Arkansas Sports Hall of Fame.
The University of Arkansas has 18 former Razorback players and coaches in the College Football Hall of Fame. Previous inductees from the University of Arkansas include Coach Frank Broyles, Lance Alworth, Loyd Phillips, Ronnie Caveness, Jimmy Johnson, Clyde Scott, Billy Ray Smith Jr., Wayne Harris and Coach Lou Holtz.
To be eligible for the ballot, players must have been named a First-Team All-American by a major/national selector as recognized and utilized by the NCAA for their consensus All-America teams; played their last year of intercollegiate football at least 10 full seasons prior; played within the last 50 years and cannot be currently playing professional football. Coaches must have coached a minimum of 10 years and 100 games as a head coach; won at least 60 percent of their games; and be retired from coaching for at least three full seasons. If a coach is retired and over the age of 70, there is no waiting period. If he is over the age of 75, he is eligible as an active coach. In both cases, the candidate's post-football record as a citizen may also be weighed.
The ballot will also be emailed this week to the more than 12,000 NFF members and current Hall of Famers whose votes will be tabulated and submitted to the NFF's Honors Courts, which deliberate and select the class. The FBS Honors Court, chaired by NFF Board Member and College Football Hall of Famer Archie Griffin from Ohio State, and the Divisional Honors Court, chaired by former Marshall head coach, longtime athletics director and NFF Board Member Jack Lengyel, include an elite and geographically diverse pool of athletic administrators, Hall of Famers and members of the media.
As part of a continuing tradition, the NFF has partnered with the College Football Playoff (CFP) to announce the new College Football Hall of Fame class the Friday before the National Championship in the host city. The announcement of the 2017 Class will be made Friday, Jan. 6, 2017, in Tampa, Fla., and they will be inducted at the 60th NFF Annual Awards Dinner Dec. 5, 2017, at the landmark Waldorf Astoria Hotel in New York City. The inductees will be permanently enshrined at the new College Football Hall of Fame in Atlanta.
Of the 5.12 million individuals who have played college football since Princeton first battled Rutgers on Nov. 6, 1869, only 977 players have earned induction into the College Football Hall of Fame, or less than two ten-thousandths (.0002) of one percent of those who have played the game during the past 147 years. From the coaching ranks, 211 individuals have achieved Hall of Fame distinction.