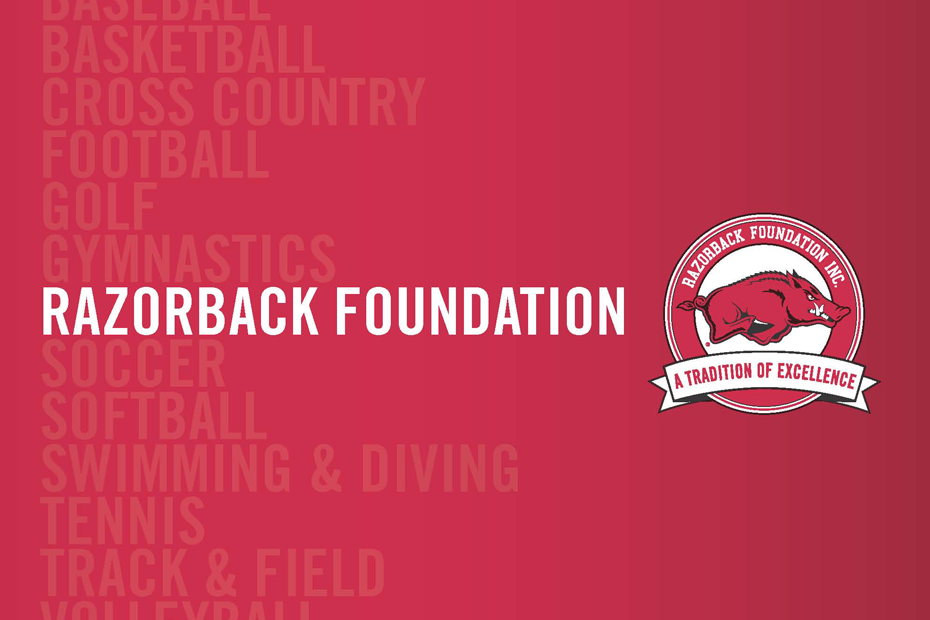 Foundation Opens Central Arkansas Office, Welcomes New Directors
FAYETTEVILLE, Ark. – The Razorback Foundation, Inc., announced it will open an office in Central Arkansas that will include two full-time employees, Executive Director Scott Varady said on Wednesday.
Mica Strother and Susannah "Susie" Shinn have been hired as directors of development and will be based primarily in the new Razorback Foundation office in Little Rock. Strother was Vice President of Marketing and Business Development for Baldwin & Shell Construction. Shinn most recently served as the Director of Annual Giving at Episcopal Collegiate School in Little Rock.
"We have Razorback Foundation members from all corners of the state and throughout the region that provide vital support for the development of Razorback student-athletes academically and athletically," Varady said. "We are grateful for that widespread support and continue to look for better ways to serve our membership and to welcome new members. We want every Arkansan to be a part of the Razorback Foundation and connected to the Razorbacks. With the addition of Mica and Susie and the opening of our Central Arkansas office, we will be able to more efficiently serve our members in all areas of the state.
"Mica and Susie are outstanding additions to our Razorback Foundation team. They are both well respected within in their field and have developed professional relationships throughout the state. Mica and Susie understand our state and how it rallies around the Razorbacks. We are pleased to have them join the Razorback Family."
While at Baldwin and Shell Construction, Strother was in charge of planning and implementing business development and marketing programs for all levels of the company. She joined the company in 2015 after spending the previous three years as the owner of Strother Strategies, Inc., a fundraising consultant for political candidates and non-profits in Arkansas. Strother was the finance director of former Arkansas Governor Mike Beebe's 2006 and 2010 gubernatorial campaigns. She also worked for seven years as the director of appointments to boards and commissions for Governor Beebe from 2007-14. From 2003-05, Strother was the Assistant Attorney General and Director of Community Relations for the Arkansas Attorney General's Office.
Strother earned her bachelor's degree from Ouachita Baptist University and her Juris Doctor from the William H. Bowen School of Law at the University of Arkansas at Little Rock. She is a member of the Arkansas Bar Association and the Pulaski County Bar Association.
"'Calling the Hogs' for a living is a dream come true," Strother said. "It's an honor and privilege to get to be a part of the time-honored Razorback tradition and help further connect Razorback fans with the program they love."
Shinn comes to the Razorback Foundation after serving the past three years as the director of annual giving at Episcopal Collegiate School in Little Rock. While she was at Episcopal, she was responsible for planning, developing and implementing fundraising efforts for the school including all annual giving campaigns, alumni relations and special events.
Prior to that, Shinn spent three years as the director of development for Habitat for Humanity of Pulaski County (2011-13) and three years as the marketing and community relations liaison at Community Clinic at Saint Francis House (2009-11) in Northwest Arkansas.
Shinn has both a bachelor's degree and master's degree from the University of Arkansas. She is a member of numerous organizations including the Association of Fundraising Professionals, the Society of Professional Journalists and the Public Relations Society of America.
"As an avid Razorback fan and a two-time University of Arkansas alumna, I am thrilled to join the Razorback Foundation and serve the state in this capacity," Shinn said. "I look forward to visiting with those throughout the state who are providing vital support for Razorback student-athletes through the Razorback Foundation as well as those who are interested in joining the Razorback Foundation."
The Razorback Foundation's new Central Arkansas office will be located in the Simmons Tower building in Little Rock.
The Razorback Foundation, Inc.
The Razorback Foundation, Inc., a separate and self-supporting nonprofit 501(c)(3) entity, serves as the fundraising arm of the University of Arkansas Athletic Department. The mission of the Razorback Foundation Inc. is to support the athletic endeavors of more than 460 student-athletes competing in 19 sports at the University of Arkansas. The Foundation assists Razorback student-athletes by providing financial support for scholarships, facilities and various programs that enable them to realize their dreams of achieving a quality college education while participating in athletics on a nationally competitive level.