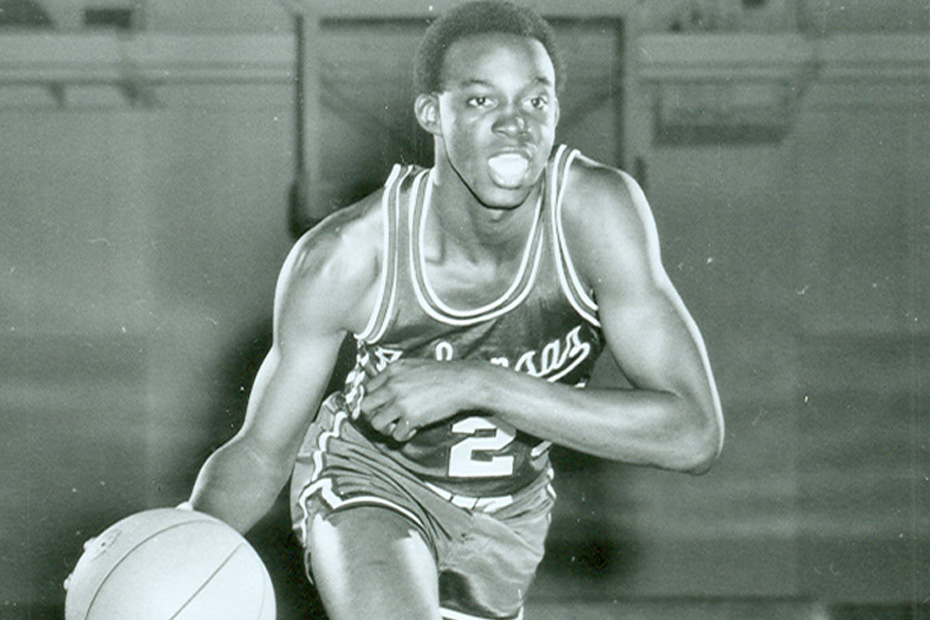 Four Razorbacks Earn Selection to Arkansas Sports Hall of Fame
FAYETTEVILLE, Ark. – Former Razorback quarterback Fred Marshall and the first African-American basketball letterman in school history, the late Almer Lee, are among the 11 members of the 2016 Arkansas Sports Hall of Fame class it was announced on Sunday.
A total of four former Razorbacks, Marshall, Lee, former football great Greg Koch and All-American track and field star the late Niall O'Shaughnessy were selected for induction. In addition, Barry Lunney Sr., the father of former Razorback quarterback and current tight ends coach Barry Lunney Jr. was chosen for enshrinement.
The 2016 class will be honored when the organization holds its 58th annual induction banquet on Friday, March 4. The banquet will be held at the Statehouse Convention Center in Little Rock.
The 2016 Hall of Fame Class consists of five inductees from the regular category, three inductees from the senior category and three inductees from the posthumous category. The Hall of Fame inducted its first class in 1959.
Greg Koch, Football
A member of Arkansas' 1970s all-decade team, Greg Koch lettered for the Razorbacks from 1973-76 and was a starting offensive tackle. He played in the 1976 All-American Bowl all-star game and earned All-Southwest Conference honors in 1975. A member of one of the most talented offensive lines in school history, Koch helped the Razorbacks set a school record with 3,523 rushing yards in 1975, a mark that stood for 31 years until it was broken in 2007. During his tenure with Arkansas, the Razorbacks went 26-16-3 including an impressive 10-2 mark in 1975 which earned the Hogs Southwest Conference Co-Champion honors and a final ranking of No. 7 in the Associated Press and No. 6 in the UPI polls. Koch went on to play in the NFL for 11 seasons including nine seasons with the Green Bay Packers.
Fred Marshall, Football
The only quarterback in UA history to lead a team to a national championship, Fred Marshall cemented his place in Razorback history by leading the Razorbacks to a magical 11-0 season in 1964. A three-year letterman, Marshall assumed the starting quarterback role early in the 1964 campaign and made the most of his opportunity. The recipient of the 1964 Houston Post Award, recognizing the most outstanding player in the Southwest Conference, Marshall threw for 656 yards and four touchdowns while rushing for 438 yards. He garnered All-Southwest Conference honors and earned the Crip Hall Award in his senior season in the Hogs' 44-0 rout of SMU. He engineered a historic 80-yard drive late in the fourth quarter against Nebraska in the Cotton Bowl to clinch the win and the Hogs' first football national championship. Following his Razorback career, he went on to play with Calgary of the Canadian Football League.

Niall O'Shaughnessy, Men's Cross Country and Track and Field
The first of Arkansas' great distance runners, Niall O'Shaughnessy helped set the early standard for the most successful collegiate program in NCAA history. He established a number of firsts during his cross country and track and field career at Arkansas including becoming the first in program history to earn All-American accolades in every academic year he competed. He was a six-time All-American across three sports in 5 different events (Indoor – 880yds, 1,000yds, Mile; Outdoor – 1500m; Cross Country). Niall was also the first Razorback to win an individual title at the Southwest Conference Indoor Championships. His indoor meet time of 3:55.4 in the mile is the ninth best performance in collegiate history and is still the Arkansas school record. O'Shaughnessy represented Ireland in the 1976 Olympic Games in Montreal (800m and 1500m). He was inducted into the Southwest Conference Hall of Fame in November 2015. O'Shaughnessy passed away at his home in Atlanta in September.
Almer Lee, Men's Basketball
Almer Lee was the first African-American men's basketball letterman at the University of Arkansas. Lee lettered in 1970 for Coach Duddy Waller and in 1971 for Coach Lanny Van Eman. He was a fixture in the starting lineup in the 1969-70 and 1970-71 seasons. He was a major offensive contributor as well leading the team in scoring for two-consecutive seasons, averaging 17.0 points per game in his first season (1969-70) and was named Southwest Conference Sophomore of the Year. He upped his average to 19.2 points per game as a junior in 1970-71. He averaged 20.6 points per game in Southwest Conference play in 1970-71 including a career-high 30 points against Texas A&M in 1971. Lee transferred to Arkansas from Phillips County Junior College where he earned most outstanding player honors at the Region II NJCAA Tournament. He averaged 25 points a game in the tournament, including a 43-point performance. Lee still ranks as one of the best high school basketball players ever to play in Arkansas earning all-state and All-America honors at Fort Smith Northside. He was named the MVP of both the state tournament and the high school all-star game while with the Grizzlies. Lee was inducted into the University of Arkansas Sports Hall of Honor in 2011. Lee passed away in Little Rock in November 2014.
Other 2016 inductees into the Arkansas Sports Hall of Fame include major league pitcher A.J. Burnett, NASCAR owner and driver Bill Davis, North Little Rock high school tennis star Paula Juels Jones, high school football coaching legend Barry Lunney Sr., boxer Pete Mead, PGA golfer Bryce Molder and Arkansas State football All-American Bill Phillips.