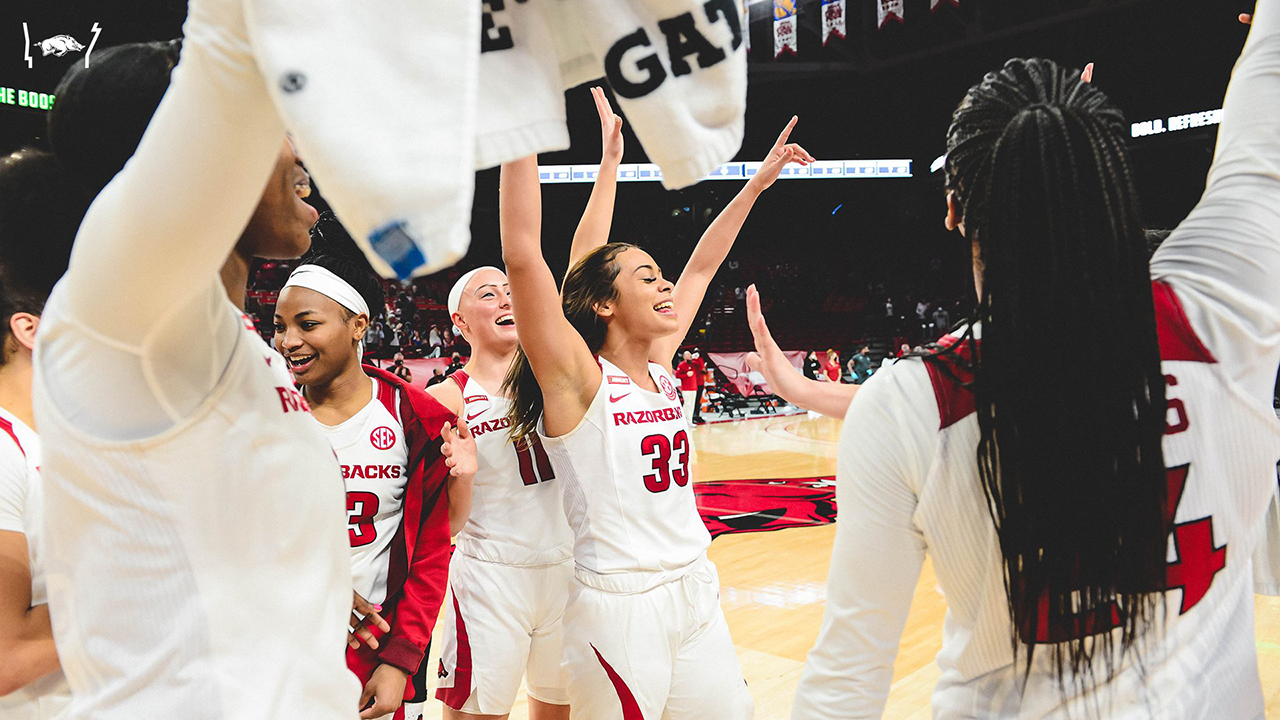 From the Desk of Hunter Yurachek: Feb. 2
It is always a great day to be a Razorback! However, last week, there was a little extra to celebrate as our women's basketball program provided one of the most significant moments in the history of our program.
Last Thursday afternoon, inside Bud Walton Arena, the largest crowd in women's basketball this season (4,400), watched our No. 19 Razorbacks take down a perennial power, the undefeated No. 3 Connecticut Huskies 90-87 in a game that sent shockwaves around the country. Chelsea Dungee scored a season-high 37 points to lead the Razorbacks. Dungee was named the ESPN National Player of the Week while Coach Mike Neighbors was named the ESPN National Coach of the Week.
Consider that since 2012, UCONN has lost to only eight different opponents. Arkansas added its name to that distinguished list and in turn picked up its second top-five win of the season, after earlier defeating then-No. 4 Baylor in December.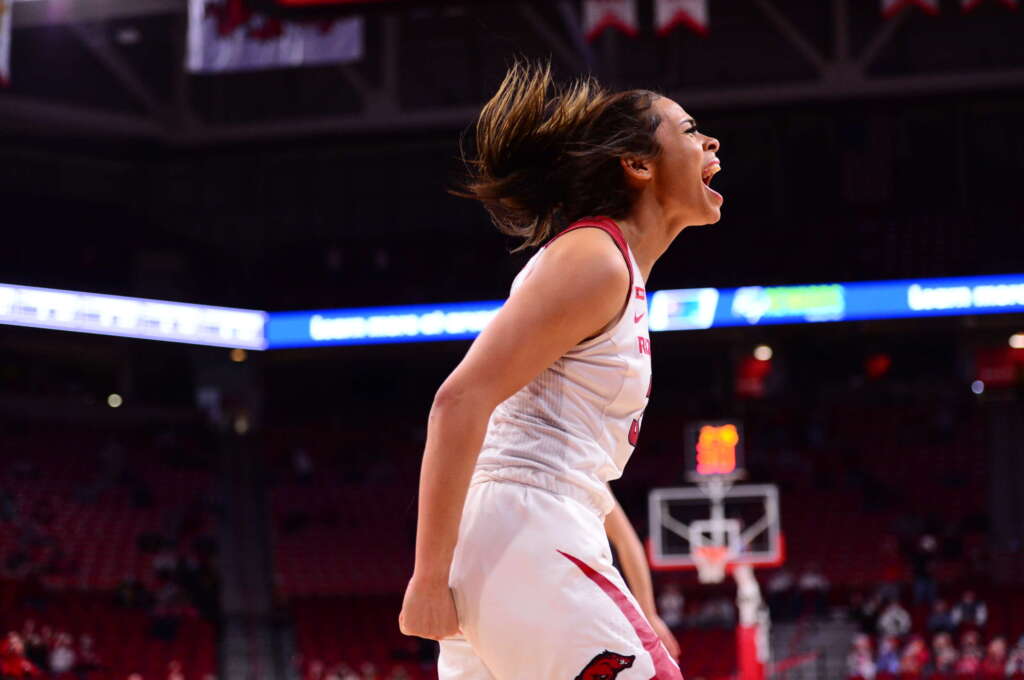 Fittingly, the opportunity came as a result of our coaches and student-athletes showing some adaptability in this far from ordinary season. When a conference opponent opted out for the season, Coach Neighbors went out and scheduled the most successful women's basketball program over the past quarter-century.Thanks to the flexibility and competitiveness of Coach Neighbors and the outstanding young women in our program, a chance to make history was provided. They made the most of it!
---
Ranked Razorbacks
The Home of the Razorbacks is also the home to nationally-ranked teams. This week, 10 of our teams are ranked in their respective national polls led by our outstanding men's and women's track and field programs and five other teams (gymnastics, men's golf, women's golf, soccer and baseball) that rank in the top 10.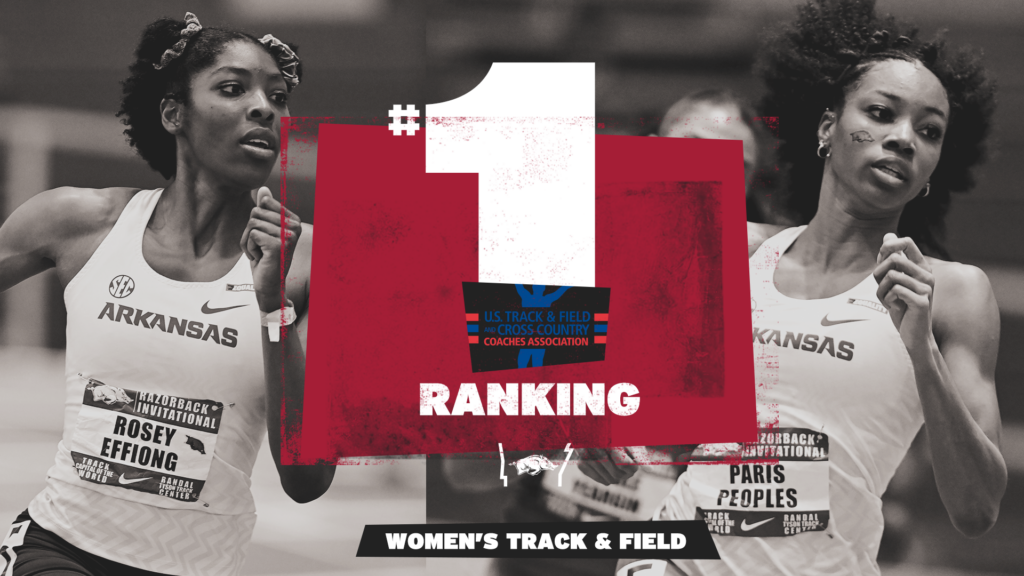 History Made
Last week, for the first time in its rich history, Arkansas was atop both the national polls in men's and women's track and field at the same time. Both programs have spent their fair share of time at No. 1 through the years, including at different times in the 2016 season, but until last week, they had never been No. 1 simultaneously since the United States Track and Field Cross Country Coaches Association (USTFCCA) began their polls in 2008.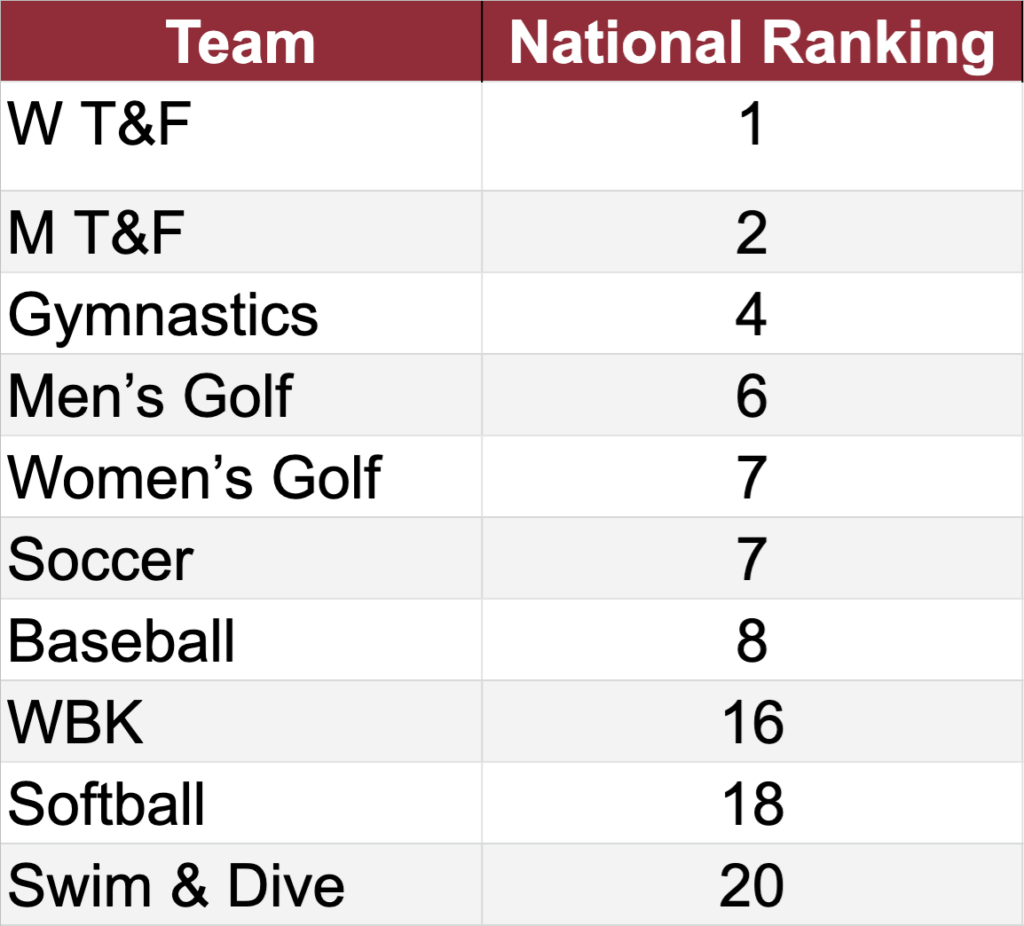 ---
Both teams are in the middle of a home meet stretch at the recently renovated Randal Tyson Track Center. The $5 million renovation included a total replacement of the track surface, new graphics and sound system and the installation of an additional video board. The Randal Tyson Track Center will host both the 2021 SEC Indoor Track and Field Championships and the 2021 NCAA Indoor Track and Field Championships this season.
On the Rise
It has not taken long for the Razorback gymnastics team to make a move up the national rankings. Last weekend, for the first time in program history, Arkansas defeated traditional powerhouse Georgia in Athens by a score of 196.875 to 195.950. Arkansas is ranked No. 4 in this week's national rankings.
It was just the latest in standout performances by the Razorbacks this season against the nation's best. The GymBacks have competed four times thus far in 2021, including a home meet against No. 1 Florida, a pair of matchups against No. 2 LSU and a road meet at No. 10 Georgia.
Arkansas is averaging a team score of 196.775 through its first four meets. It will continue its road trip a week from this Friday (Feb. 12) with a meet at No. 14 Kentucky.
---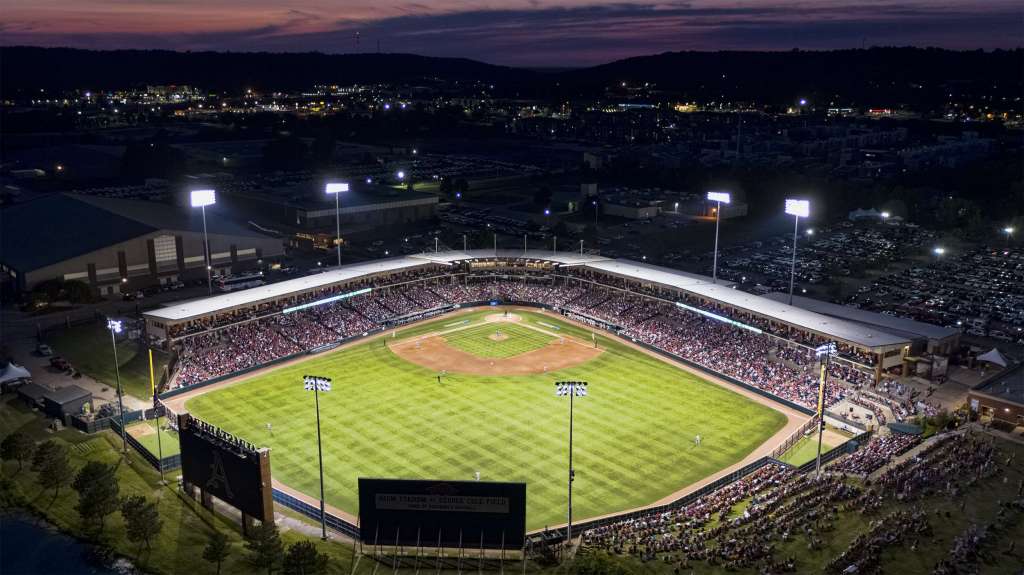 Baseball and Softball Just Around the Corner
The start of baseball and softball season is nearly upon us and our nationally-ranked teams in both sports are ready to return to the diamond. Coach Dave Van Horn and the Razorback Baseball team will open the season, February 19-21, at the State Farm College Baseball Showdown in Globe Life Park in Arlington, Texas. The Hogs will play Texas Tech, Texas and TCU to open the season. The Diamond Hogs will be looking to make their third-consecutive College World Series appearance after advancing to Omaha in each of the past two full seasons (2018 and 2019).
2021 Razorback Baseball Schedule
Coach Courtney Deifel and the Razorback Softball team is also prepping for a promising 2021 season. The Razorbacks open at the Best on the Bayou Classic in Monroe, Louisiana on Friday, February 12 before playing in the Maverick Classic in Arlington, Texas the following weekend.
2021 Razorback Softball Schedule
Additional Razorback Sports Highlights
Our men's basketball team will look to extend its three-game SEC winning streak twice this week at home starting tonight against Mississippi State. The Hogs have defeated Auburn, Vanderbilt and Ole Miss in their last three SEC games.
Swimming & Diving turned in a big win on Senior Day, downing the Kansas Jayhawks 226-74 on January 22. Senior Payton Palsha set a new pool record in the 1,000 freestyle, while junior Vanessa Herrmann set a new pool mark in the 100 breaststroke.
The women's tennis team (4-0) racked up three wins last weekend, including wins over Kansas, Kansas State and Oral Roberts.
Razorback men's tennis is 3-0 after picking up its second-straight sweep of the season over the weekend against Illinois State.
Our women's golf team hits the links for the first time this semester this week at the UCF Invitational (Orlando, Florida). The Razorbacks shot 15-under in the opening round on Sunday and conclude play today.
The men's golf team begins its spring season next week at the Gator Invitational (Gainesville, Florida).
Volleyball has returned to the court for the spring portion of its schedule. The Razorbacks opened the spring last weekend against Kentucky and play Georgia on the road this weekend.
2021 Football Schedule Released
A reunion with some former Southwest Conference foes highlights the seven game in-state 2021 Razorback Football schedule released last week. The Hogs will open the 2021 season with back-to-back home games with Rice and Texas. The schedule also includes home games against Georgia Southern, Ole Miss, Auburn, UAPB, Mississippi State and Missouri.
Academic Shout Out
Our 465+ student-athletes are not only excelling in their respective sports, but they also continue to achieve in academics on their way toward graduation. With many classes being conducted virtually during the 2020 fall semester, our student-athletes faced some extraordinary challenges. Thanks to their dedication and the support of our outstanding Academics support staff, Razorback student-athletes responded with a remarkable semester, including a collective 3.21 GPA. Kudos to all of our student-athletes as we continue to focus on Building Champions and Razorbacks for Life.
---
Busy Days Ahead
If you are like me and love watching our Razorback student-athletes compete, there has never been a better time to catch our teams in action. The winter/spring seasons are always busy with a majority of sports in season. However, with the addition of limited spring seasons for four of our five fall sports, in the next few months we will have 18 of our 19 sports competing.
Add to that Coach Sam Pittman's first spring practice with our football team and you can see there will plenty of things happening on the Hill in the weeks and months to come. In fact, in just the next 100 days, our student-athletes will be competing in 100 home events.
Make sure you stay updated with all the latest schedule information with our Razorback Athletics All-Sports Calendar.
Hog Yeahs ……..
Jeremiah Ledbetter – Congratulations and best of luck this weekend in Super Bowl LV to former Razorback football student-athlete Jeremiah Ledbetter. Ledbetter is a defensive lineman with the Tampa Bay Buccaneers.
Derita Ratcliffe Dawkins – Some special recognition of our Deputy AD Derita Ratcliffe Dawkins recently. She was named among the top assistant athletics directors in the nation. Much deserved recognition of a key member of our team.
We look forward to seeing you On the Hill again soon!
Go Hogs!
Hunter