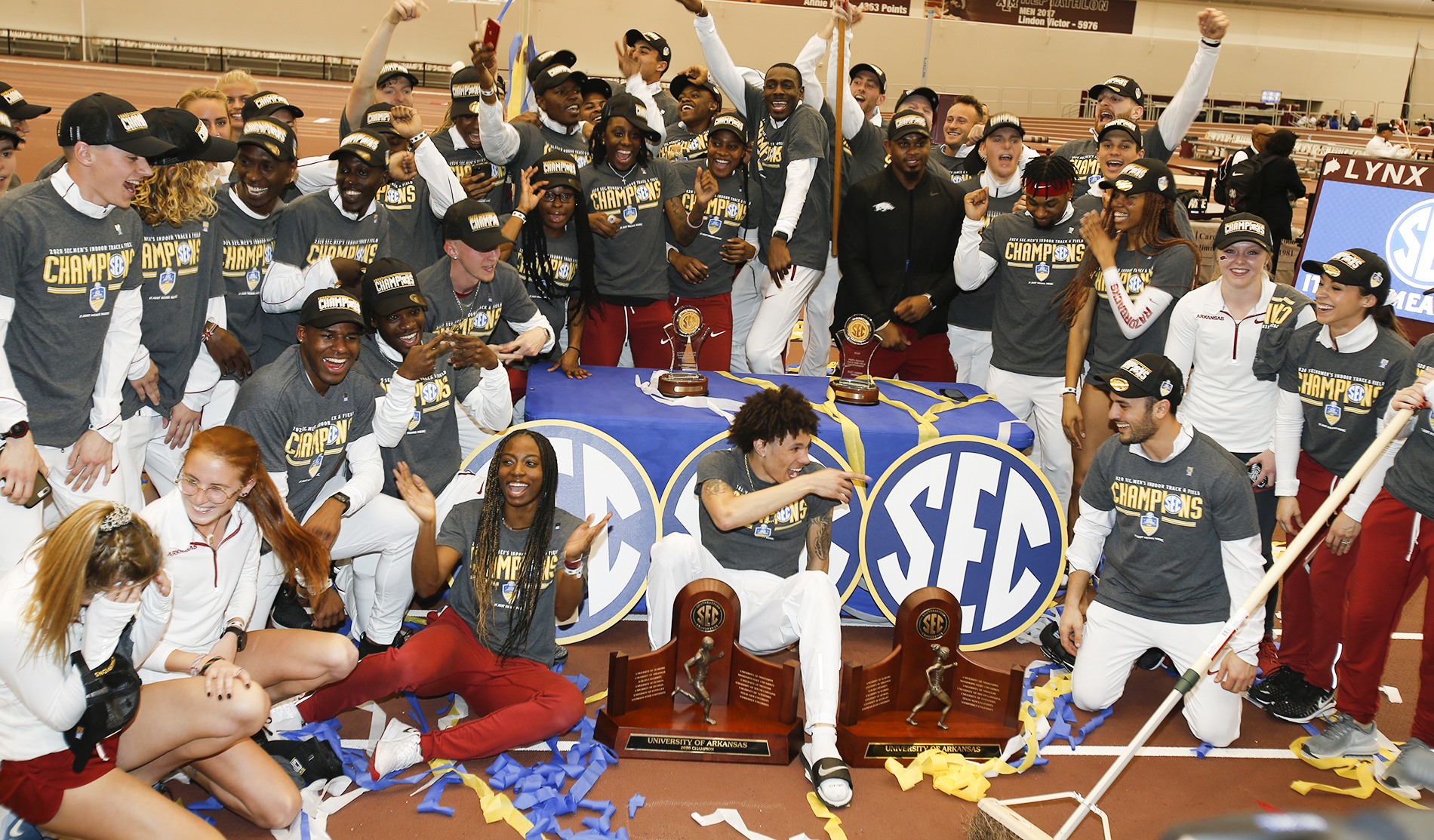 From The Desk of the AD: March 10
Hello Fellow Razorbacks!
If you love intercollegiate athletics, and more specifically, cheering on the Arkansas Razorbacks, there is perhaps no better time of the year. There is a lot to catch you up on, so let's get started.
There are few things more exciting than watching our student-athletes celebrate a championship. We may have been in College Station, Texas, but there was plenty of Calling the Hogs as both our men's and women's indoor track and field teams captured the team titles at the 2020 SEC Men's and Women's Indoor Track and Field Championships.
On the men's side, the Razorbacks outdistanced the field by 18 points to capture the 23rd SEC Indoor crown in program history. Congratulations to Head Coach Chris Bucknam who was also recently recognized as the South Central Men's Coach of the Year by the United States Track and Field and Cross Country Coaches Association.
Make it six in a row and the 10th overall SEC Indoor championship for our women's team! Coach Lance Harter's team posted 102 points to take the title over other top contenders LSU and Georgia.
Later this week, our No. 12 men's and No. 5 women's teams will compete at the NCAA Indoor Track and Field Championships in Albuquerque, New Mexico. Best of luck to both squads!
Time for the Dance
Congratulations to Coach Mike Neighbors and the women's basketball team on a great regular season and SEC Tournament. After a second round win over Auburn, we rallied for an improbable 67-66 comeback win over Texas A&M to advance to the SEC Tournament semifinals. It was the second straight year we had rallied from double digits to beat the Aggies in the conference tournament. On Saturday, in our third game in as many days, we ran into a formidable opponent in the No. 1 team in the nation South Carolina.
We are 24-8 on the season and finished the regular season with a 10-6 record. The 10 SEC wins matched a program record and our 22 regular season wins were the most since 2012.
Senior Alexis Tolefree was recently recognized on the first-team All-SEC squad while junior Chelsea Dungee was selected to the second-team All-SEC team. Now we await our assignment for the NCAA Tournament. The NCAA Women's Selection Show is Monday, March 16 at 6 p.m. CT on ESPN.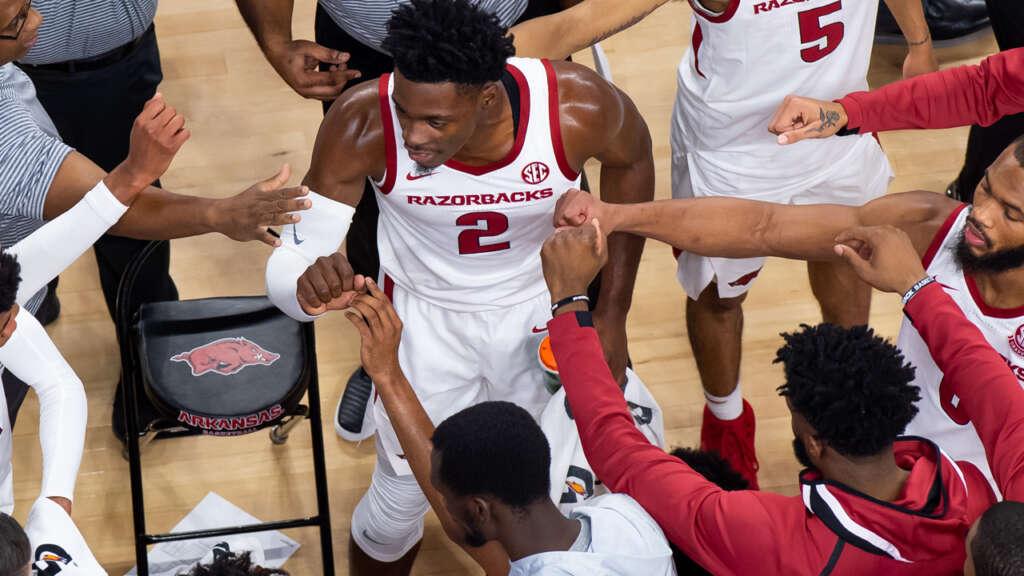 Headed to Nashville
Coach Eric Musselman and our men's team is headed to Nashville this week to compete in the SEC Men's Basketball Tournament. Last Wednesday, we honored four seniors, Jeantal Cylla, Jamario Bell, Jimmy Whitt Jr. and Adrio Bailey at Bud Walton Arena. The team responded by sending them out with a 99-90 win over LSU.
Congatulations to Mason Jones on being named the Associated Press' SEC Player of the Year, along with Mississippi State's Reggie Perry. Jones was also named to the All-SEC first team by league coaches and the media after leading the SEC in scoring with 22.0 points per game in the regular season, which also ranks eighth in the nation.
Arkansas (19-12) opens SEC Tournament play on Wednesday at approximately 8:30 p.m. CT against Vanderbilt, with the winner taking on South Carolina on Thursday night in the same time slot.
Last Chance to Catch Gymnastics
If you want to catch a gymnastics meet at Barnhill Arena this season, this Friday will be your last opportunity. Coach Jordyn Wieber and her squad will host Penn State on Friday night before gearing up for the SEC Championships in two weeks in Duluth, Georgia. It is Stripe the Barn night and fans are encouraged to wear red and white. We will also be recognizing our seniors, Hailey Garner, Kirby Rathjen and Jessica Yamzon, following the meet so plan on joining us.
Conference Play
It is conference time for the Razorback diamond sports. No. 20 Razorback softball opened the SEC schedule this past weekend at No. 9 Alabama and earned a win in the conference opener on the road. It was the program's first win Tuscaloosa since 2000. Softball plays Kansas this afternoon before welcoming Georgia to Bogle Park this weekend. This is an exciting team to watch, so if you haven't made it out for softball yet this spring, this weekend would be a great opportunity!
Our No. 14 baseball team got back on the winning track over the weekend winning a series against South Alabama, including a walk-off home run by Heston Kjerstad on Sunday. Coach Dave Van Horn's Razorbacks have a pair of mid-week games against Grand Canyon at Baum-Walker Stadium before heading to Starkville, Mississippi this weekend to open SEC play against No. 17 Mississippi State.

Additional Sport Updates
Spring Football is Around the Corner
The time is near. Head Coach Sam Pittman and the Razorback Football team will officially start spring practice later this month. The Razorbacks begin spring practice on Monday, March 16 and will practice three times in the first week before taking a week off for spring break.
We hope you will make plans to join us in Fayetteville the weekend of April 25 for the final football scrimmage as part of our Wooo Pig Weekend, including the annual A Club reunion. Razorback baseball will host an SEC series with Auburn at Baum-Walker Stadium that weekend. The men's and women's track & field programs will host the National Relay Championships, holding events Friday night and Saturday at John McDonnell Field. The defending SEC champion women's soccer team will host Oklahoma on campus on Saturday in a spring exhibition. It is going to be a great Razorback weekend!
Raising the Bar on Renewals
I want to thank our Razorback Foundation members and season ticket holders for a remarkable start to the 2020 Razorback Football season ticket renewal process. More than 80 percent of our previous ticket holders have renewed already in the first month. Thank you!
We recently announced special dates for the 2020 football season, including Homecoming and Family Weekend, so mark your calendars now for this fall at Donald W. Reynolds Razorback Stadium.
Hog Yeahs……..
Arkansas Sports Hall of Fame Inductees – Congratulations to all of the 2020 Arkansas Sports Hall of Fame Inductees that will be honored on Friday in Little Rock. Of the eight honorees in this year's class, five are former Razorback student-athletes or coaches. WPS!
 Arkansas SEC Legends Bev Lewis and Derek Hood – Bev Lewis was recognized as our 2020 women's great at the SEC Women's Basketball Tournament while Derek Hood will be recognized as our men's basketball legend this week in Nashville.
A lot to look forward to in the weeks ahead. We look forward to seeing you On the Hill!
Go Hogs!
Hunter Yurachek