From the Desk of Your AD
Hello Fellow Razorbacks!
As you are aware, a couple of weeks ago, I had to make a difficult decision regarding our football program. From a professional standpoint, I am confident that it was the right decision to help our program move forward. I am appreciative of Coach Morris and his dedication to our program and our student-athletes and wish him and his family the very best.
I am grateful that Coach Barry Lunney Jr. agreed to assume the role of interim head football coach for the remainder of the regular season. Barry is a Razorback through and through and has helped our program through a similar transition back in 1992 when he was a freshman quarterback.
I hope you will join with all of us in supporting our football student-athletes in the next few weeks as we complete our 2019 regular season with games at LSU and at home in Little Rock against Missouri, the Friday after Thanksgiving. Let's help fill War Memorial Stadium to cheer on this team and these players as they compete in the Battle Line Rivalry.
A search for our next head football coach is well underway. As I have shared previously, I firmly believe that we will find a quality leader for our football team. The Razorback Football program has much to offer – including substantial financial support, tremendous facilities, an outstanding academic institution, great history and tradition, competing in the nation's best conference and a passionate fan base.
In my continued efforts to identify our next head coach, just as I did in our recent men's basketball search, I will work to maintain confidentiality in the process. I understand that because of the great interest in our search, there will continue to be an abundance of speculation. I appreciate your patience and understanding as I focus on the important task at hand.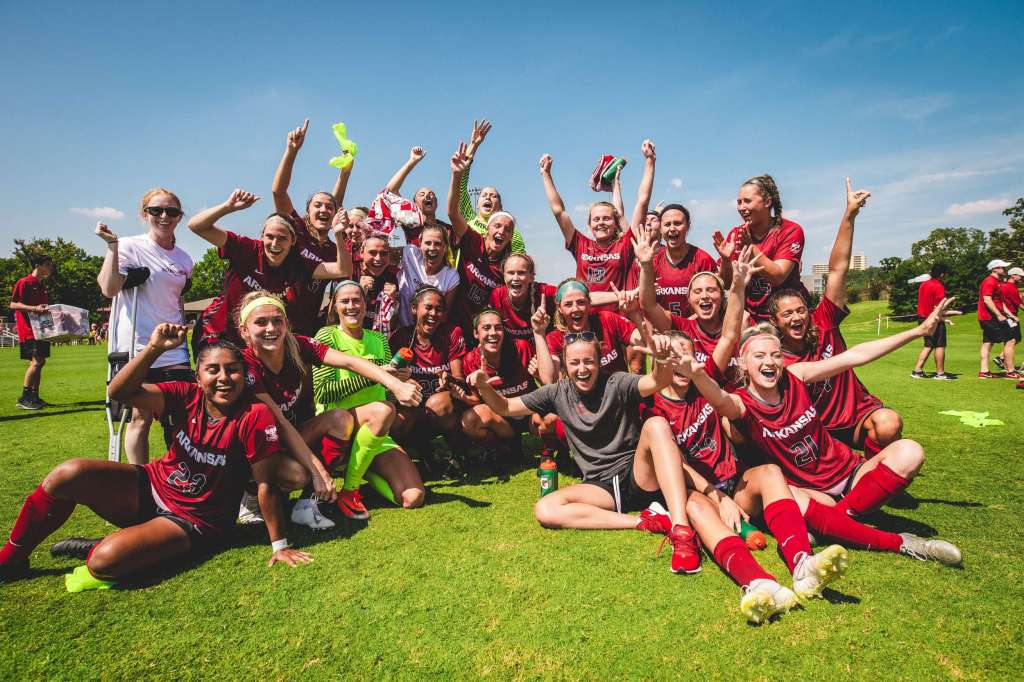 SEC Champions Advance in NCAA Tournament
What a tremendous year it has been so far for our Razorback women's soccer team! Coach Colby Hale and his squad captured the Southeastern Conference regular season championship. It is the first SEC title in program history. They followed it up at Orange Beach, Alabama by making a run to the SEC Tournament Championship Game for a fourth-consecutive season.
Last Friday night, our soccer team won its opening round game in the NCAA Tournament with a convincing 3-0 win over North Texas at Razorback Field. We are back in action tomorrow for a spot in the Sweet 16 as we take on North Carolina State, with the winner to play the winner of the BYU-Louisville match on Saturday.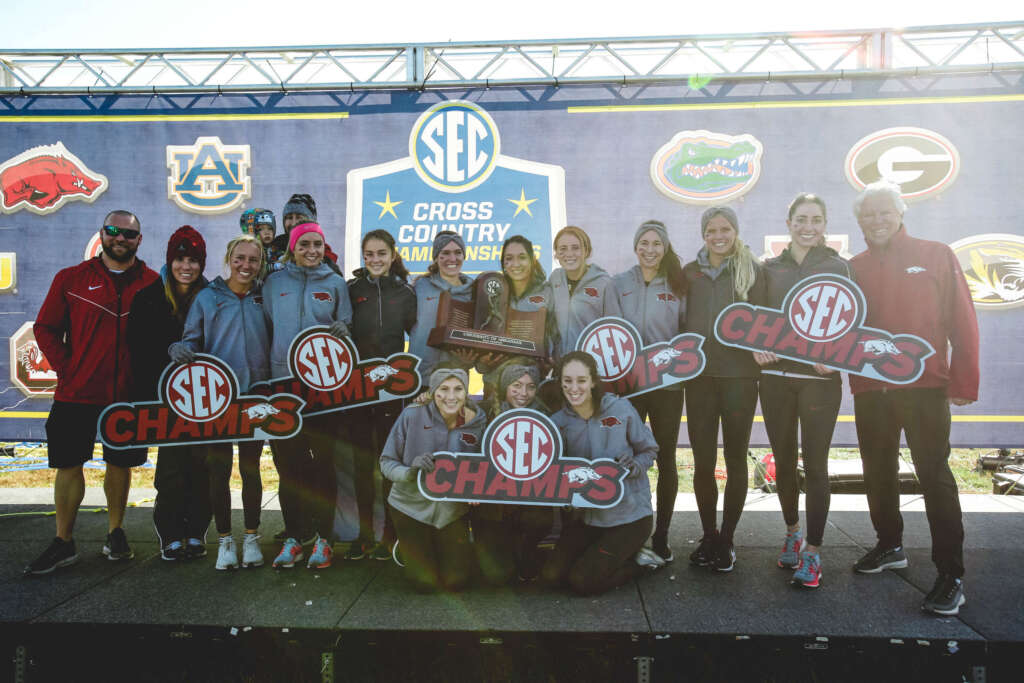 Cross Country Success
In recent weeks, our women's cross country team has added to its trophy case. First, the women's team captured the SEC Championship for the seventh-consecutive time. Katie Izzo led the Razorbacks in Lexington, Kentucky crossing the line to earn SEC Individual Champion honors.
This past weekend, Coach Lance Harter's team posted a perfect score (15) in taking the South Central Regional title for the ninth-consecutive year. The first five runners that crossed the line at Agri Park in Fayetteville were wearing the Razorback uniform, marking the first time in program history Arkansas has swept the top five spots in a regional.
Coming off a third place finish at the SEC Championship, the Razorback men's team punched its ticket to the NCAA Championships with a second-place finish at the South Central Regional. Both the women's and men's team will compete at the NCAA Championships on Saturday in Terre Haute, Indiana
Baseball Development Center To Break Ground Soon
Thanks to generous gifts from three extraordinary families, Coach Dave Van Horn and his team will soon have a new home to help us compete for SEC and national championships.
In recognition of a recent $5 million gift and the Hunt family's continued support, we have submitted a resolution to the University of Arkansas Board of Trustees to name the building the J.B. and Johnelle Hunt Family Baseball Development Center. We are so grateful to the entire Hunt Family for their support of our program and their continued investment in the lives of our student-athletes.
In addition to the Hunt Family gift, two other families, synonymous with Razorback Baseball, stepped to the plate to honor a Razorback legend. The Mark Sutton Family and the Willard and Pat Walker Charitable Foundation each made gifts of $500,000 to honor Coach Norm DeBriyn with the naming of the Norm DeBriyn Champions Lobby. Mark Sutton and Johnny Mike Walker both played for Coach DeBriyn in the 1970s and wanted to honor Coach DeBriyn's legacy. I can't think of a more fitting tribute from his former student-athletes than to honor Coach DeBriyn by providing opportunities for generations of future Razorbacks.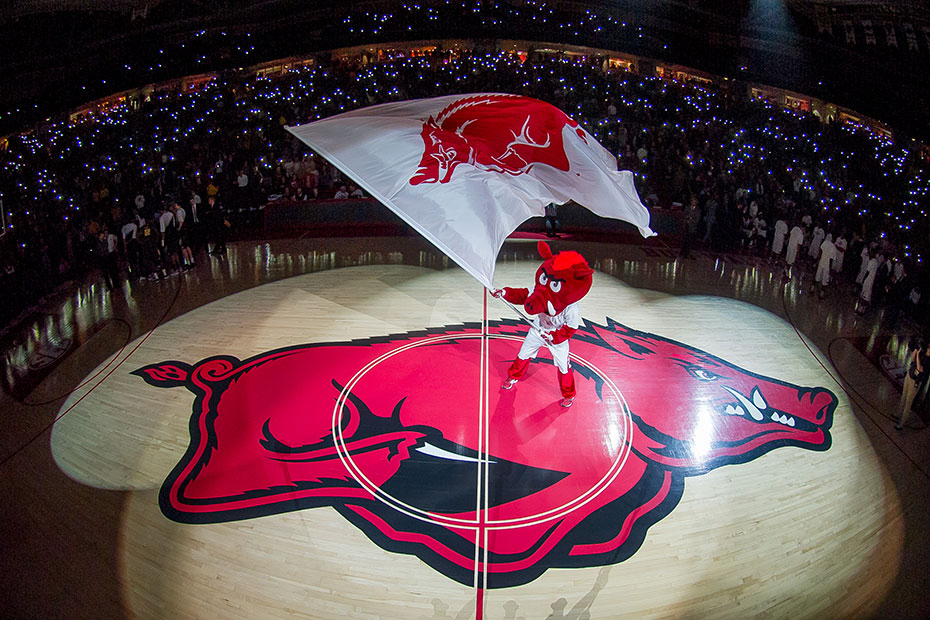 How About Those Hoops?
It has been a great start to the women's and men's basketball seasons at Bud Walton Arena. Both teams are undefeated on Nolan Richardson Court and are playing exciting brands of basketball.
Coach Mike Neighbors and his women's squad are lighting up the scoreboard on their way to a 4-0 start. Ranked in the pre-season poll for the first time since 2002, this team has plenty of scoring options – led by pre-season first-team All-SEC selection and Wooden Award watch list recipient Chelsea Dungee. If you aren't familiar with Chelsea's journey to Fayetteville, I encourage you to check out her story on this HogPod.
While points are flowing on the women's side, opponents of our men's team are finding it tough to score with the stingy defense being applied by Coach Eric Musselman's squad. Arkansas (4-0) is just one of two teams (Virginia) to hold its first three opponents to under 50 points. To get further insight on Coach Musselman and his approach to basketball, be sure to tune in to this recent HogPod episode.
Bud Walton Arena Enhancements
Those who have joined us at Bud Walton Arena this year have already noticed some of the game day enhancements for Razorback Basketball. Whether it is boarding The Muss Bus, a new gameday shuttle or enjoying the WiFi and the option of beer and wine at the games, we are working to make the fan experience even better at Bud Walton Arena.
For the safety of our fans and all those attending games, we have added metal detectors at all gates of Bud Walton Arena. However, unlike the airport and other locations, you aren't required to remove things from your pockets or remove belts or shoes before walking through the detectors. It is quick and easy. Most importantly, it is part of our continuing commitment to provide a safe venue where fans can enjoy the game.
RazorTalk
Be sure to check out the latest episodes of RazorTalk. In recent weeks, I have spent time with Elizabeth Pamphile from volleyball, Anna Hopkin from women's swimming & diving and Lauren Gregory and Gilbert Boit from our women's and men's cross country/track and field programs, respectively.
Kudos to the