From the Desk of Your AD
Hello Fellow Razorbacks!
Fall is a busy time on the University of Arkansas campus and there are several exciting events on the horizon for Razorback Athletics.
Nolan Richardson Court
I want to invite you to join us this Sunday, October 20, as we unveil Nolan Richardson Court at Bud Walton Arena. The ceremony will take place prior to our 3 p.m. men's basketball exhibition game against UALR at Bud Walton Arena.
It was important to honor Coach Richardson before a game was played on the Nolan Richardson Court this season. This game provides the flexibility to have an extended pre-game ceremony as well as to involve both members of our men's and women's basketball teams who will compete on the floor. This will be a historic day for Razorback Athletics!
It is also fitting as we honor one of the University of Arkansas' greatest coaches, that we give back to the state we call home. All proceeds from the game will be donated to help those Arkansans impacted by flooding in our state in the past year. Season ticket holders should note that this exhibition game is NOT included in their season ticket booklet. Seating is general admission, available on a first come-first served basis. Tickets for the game are $10 and can be ordered in advance.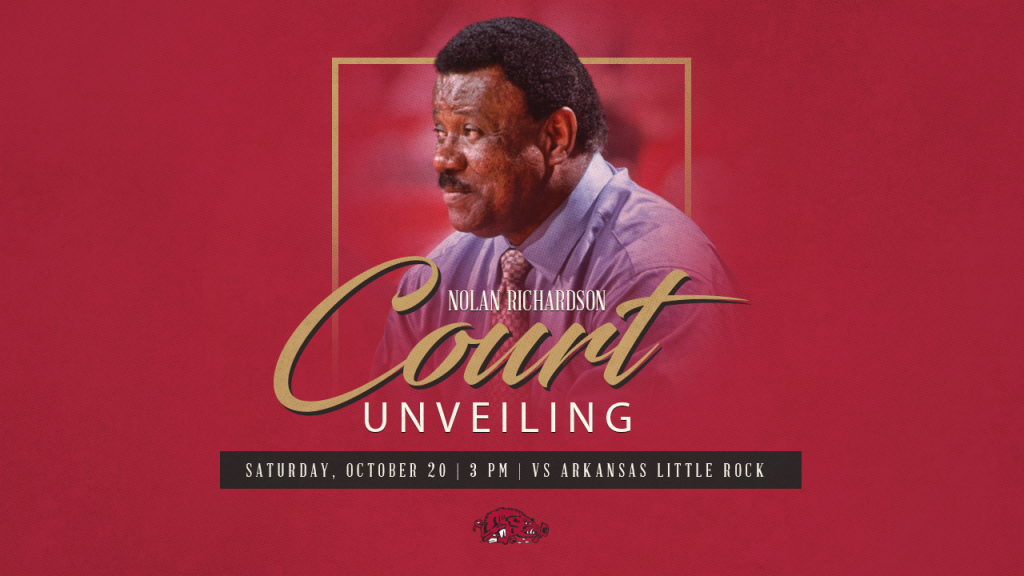 Back in Razorback Stadium
While the Coach Nolan Richardson Court Unveiling is the culminating event of the weekend, on Saturday morning we host the Auburn Tigers at Donald W. Reynolds Razorback Stadium at 11 a.m. I know that our student-athletes are looking forward to 'Running Through the A' in front of our home crowd for the matchup of SEC Western Division teams.
Clearly, our Win-Loss record at this point in the season is not where anyone would like it to be. A loss is a loss, but I am encouraged that in each of our last three games, all decided by one score or less, that the Razorbacks had a chance in the later stages of each to earn a win. I can assure you that no one is more disappointed that we were unable to do that, than the young men and the coaching staff who have put in countless hours in preparation for this season.
However, within this program, our focus is on the opportunities that remain ahead. There is plenty of football left to be played this season and our coaches and student-athletes are continuing to prepare day by day for the remaining six regular season games on our schedule.
I hope to see you on Saturday at Razorback Stadium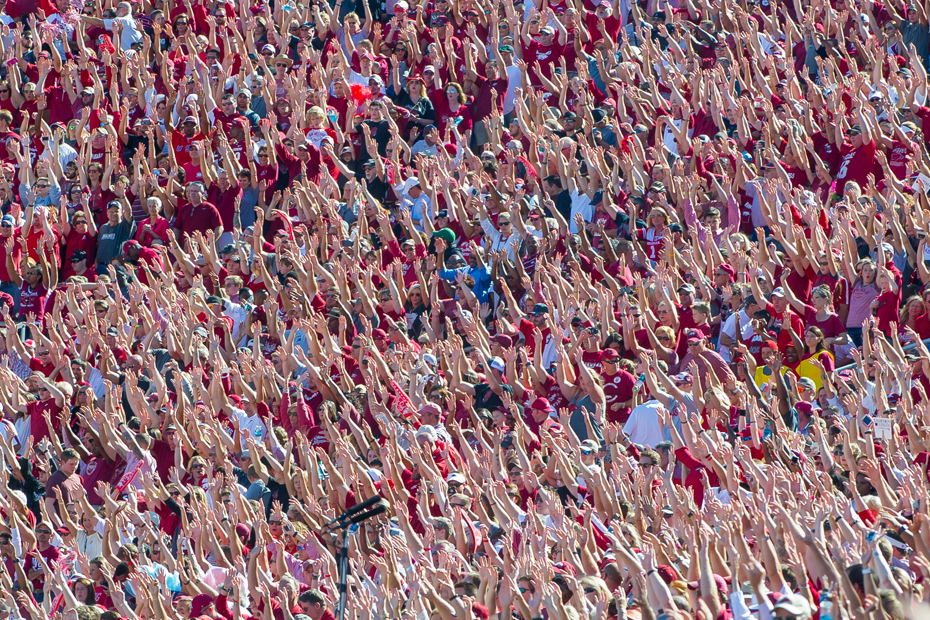 Razorback Reunions
We are excited to welcome back some great Razorback teams for our football game against Auburn. Both will be recognized during timeouts in Saturday's game.
In 1988 and 1989, Arkansas won back to back Southwest Conference titles and made consecutive trips to the Cotton Bowl. We are pleased to welcome back those two memorable teams on the 30th anniversary of the second of two SWC titles.
We are also proud to welcome back a team that brought the spotlight of the college football world to Fayetteville. The 1969 Razorbacks won nine games and played in one of the most significant games in the history of college football. It has been 50 years since that historic season. We are honored to have members of the 1969 team joining us for this weekend.
Later this year, we will welcome back the 1979 Razorback Football team for the Mississippi State game on the 40th anniversary of their SWC title.
New Home to Our History
If you haven't had an opportunity to visit the new University of Arkansas Sports Hall of Honor in the north end zone of Donald W. Reynolds Razorback Stadium, I encourage you to do so, For the first time in our program's history, we have a single location that celebrates Razorback student-athletes and coaches from all of our sports.
On football game days, you can access the Hall of Honor from inside the stadium via the mezzanine concourse. The Hall of Honor is also open to fans on weekdays from 8 a.m. – 6 p.m. by entering the main doors of the Broyles Athletics Center.
With the addition of the Hall of Honor and other sport facilities coming online soon, we have made some adjustments to the museum in Bud Walton Arena. The Tommy Boyer Hall of Champions remains open and will continue to celebrate the history of our men's and women's basketball programs. Some of the other sport displays previously featured have already been moved to current facilities (golf) or will be included in displays within future facilities, like the Baseball Development Center and the Track and Field High Performance Center.
Record Breaking Graduation Success
Graduating student-athletes is at the very core of our mission of Building Champions and Razorbacks for Life. This week, the NCAA released graduation success rates (GSR) for all institutions, including the University of Arkansas. It was a record breaking day for our program!
Razorback student-athletes that entered school in 2012, combined to earn the top graduation success rate GSR in our history at 84 percent. The latest GSR marked the 11th-consecutive rate of more than 70 percent by Razorback student-athletes. It marks the fourth-consecutive year that the GSR has been 78 percent or higher with this year's GSR ranking as only the second time our GSR has reached 80 percent.
In 2018-19, 97 Razorback student-athletes graduated, including 98 percent of student-athletes who exhausted their athletic eligibility. We are making tremendous progress. However, we still have work to do to ensure every student-athlete who exhausts his or her athletic eligibility, is also an addition to Senior Walk as a University of Arkansas graduate.
Meet Us at the N-E-Z
What better way to kick off this Razorback weekend, than joining other Razorback Fans for a free Happy Hour on the north end zone deck of Donald W. Reynolds Razorback Stadium?
Complimentary refreshments, a cash bar and music will be available from 5-7:30 p.m. You can enjoy a birds' eye view of our game weekend tradition as we turn Razorback Stadium red at 7:30 p.m., just as we do the night before a home game.
Admission is free for all fans with free parking available in Lot 44 located in front of the Frank Broyles Athletic Center. Enter through Gate 10 located on the northwest side of Razorback Stadium. As a reminder, a clear bag policy is in effect for this event. No RSVP is required.
RazorTalk
Our student-athletes have incredible stories. They come from all over the country and around the world and do so some remarkable things in the classroom, on the field and in our community. We have launched a video series called RazorTalk, where I have the opportunity to interview student-athletes and share their amazing stories with you.
Our first installment is with Taylor Beitz, a redshirt junior on our No. 8 Razorback Women's Soccer team. Later this week, look for an interview with senior football student-athlete T.J. Smith.
Kudos to the
Razorback women's soccer team – Coach Hale and his team have ascended to a program best No. 8 national ranking this week after sporting a 11-2-1 record, including a 5-1 record in SEC play this fall. Razorback freshman Anna Podojil was named national player of the week after scoring three goals against Mississippi State last Sunday.
Razorback Women's Cross-Country Team – Never before in the storied history of our program has our women's cross-country team been ranked No. 1 nationally. That all changed after a dominating performance at the recent Chile Pepper Festival. Coach Lance Harter's Razorbacks are No. 1 in the nation and compete at the Wisconsin Nuttycombe event in Madison, Wisconsin this Saturday before getting ready for SEC Championships.
Hope to see you On the Hill this weekend and in the months to come. Thank you for your continued and passionate support of our student-athletes
Go Hogs!