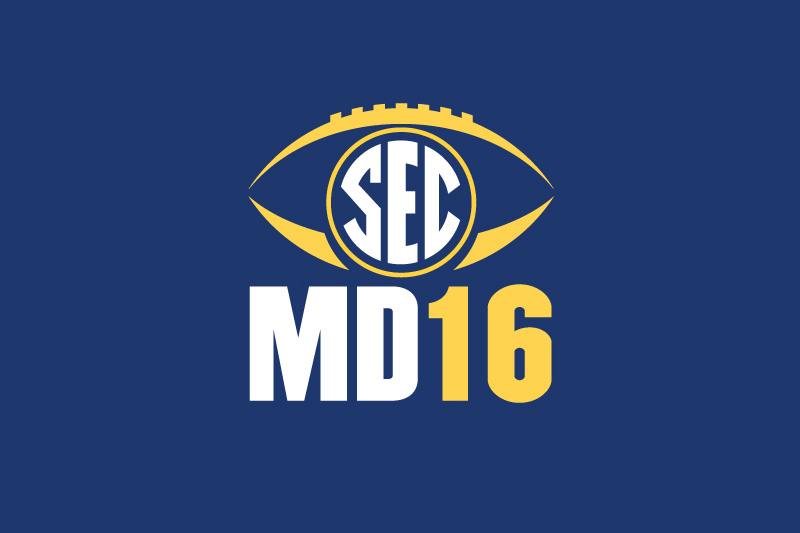 From the Podium: 2016 SEC Football Media Days
For the second straight year, Commissioner Greg Sankey officially kicked off the festivities at Southeastern Conference Football Media Days. Sankey's thoughtful and wide-ranging annual "State of the SEC" covered issues ranging from world events to the extraordinary stories of success for conference student-athletes and institutions in the nation's most recognized conference.
During the course of his opening remarks, Sankey highlighted two Arkansas student-athletes, football linebacker Brooks Ellis and women's track and field star Lexi Weeks. Sankey lauded Ellis for his 3.8 GPA as a pre-med student and a recent medical assistance trip to Belize. He later talked about the more than 125 SEC student-athletes that will represent the league in the upcoming Olympic Games. He particularly cited Weeks, who earned a spot on the U.S. Olympic team in the pole vault on Sunday night.
"It's the same pride that comes from seeing the joy shown by Arkansas pole vaulter Lexi weeks when she cleared her personal best to make the team. She had not even landed back in the pad and she began celebrating her achievement. And then if you watch, you watched the pride and the emotion when she realized she would be part of the United States Olympic team."
Sankey covered a myriad of topics in his speech that are worth a read. You can access a full transcript of his presentation and all the quotes from day one of SEC Football Media Days at http://bit.ly/29A1qxc.
QUOTING MANDELA
Sankey opened his remarks with a short commentary on the disturbing events that have gripped our nation in the past week. In confronting the realities of racism, violence and senseless tragedies, Sankey, an avid reader, repurposed the words of the great Nelson Mandela to help bring context to the situation.
"There's a speech I found from Nelson Mandela in 2000. Actually has a quote about how sports unite people. 'Sports,' he said, 'has the power to change the world.' That's the quote. He went on to talk and illustrate how that's true.
"If you read through those remarks that were made at an awards dinner, at the end he says something even more important, I think: 'Peace is the greatest weapon mankind has to resolve even the most intractable difficulties. But to be an effective agent for peace, you have to seek not only to change the community and the world, but it's more difficult to change yourself before you seek to change others. Only those who have the courage to change themselves and know, in all communities, without exception, there are good men and good women who want to serve those communities. It's a wise man."
COMMISIONER'S WELCOME
A slight change in format was in place for the opening of 2016 SEC Football Media Days. Shortly after delivering his state of the SEC address, Sankey returned to the podium, this time to introduce the first head coach of the day, Auburn's Gus Malzahn. Sankey provided a brief introduction of each coach on Monday, highlighting a few notable accomplishments before turning the microphone over to the respective head coaches. It is a nice touch and consistent with Sankey's hands on approach to connecting with student-athletes and coaches throughout the league. He probably even helped Vanderbilt head coach Derek Mason on the home front as well. Sankey took a moment to acknowledge that Mason was graciously attending the event on the birthday of his wife, LeighAnne. To avoid being tossed in the dog house, maybe I should have told Sankey Monday was my wedding anniversary!
TAKING IT ALL IN STRIDE
Florida head coach Jim McElwain seemed relaxed in his appearance in the main media room on Monday. Of course, coming off an SEC Football Championship Game appearance in your first year as the Gators' head coach never hurts. Even before McElwain began his 30-minute session in front of print reporters and SEC Network cameras, an audible was needed to get him in the right position.
It wasn't on the Florida head coach, he was escorted through a door on the opposite side of the room and he made a direct B-line for the stage. As fast as I can move in a suit, I darted across the room to get him set up in the right press conference formation. McElwain ascended the stage to reach the podium, gave a quick wave to the media and then descended on the opposite side. I felt like a quarterback on the line of scrimmage, changing the play. No, I didn't have to yell "Omaha, Omaha," or even attempt the "Henry Heave" because it all ended successfully with McElwain alongside Sankey as they approached the stage together.
When McElwain finally got to the podium, he relied upon the same laid back approach. Even when back-to-back questions focused on Alabama's Nick Saban's influence on him and college football, McElwain patiently responded in an engaging manner. Later when a reporter asked about Florida State handing out state championship rings after last season for defeating Florida and Miami, McElwain responded, "I mean they won it. So why won't you? That's a hell of a deal. But I don't really get that jacked up in that stuff. I got too much to worry about with our guys."
SOCIAL RESPONSIBILITY
Following up on Commissioner Sankey's remarks regarding recent events across the nation, including two shootings of African-American men by police officers as well as the sniper attacks on law enforcement personnel in Dallas, Coach Mason was asked about whether he believed coaches and student-athletes should use their platform to try and unite the world around them.
"Absolutely. That's the greater part of what is extremely great about this country. It takes teamwork to make the dream work. And our young people today are extremely bright. And that's been evidenced as these young men started to look at what they're willing to accept and how to speak up for themselves in terms of what's not acceptable. I believe, as we get further along, in terms of where we're at, the platform for sports has always been there to be able to speak on injustices or things that aren't necessarily acceptable to us and how we seem them.
"So if they can use that platform intelligently, and speak to it intelligently, that's something that I'm always looking and pushing these young men towards. It's about being able to use every part of the intellect, not just the football IQ."
REFLECTING GUS
Auburn head coach Gus Malzahn wasn't accustomed to how things turned out in 2015. For the first time in his head coaching career, Malzahn faced unfamiliar challenges. After struggling to a 7-6 record, including a 2-6 mark in the SEC, Malzahn responded to an inquiry about whether the 2015 season humbled him and caused him to evaluate some things.
"I think so. We had high expectations and we do every year. We weren't able to reach our goals. And that was very frustrating and it was very humbling to go through an experience like that. And I think you got to evaluate everything. You got to figure out a way to improve.
"I will tell you that I'm extremely motivated this year, as well our staff and our team is. But, like I said, it really comes down to, in our league, winning close games, and the difference in last year and the years before we've been one of the best in the country in winning close games. And last year, we didn't get it done."
TECHNICAL DIFFICULTIES
Often in football, fans hear about how players and teams have to overcome adversity to be successful. On Monday, long-time and respected Arkansas Democrat-Gazette reporter Bob Holt encountered his first challenge of the season. Late Sunday night while filing a story on the pair of University of Arkansas pole vaulters (Sandi Morris and Lexi Weeks) who qualified for the Olympics in Rio, Bob's computer started glitching. A "control-Alt-delete" wasn't enough to solve the problem and soon he had to summon a backup computer.
Holt adeptly finished the story in time to visit the Apple Store on Monday to obtain a diagnosis. While privacy laws prevent an update on the health status of a laptop without its permission, sources close to the situation indicate the laptop remains day-to-day and could make its return to the lineup tomorrow. I plan to issue a FOIA request to the Apple Store to obtain the details.
Undeterred, Holt, frequently noted for his voluminous questioning during this event, returned to his perch on Monday to exhaust his question quota even though a borrowed keyboard became essential to jot down the answers.

On Tap for Tuesday (All Times Central)
8:30 – 9 a.m. – SEC Coordinator of Officials Steve Shaw
9:05 a.m. – 12:25 p.m. – Georgia (Head Coach Kirby Smart, TE Jeb Blazevich, TE/OG Brandon Kublanow, SS Dominick Sanders)
9:05 a.m. – 12:25 p.m. – Mississippi State (Head Coach Dan Mullen, LB Richie Brown, WR Fred Ross, DL A.J. Jefferson)
1 – 4 p.m. – Tennessee (Head Coach Butch Jones, QB Joshua Dobbs, LB Jalen Reeves-Maybin, DB Cameron Sutton)
1 – 4 p.m. – Texas A&M (Head Coach Kevin Sumlin, DL Myles Garrett, QB Trevor Knight, WR Ricky Seals-Jones)
TV Coverage:
SEC Network – SEC Now: 2016 SEC Football Media Days Special (8:30 a.m. – 3 p.m.)
SEC Network – Paul Finebaum Show (3 – 6 p.m.)
For the sixth consecutive year, University of Arkansas Associate Athletic Director for Public Relations Kevin Trainor is serving as the press conference moderator in the main print media room at SEC Football Media Days in Hoover, Ala. Throughout the week, Trainor will share some highlights and observations from this year's event.