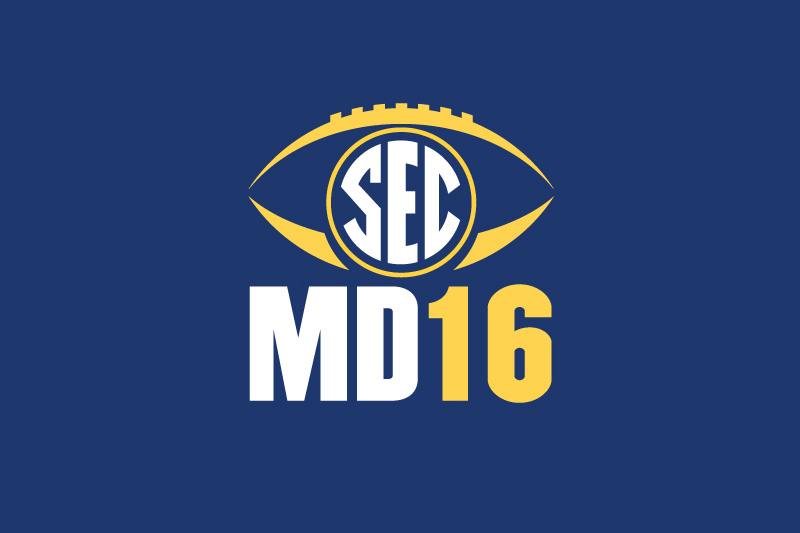 From the Podium: 2016 SEC Football Media Days
One of my favorite movies growing up was a remake of the classic boxing movie, The Champ. Released in 1979, the movie featured Jon Voight, Faye Dunaway and a young Ricky Schroder. The story was one of a retired boxer (Voight) who decided to make a comeback to help make the future for his son (Schroder) better. In what has been coined by some as "the saddest movie in the world," the aging boxer returns to the ring to win his comeback fight only to die in the dressing room after the bout amidst the wailing cries and pleas of his son. "Champ, wake up. Please wake up Champ."
Needless to say, South Carolina's champ, is a lot more optimistic about his return to the SEC as a head coach. Far from a washed up boxer, Coach Will Muschamp is still a young up and coming entry in the league, but looking for a rematch with the same division that knocked him to the mat at Florida. He hopes he is in his prime much like the reigning WBC heavyweight champion Deontay Wilder who hails from Alabama and made a surprise visit to SEC Media Days on Wednesday with his full entourage.
However, on Thursday morning, it was Muschamp who punched up the main media room. By day four, the assembled media looks more like Gerry Cooney than Larry Holmes. "I can go ahead and tell you guys look rough here day four," Muschamp bellowed. "You guys need to pick it up. We're in the fourth quarter."
In his 30-minute round with the media, Muschamp didn't bob or weave and even reflected on his previous head coaching stint with the Gators and offered no visible bitterness for the exit from Gainesville. He also refused to call his current task a rebuilding project saying his players want to win now. He was upbeat, energetic and comical. When asked about a story conveyed by some of his former Auburn players about how he broke two fingers at halftime of a game last season, Muschamp proudly held up his fingers and declared them healthy before offering this.
"You know, I get frustrated sometimes. I wear my emotions sometimes on my sleeves a little bit more than I should. I don't remember the situation. I black out sometimes."
Time will tell what the 2016 season has in store for the return of this champ, but without question his team will have to take some punches along the way if they want to have a fighter's chance in the nation's most competitive league.
MILES SPEAK
If there is one thing you can count on at SEC Football Media Days it is LSU head coach Les Miles will provide an opening statement filibuster laced with numerous memorable and often inexplicable stories. The coach that was carried off the field at Tiger Stadium in what was believed to be his last game last season, is back for 2016 and now carries on his shoulders the title of dean of all SEC football coaches.
During his 20-minute opening ramble, Miles provided numerous verbal gems including details on he thought he was headed to vacation at a lake in Dallas, but ended up at game six of the NBA Finals cheering on Lebron James. Later in his yearly update on the Miles' family summer exploits, he offered a story about his 13-year old daughter Macy. Miles told the assembled media and millions more on national television about his failed attempt to help Macy, a softball pitcher, with some extra practice.
"I was catching her in flip-flops, and that's a mistake. You never – anybody that's a parent or want-to-be parent, you never catch a son, pitcher or female fast-pitch softball pitcher in flip-flops. Let me take it back. Flip-flops and a can. Because when you sit on the can, you put your feet on the can, and it's an obvious position to be hit. So I broke two toes in my right foot catching her. So I went to Cuba, and Cuba is a communist country, and that was kind of the reason that I went."
Somewhere, the late Yogi Berra is smiling. Maybe even in Havana.
FREEZE WARNING
Typically the final session of SEC Football Media Days is a less than awe inspiring experience for coaches and media alike. After three long days, everyone is ready to trade the restocked supply of hotel soap and shampoo for the comforts of their own pillow and some R&R. But in 2016, the schedule packed some pizazz at the end with Muschamp, Miles and Ole Miss coach Hugh Freeze. While normally the Rebels' coach might not be a headline maker, the program's recent NCAA entanglements made Thursday's appearance must-see TV.
Maybe it was the fatigue factor Muschamp chided the media about earlier in the day, but for the most part, Freeze was able to address the ongoing NCAA investigation and deliver the company line without much elaboration. But in a telling moment of introspection on the last question of the day, Freeze did admit that he had made a tactical error when he issue a Twitter challenge to all those who had information about violations to contact the Ole Miss compliance office.
"Sometimes you make decisions that probably aren't the sharpest. Like I said earlier, I did mean that with sincerity. And so the tweet was, you know – the intent was, man, let's find out what's going on and look into it. Do I regret doing it? Absolutely!"
MISSING MODERATOR
Through the years, the format of SEC Football Media Days has continued to evolve. Until just a few years ago, the main print room was the only stop on the media days tour that featured a press conference moderator. In other breakout rooms, coaches and student-athletes would just walk in and sit down and began talking. But as the throngs of media grew larger and a handful of media members failed in demonstrating the most basic courtesy skills most often taught in kindergarten, it became necessary to add press conference moderators in some other designated rooms.
This year, while I quarterbacked the main media room, Greg Ellis of Mississippi State and Zach Schrieber of Samford handled the moderating duties in the television and radio/internet breakout rooms, respectively. They are both friends and colleagues and did a tremendous job keeping things moving.
Yet, the football frivolity was just not the same this year without the late Norm Reilly. The former media relations man at the University of Alabama-Birmingham (UAB) passed away in February after a long bout with cancer. Reilly was a familiar face in the SEC including time at the University of Georgia where I first met him. He later moved on to UAB and shepherded a first-time head coach named Mike Anderson when he coached the Blazers basketball team. At SEC Football Media Days, he handled the radio and internet question and answer session like a pro. Norm Reilly was missed this year, but no doubt he would have been proud of one of his protégés (Schrieber) manned the microphone in the same room he used to call home.
The SEC is about schools and traditions, about rivalries and competitions, but most of all it is about people. Norm Reilly was one of those in the SEC family and he is missed.
SURVEY SAYS
One of the bows on the top of the present that is SEC Football Media Days are the media predictions for the upcoming season. Each member of the media that registers for the event is given an opportunity to vote on the predicted order of finish for both divisions as well as vote for an overall SEC champion.
After four days and more than 35 hours of talking nothing but SEC football, at the very least the delegates are informed. After all, knowledge is power. But in the case of this annual prognostication, the predictions are generally not worth the paper they are printed on.
After all, only five times since 1992, including three times in the last 20 years, has the election results of SEC Football Media Days selected the eventual SEC Champion. If this process was a political poll, it almost certainly would have picked Dewey over Truman.
Alas, we still like to see what the conventional wisdom is on the upcoming campaign. In that regard, it gives us what we want – more hype and more to debate.
Very little surprise on the western division side where Alabama is a prohibitive favorite to claim the top spot once again in 2016. The Crimson Tide earned 246 first-place votes, easily outdistancing second place LSU (76). Ole Miss was pegged for third while Texas A&M narrowly edged Arkansas for fourth. Following the Razorbacks was Auburn and Mississippi State.
Much of the buzz about the eastern division this week was about Tennessee. The Vols are the popular choice (225) for first place while Florida secured the runner-up position with 57 first place votes. Georgia was a clear third with Kentucky, Vanderbilt, Missouri and South Carolina rounding out the division. All four of those teams were within parsing distance of each other in the poll.
And who does the media pick to win the SEC Championship Game in 2016? Alabama (223) got the nod, while LSU (59) and Tennessee (29) each earned double-digit votes. In the always interesting also receiving votes category, Georgia (7), Florida (5), Ole Miss (4), Arkansas (1), Texas A&M (1), South Carolina (1) and Vanderbilt (1) all got at least one vote of confidence for the title.
Now all we have to do is play the games. But hey, that is the fun part anyway!
For the sixth consecutive year, University of Arkansas Associate Athletic Director for Public Relations Kevin Trainor served as the press conference moderator in the main print media room at SEC Football Media Days in Hoover, Ala. Throughout the week, Trainor shared some highlights and observations from this year's event.