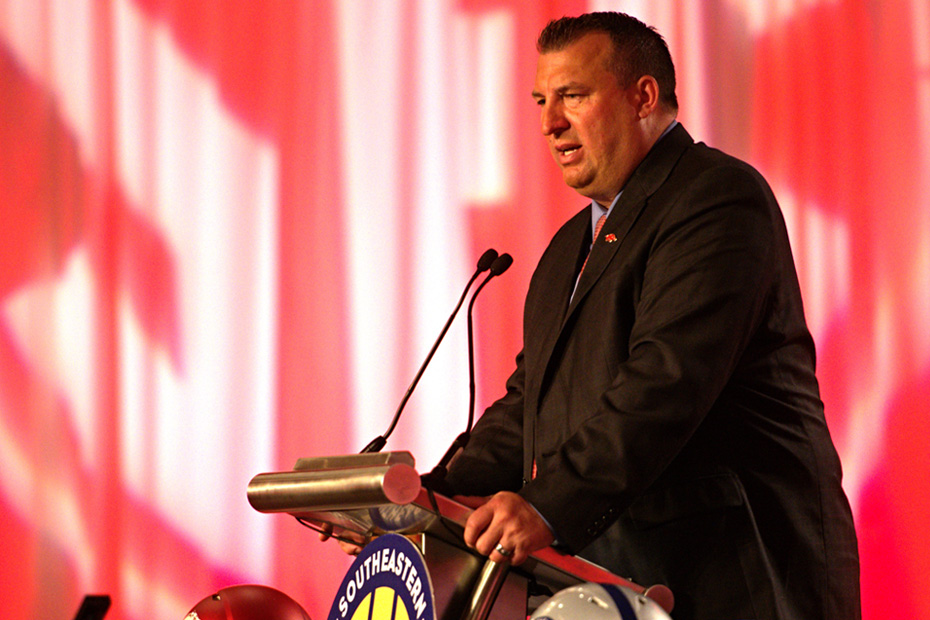 From the Podium: 2016 SEC Football Media Days
Not long after Steve Spurrier announced his retirement, the buzz started to build among members of the SEC media. No, not about who would replace him at South Carolina, but more importantly for newsprint and the Twittersphere, which SEC coach would step up to supply those memorable quotes that Spurrier made a staple of SEC Football Media Days for his combined 23 year tenure at Florida and South Carolina.
Shortly after I arrived in Hoover on Sunday night, conversations with acquaintances around the league turned to this building conference dilemma. Folks were as subtle as a Donald Trump campaign hat. They hoped Arkansas head coach Bret Bielema would make SEC Football Media Days great again!
By all accounts, Bielema delivered on the media's grassroots campaign, garnering multiple cackles from the more than 500 media members longing for a welcome break from the monotony of 14 coaches in four days. Bielema shared the background behind the Hunter Heave to win the Ole Miss game and weighed in on satellite camps.
He revealed that he and his wife Jen and just returned from Europe where they attended the wedding of his former Wisconsin quarterback Russell Wilson and Ciara. When he misspoke and said he was "in the wedding," he quickly clarified that he wasn't in the wedding, adding that he just sat and watched as the guy in the eighth row in the outside seat. Just one of many comments that drew laughter from a media days' weary crowd.
It was while he was traveling abroad that some scheduling news broke. When asked about how he heard the news that Michigan had pulled out of its non-conference series with Arkansas, the colorful Bielema provided more than just the standard coach speak.
"I was in Europe with my wife," Bielema explained. "We were on a train headed to Paris. My wife said, 'Hey, there's something on the internet about a Big Ten team canceling with an SEC team.' I said 'I didn't know anything about it.' She said, 'Really? Your picture's right here.
"So I read the article and realize we've been canceled. I'm sorry, the Michigan-Notre Dame thing sounds sexy to everybody else, but think Michigan and Arkansas sounds sexy. I was very excited about Big Ten versus SEC. I made a comment in the spring I'd love to see an SEC challenge at the front end. My commish gave me a josh back. He said 'that's called a bowl game."
Bielema did a nice job weaving in the academic and athletic accomplishments of the Razorback program within an entertaining narrative. The 30 minutes in the main media room went quickly with those in the room and watching on the SEC Network waiting for what would be said next. But unlike Spurrier's outwardly targeted humor, Bielema uses a homespun, often self-depreciating, humor that gives audience members a glimpse into the authentic qualities that make him one of the nation's best leaders of young men.
Later in the question and answer session when Bielema was asked about his team's prospects for 2016 in the rough and tumble world of the SEC, he reverted back to some familiar language.
"At Arkansas, we're not built very sexy," Bielema said. "We're just kind of a work in progress. We need a lot of time in the bathroom to get ready and come out and look great. But when we do, we'll stop time. And at some point we'll get to where we want to be. And when we get there, it just means a little bit more."
Based on his performance on Wednesday, it is fair to say, Bielema is bringing sexy back to SEC Football Media Days.
BAMA STAMPEDE
Sometimes in life, you just find yourself in the wrong place at the wrong time. Such was the case early Wednesday morning as I traversed the lobby of the Hyatt Regency Wynfrey around 8 a.m. Like a man ambling down the cobbled stone roads of Pamplona moments before the release of the bulls, I was nestled among the throng of media, fans and autograph seekers just as Alabama Coach Nick Saban entered the hotel.
Each year, I comment to myself that this seems more out of control than ever before. Every year, I am right. With fans and media members crowding in for a closer look, all I could see was the shining glow of cell phone screens as they rose in unison to snap some quick photos for Twitter, Instagram or the ornately detailed picture frame above the fireplace that awaits that iconic shot for ardent Alabama faithful.
Of course what else would you expect for the defending national champions making an appearance in the heart of Bama nation? Saban certainly isn't Paul, George, John or even Ringo, but to Alabama fans he certainly is the star.
As the herd broke briefly, I made a dash for the escalators arriving just before its access was blocked by the mob. A quick ride on the moving stairs and I was free, free of this madness at least for a few moments.
STOOPING TO HIS LEVEL
Late in his media session, Kentucky head coach Mark Stoops could feel the question coming. As Bob Holt of the Arkansas Democrat-Gazette delivered his question about the Wildcats' early-season schedule, Stoops interjected, 'I thought you were going to ask me a question about Bret.' Never missing an opportunity for a follow-up, Holt adeptly turned it into a two-part question giving Stoops a chance to take a few friendly jabs at his friend.
"As far as Bret, he's a beauty," Stoops said. "I think he was in here entertaining you guys earlier right? But I tell you a story about Bret. I better be careful. Don't get in a pissing contest with a skunk. Right? So he's gone (from media days). He can't say nothing about me right now.
"You got Bret, big, big, strong guy. His teams are extremely physical, well prepared. Great coach. Does the whole deal. Two years in a row we split a room up there (at media days) where we kind of settled in and they were coming in and we were getting out of there. I didn't mention this last year, but I got to bust him this year — big Bret, big guy, the whole deal, he's got dogs this big (showing his hands marginally apart) in there yapping at your ankles in there. So you have to bust his chops about his tiny dogs."
WINDS OF CHANGE
It was a curious day for Missouri head coach Barry Odom's debut at SEC Football Media Days. After taking over for longtime coach Gary Pinkel and enduring a 2015 season notable more for a threatened player strike that made the Columbia campus the epicenter of the nation's focus, Odom faced another set of challenging circumstances on Wednesday. Hours before Odom and his players were scheduled to make the round at media days, word leaked that Missouri Athletic Director Mack Rhoades was leaving the school to take the same job at Baylor University. For a school already reeling from the seismic activity of last fall, Wednesday's news was just another aftershock.
Give Odom credit. If he was feeling the weight of the shifting sands, he didn't lose his footing at the podium. Shortly after Commissioner Greg Sankey introduced him, he joked his son asked him what the commissioner would say about him? After all, he didn't even have a record yet.
As Odom spoke, he eloquently outlined the philosophy he has based his program on and expressed confidence in its direction. Odom has encouraged his players to embrace the challenges as opportunities, but leave the baggage of last season at the door.
There are still plenty of seemingly tough days ahead at the University of Missouri, but at first glance it appears the person in charge of the Tigers' football program has in some ways assumed the role of an anchor for whatever storms may still be lurking.
Fashion Emergency
One of the annual challenges of the press conference moderator at SEC Football Media Days is coordinating four days of neutral colored outfits. Before I leave Fayetteville, I carefully plan the suit, shirt and tie for each day in close coordination with the media days schedule. Balancing my blue, black and tan suits with an array of shirts and ties becomes part of the game plan.
For instance, on Wednesday, Alabama, Arkansas, Kentucky and Missouri were on the docket. That slate means being wary of too much red, blue or gold. For someone who dons cardinal for a living and owns a good number of varying types of blue dress shirts, day three of the event presented a bit of a challenge.
Drawing a little inspiration from a late music icon, I varied off my usual media days color spectrum and went with the black suit, purple shirt and purple and pink tie. One man's Purple Rain tribute, was in actuality a valuable variance to help toe the neutral line required of the job. Just in case you were wondering, there was no raspberry beret in the mix.
I have to admit, as Alabama's Nick Saban ascended the podium stairs at 9:05 a.m., I feared for a brief moment he might naturally repel with my colorful reminder of his previous SEC school. But alas, it was another head coach from a school that wears a similar shade of red that first made the inevitable comment. "That's a nice LSU color," Coach Bielema said jokingly while slapping me on the back. "LSU is tomorrow," I responded. "Plus you know my true colors!"
On Tap for Thursday (All Times Central)
9:05 a.m. – 1:35 p.m. – South Carolina (Head Coach Will Muschamp, WR Deebo Samuel, DL Marquavius Lewis, OL Mason Zandi)
9:05 a.m. – 1:35 p.m. – Ole Miss (Head Coach Hugh Freeze, QB Chad Kelly, TE Evan Engram, DT D.J. Jones)
9:05 a.m. – 1:35 p.m. – LSU (Head Coach Les Miles, RB Leonard Fournette, C Ethan Pocic, DB Tre'Davious White)

TV Coverage:
SEC Network – SEC Now: 2016 SEC Football Media Days Special (9 a.m. – Noon)
SEC Network – Paul Finebaum Show (2 – 6 p.m.)

For the sixth consecutive year, University of Arkansas Associate Athletic Director for Public Relations Kevin Trainor is serving as the press conference moderator in the main print media room at SEC Football Media Days in Hoover, Ala. Throughout the week, Trainor will share some highlights and observations from this year's event.