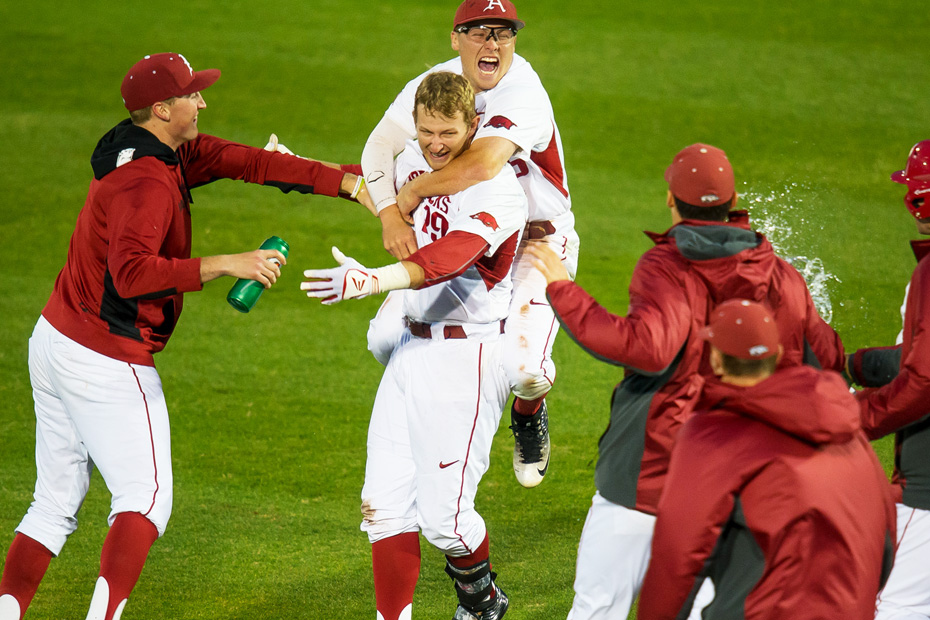 Gassaway Gives Arkansas Another Walk-Off Winner
Box Score (PDF) | DVH Postgame | Players Postgame | Cullen's Clutch Hit | Pennell Hits a Bomb
FAYETTEVILLE, Ark. – Senior Cullen Gassaway came through with yet another walk-off moment Friday afternoon to add to his already stellar start to the 2016 season. With 14th-ranked Arkansas and Western Illinois tied at two in the bottom of the 10th inning, the Razorbacks had a runner on second with one out. Gassaway pulled a 1-0 pitch through the left side of the infield, scoring pinch-runner Eric Cole from second to give Arkansas the 3-2 series-opening victory at Baum Stadium.
It was Gassaway's only hit of the night, but couldn't have come at a better moment as he now has two walk-off RBI to his name this week, adding in the walk-off walk he had Sunday against Eastern Illinois, which was also a 3-2 victory. Over the last four games, Gassaway has been a consistent bat for the Hogs with four hits and five RBI. The senior is now batting an even .300 with 12 hits and 11 RBI.
Junior right-handed pitcher Dominic Taccolini had a no-hitter through the sixth inning and tied a career-high nine strikeouts before being relieved in the seventh by closer Zach Jackson. Even with the strong work he put in, it was all undone in the ninth when Western Illinois scored the game-tying run on a throwing error from Razorback third-baseman Carson Shaddy.
Friday marked the first start that Taccolini was not the pitcher of record this season as Jackson was given the win after Gassaway's walk-off. Taccolini still leads all Razorbacks starters in 2016 with a 2.16 ERA, only six runs given up over 25 innings and 23 strikeouts.
For the fourth-straight week, Taccolini went five or more innings and walked two batters or less as he finished with a strong seven innings of work, giving up just two hits, one earned run, allowing just two walks and striking out nine.
Senior catcher Tucker Pennell provided nearly all the offense with a two-run home run in the bottom of the fifth inning, sending his first home run of the season into the left field bullpen. That home run, at the time, also broke up a no-hitter that Western Illinois starter, Preston Church, had in the fifth inning.
The home run by Pennell was his only official at-bat of the game as he also walked twice in three plate appearances.
Now hitting .333 on the season, Pennell joins Gassaway as one of Arkansas' hottest hitters as the final weekend of non-conference season wraps up. Over his last seven games, Pennell has hit safely six times and has a total of nine hits, but only two RBI, which came on Friday night. He still is tied for the team-lead in extra-base hits (7) and is the current team-leader in doubles (6).
Arkansas and Western Illinois will be back on the field for game two of the series tomorrow at Baum Stadium. First pitch is scheduled for 2 p.m. and can be seen on SEC Network+.
For more information on Razorback baseball, follow @RazorbackBSB on Twitter.
RAZORBACK QUOTABLES
"He's been pretty clutch. He's kind of a calm and cool guy. He doesn't get all wound up and never gets excited. Sometimes I wish he'd get a little more excited. But I like his demeanor and he's got a good approach at the plate. – Head coach Dave Van Horn on Cullen Gassaway
"He showed good stuff and one thing about him is that he has been really consistent for us, and that's what you want in a pitcher. I'm proud of him for coming back from that injury and we'll see how he does against S. Carolina." – Head coach Dave Van Horn on Dominic Taccolini
"He hammered that ball. He hit right smack in the middle of that one. When it left the bat, we knew it was out down there because we knew it was low enough and far enough." – Head coach Dave Van Horn on Tucker Pennell's home run
"It was good. I just wanted to go out there and throw strikes, get the game to go quick and let our hitters go out there and hit. They struggled a little bit, but we came out with the win." – Dominic Taccolini on his performance
"They had been throwing me off-speed pitches all day and that guy came out and threw me a breaking ball right before that and hit it foul. I figured they were going to keep doing that." – Cullen Gassaway on his game-winning hit
ARKANSAS NOTABLES
Dominic Taccolini tied a career high fanning nine batters over seven frames.
Tucker Pennell hit his first home run as a Razorback and put up his second multi-RBI game of the year.
Zach Jackson set a season high mark with five strikeouts in relief and earned his first win on the season
Cullen Gassaway produced his second walk-off RBI in three games.
Jake Arledge extended his hitting streak to a career high five games.
Arkansas turned two double plays on the day and have 16 double plays overall which currently ranks second in the SEC.
The Razorbacks have hit an SEC leading 20 home runs on the season.
Arkansas' pitching staff collected their sixth double-digit strikeout effort of the year and set a season high mark whiffing 14 batters.
The Razorbacks improve to 6-0 when holding opponents to two runs or less.