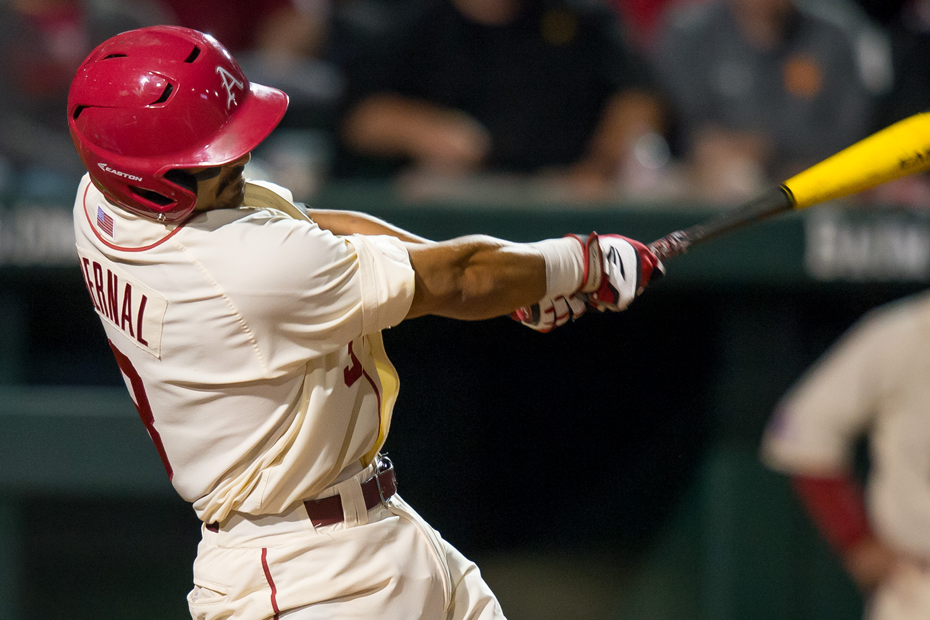 Gators' Big Inning Hurts Hogs Again
FAYETTEVILLE, Ark. – Senior Michael Bernal's solo home run and Keaton McKinney's strong start kept Arkansas within striking distance of No. 2 Florida, but the Gators got on top of the Razorback bullpen for five runs in the fifth inning, which ended up being too much for the Hogs to overcome.
Florida (32-5, 10-4) took the series with Arkansas (21-14, 4-10) Friday night, winning 9-2 at Baum Stadium giving the Razorbacks their third-straight series loss.
McKinney was effective through four innings, giving up just one run and tying a career-high five strikeouts. However, he put two on with no outs during the top of the fifth and was taken out by head coach Dave Van Horn with the hope that the bullpen could keep the Gators at bay.
Florida scored seven-straight runs over the fifth and sixth innings, while Arkansas only got one run back in the ninth.
McKinney took the loss to fall to 1-2 on the year, while Logan Shore earned the win for Florida to move to 7-0 after throwing 6 2/3 innings, scattering 7 hits, while only allowing 1 earned run and striking out 4.
Sophomore Luke Bonfield finished the game 2-for-4 to lead the Razorbacks. It was his 10th multi-hit game of the season. Senior Tucker Pennell also threw out his SEC-leading 19th would-be base stealer after throwing out Nelson Maldonado in the fifth inning to end the big five-run frame for the Gators.
KEY MOMENTS
McKinney ran into a little trouble early in the first inning after giving up a lead-off double to Dalton Guthrie. He later scored on a single by Buddy Reed to push Florida ahead 1-0. McKinney settled down after that, however, striking out the side to limit Florida to just the one run.
Bernal hit his team-leading eighth home run of the year in the bottom of the fourth inning to tie the game at 1-1. It was only the second home run given up by Shore this season in over 50 innings.
RAZORBACK QUOTABLES
"(Keaton) McKinney gave us a couple of pretty good innings. He ended up walking four and that was probably the downfall. The pitch count was up and Logan Shore didn't walk anybody. We had some quick innings and tied up the game 1-1 after the home run from Bernal. From that point forward we encountered a few issues due to miscommunication." Head coach Dave Van Horn on Keaton McKinney's performance
"This happens in most of our games. We have a great inning in the second or the fourth, but it seems that there has been an inning that gives our opponent a big advantage that is hard to overcome. Our most pressing issue is preventing the other team from having equally big innings. We need to play the entire game."  – Dave Van Horn on giving up big innings in multiple games this season
"Tomorrow is a huge game for us and we only have one more shot to win a game this series. We are playing a good team and we can't make mistakes. When we have a chance to score we need to score. We need to come out tomorrow and play our best game." – Dave Van Horn on the importance of Saturday's series finale with Florida
"It's tough, but we're going to come out tomorrow with a chip on our shoulder. We really want to try and get the pitchers a lead. The hitters really need to get the pitchers a lead, because it's easier that way. – Luke Bonfield on the game plan for Saturday against Florida
"As a group we've talked about not pressing. The game is going to go the way it goes. We can't control what pitches were made. We can control what we can control. We can't worry about the rest of it." – Michael Bernal on if the team is pressing
UP NEXT
The Razorbacks and Gators finish out the three-game series Saturday at Baum Stadium with first pitch set at 2 p.m. The game will be broadcast on SEC Network+.
For more information on Razorback Baseball, follow @RazorbackBSB on Twitter.