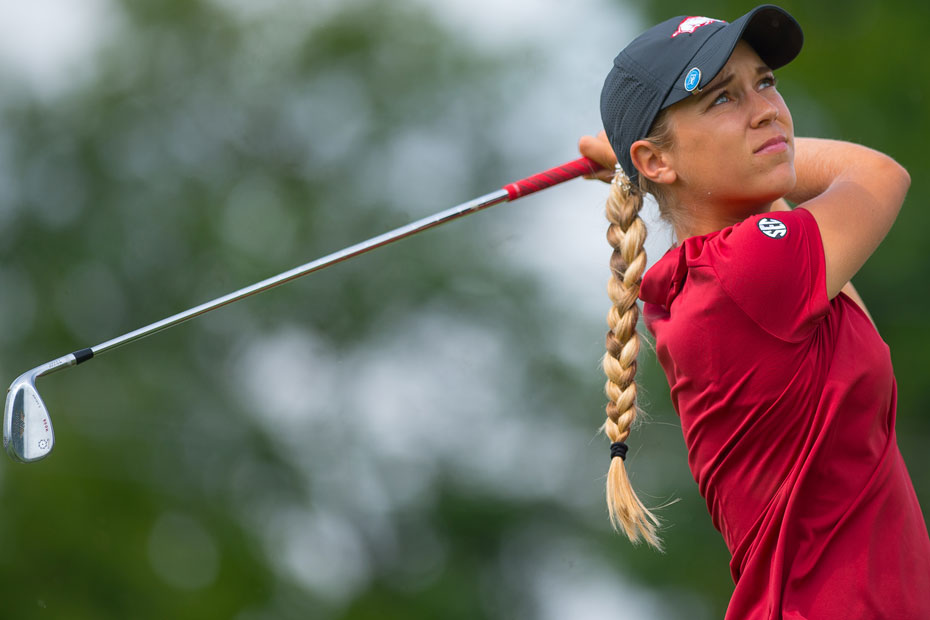 Gorlei Moves Up Leaderboard
Results
SAN ANTONIO, Texas – The No. 1-ranked University of Arkansas women's golf team continued its reign at the top of the leaderboard after second round action at the Maryb S. Kauth Invitational in San Antonio, Texas, on Monday.
The Razorbacks, who are ranked No. 1 in the current Golfweek.com poll, fired a 15-under 273 and lead the field by 18 strokes with one round remaining at the Briggs Ranch Golf Course.
There was some movement within the Arkansas lineup in the final tournament of the fall semester. Juniors Dylan Kim and Maria Fassi paced the team on the first day of play but junior Cara Gorlei was 5-under with a 67 in round two. Gorlei is tied for third shooting a 6-under 138 (71–67). Kim and Fassi both shot 2-under 70 on Monday and are tied for fifth place overall at 139 (69–70).
Senior Alana Uriell jumped two spots into a tie for seventh place after shooting 4-under 68. Uriell is no stranger to the course picking up her first collegiate win at this event last year and she is within striking distance with a 4-under 140 (72–68).
Junior Kaylee Benton added a 68 as well for a 145 (77–68) while freshman Maria Hoyos, playing as an individual, was also under par with a 70 in her second collegiate round.
A tough round one saw just the Razorbacks shoot under par but several teams were under par on Monday. Better play from the field was matched by Arkansas as they remained in first place as a team with a 22-under 554. TCU is second shooting 4-under 572, followed by Texas A&M with a 1-under 575. Denver and Houston round out the top five teams with a 1-over 577 after two days of play.
Final round action begins Tuesday morning.
From Shauna Taylor
"It was a great round of golf today. It was great to have everyone doing such an awesome job out there. I'm really proud of them. They made 33 birdies today. I made a deal with them this morning that I would donate $10 to the Komen Foundation for every birdie they made and Mike (Adams) and I got schooled on that challenge. The team was so excited to go out and play for such a great cause and purpose today. I always talk to them about it being bigger than a golf score and it was great to watch them today. I'm excited about the position we are in. We have to go out tomorrow and do what we are capable of.
"I'm really proud of Maria Hoyos. She made seven birdies today and shot 2-under. She has learned so much this week. With the group, it's a total team effort. Cara (Gorlei) did a fantastic job shooting 5-under and Alana (Uriell) was solid. Dylan (Kim) and Maria (Fassi) both had slow starts but fought hard to finish under par. Kaylee (Benton) got out to a great start today, especially birding 17 to finish 4-under."
Inside The Ropes
• It is the eighth time in 11 rounds that Arkansas has led the round.
• It is the 11th time in 11 rounds that Maria Fassi and Dylan Kim's scores have counted toward the team total.
• Arkansas shot under par for the second consecutive day.
• Arkansas' 15-under par 273 is a tournament record for a team round.
• Today's round two is the 11th time in 11 rounds that the Razorbacks have been even or under par as a team.
Arkansas Lineup

| Arkansas Lineup | Score | To Par |
| --- | --- | --- |
| T3 Cara Gorlei | 71–67—138 | -6 |
| T5 Maria Fassi | 69–70—139 | -5 |
| T5 Dylan Kim | 69–70—139 | -5 |
| T7 Alana Uriell | 72–68—140 | -4 |
| T17 Kaylee Benton | 77–68—145 | +1 |
| T43 Maria Hoyos (Ind) | 80–70—150 | +6 |
The Field

| The Field | Score | To Par | |
| --- | --- | --- | --- |
| 1 | No. 1/3 Arkansas | 281–273—554 | -22 |
| T2 | No. 68/79 TCU | 290–282—572 | -4 |
| T2 | No. 41/38 Texas A&M | 296–279—575 | -1 |
| T4 | No. 30/24 Denver | 297–280—577 | +1 |
| T4 | No. 31/28 Houston | 295–282—577 | +1 |
| 6 | No. 58/58 Maryland | 296–287—583 | +7 |
| 7 | No. 29/34 Oklahoma | 295–290—585 | +9 |
| 8 | No. 39/31 Auburn | 301–286—587 | +11 |
| 9 | No. 73/76 Kansas State | 291–297—588 | +12 |
| 10 | No. 54/50 UTSA | 294–297—591 | +15 |
| 11 | No. 110/115 North Texas | 300–299—599 | +23 |
| 12 | No. 67/63 MTSU | 3310-290—600 | +24 |
| 13 | No. 94/97 Texas State | 307–300—607 | +31 |
| 14 | No. 27/30 Texas Tech | 311–300—611 | +35 |