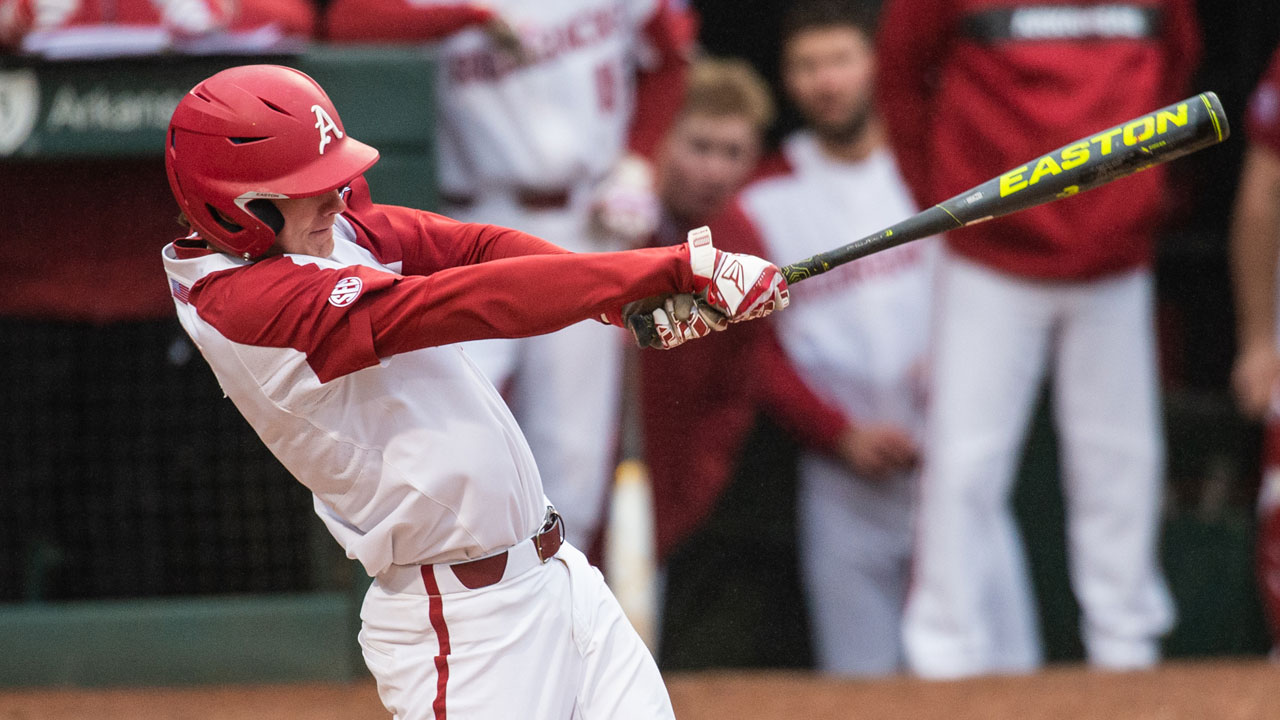 Hogs Bring Bats In Opener Against Alabama
TUSCALOOSA, Ala. – With the help of three home runs and another strong performance on the mound from redshirt junior Isaiah Campbell, the eighth-ranked Arkansas baseball team handily defeated Alabama, 12-3, Friday night at Sewell-Thomas Stadium to stay perfect in league play.
For the third-straight game, Arkansas (19-3, 4-0 SEC) scored four or more runs in the second inning when it plated six to jump out to a 7-0 lead before the completion of two innings. All six runs were scored with two outs as Alabama starting pitcher Sam Finnerty was put in a hole early.
Even before the big inning, the offense was kickstarted by sophomore Heston Kjerstad, who hit his fourth home run of the year in the first inning and his second in three games.
Kjerstad drove in four more runs on a bases-loaded single in the second inning, tying his career-high for RBIs after just two at-bats. The Amarillo, Texas native finished the game 3-for-5 with two runs scored. It's his fifth three-hit game of the season and eighth multi-hit game.
After being handed a large cushion before the bottom of the second, Campbell went on to work six more innings, giving him seven before letting the bullpen take over. It was the fourth-straight quality start for Campbell as he scattered five hits without giving up a run, walking one with seven strikeouts.
Campbell moves to 5-0 with the victory, matching his win total from last season and has only walked two or less batters in all six of his starts.
Nesbit Stays On Fire; Hits First Collegiate Home Run
Redshirt freshman Jacob Nesbit stayed hot at the plate Friday night, going 2-for-4 with three RBIs, including a home run. Nesbit's double in the third inning not only brought in Arkansas' eighth run of the game, but extended his team-best hitting streak to 12 games and reached-base streak to 19 games. In the eighth inning, Nesbit crushed his first collegiate home run to make it 10-0 Razorbacks. Nesbit is the eighth different Hog hitter to hit at least one home run this year.
Razorbacks Get Production From 6-7-8 Hitters
The combo of Matt Goodheart, Jack Kenley and Jacob Nesbit went a combined 8-for-14 (.571) at the plate Friday against the Crimson Tide, driving in four and scoring five. Goodheart and Kenley each tallied three hits in the game, while Nesbit had two. For Goodheart, the sophomore notched his fourth multi-hit game in his last five starts. Kenley extended his hit streak to four games and tallies his first multi-hit game since March 10 against Louisiana Tech.
Playing Long Ball
For the third time this season, Arkansas hit three or more home runs in a game as Heston Kjerstad, Jacob Nesbit and Dominic Fletcher all had the long ball working Friday night. Kjerstad's solo homer in the first inning got Arkansas' offense started and then Nesbit followed in the eighth inning for his first collegiate home run. Fletcher put an exclamation point on the night with a solo blast in the ninth, his third of the year.
Razorback Quotables
"He saw the ball well tonight. He squared up two or three balls, took a nice walk and really didn't go out of the zone too much. He had a really good night." – Head coach Dave Van Horn on Matt Goodheart's two-hit night
"He battled and got out of a couple jams, but we spotted him a seven-run lead after two and it freed him up. His stuff wasn't as good as it had been and he knew it. He still threw a lot of strikes and that's what you do when you're winning. You have to throw the ball over the plate and make them earn it." – Dave Van Horn on Isaiah Campbell's outing
"Alabama had a veteran pitcher out there and he was just one pitch away from getting out of the second inning, but we just kept fouling pitches off and got some big hits and kept chipping away. All of the sudden, we punch in six runs and we're up 7-0 with (Isaiah) Campbell on the mound."  – Dave Van Horn on the big six-run second inning
"Both (Jack) Kenley and (Jacob) Nesbit are swinging the bat well right now. It's good we're getting a lot of production at the end of the order and they're contributing offensively. Really the whole lineup has been doing a great job. (Casey) Martin has been struggling a little bit, but he's a great defender and we know he's going to turn it around." – Dave Van Horn on the production from the bottom of his lineup
"I didn't have the best command tonight and had to rely on my cutter heavily. If I didn't have that, it would have been a really tough outing. When you get run support like that, it just gets easier because you just have to go out and throw strikes and let the defense do the work." – Isaiah Campbell on his victory over Alabama
Up Next
Arkansas and Alabama will be back on the field tomorrow at Sewell-Thomas Stadium for game two of the series. First pitch is slated for 2 p.m. and will be broadcast on SEC Network+.
For more information on Razorback Baseball, follow @RazorbackBSB on Twitter.