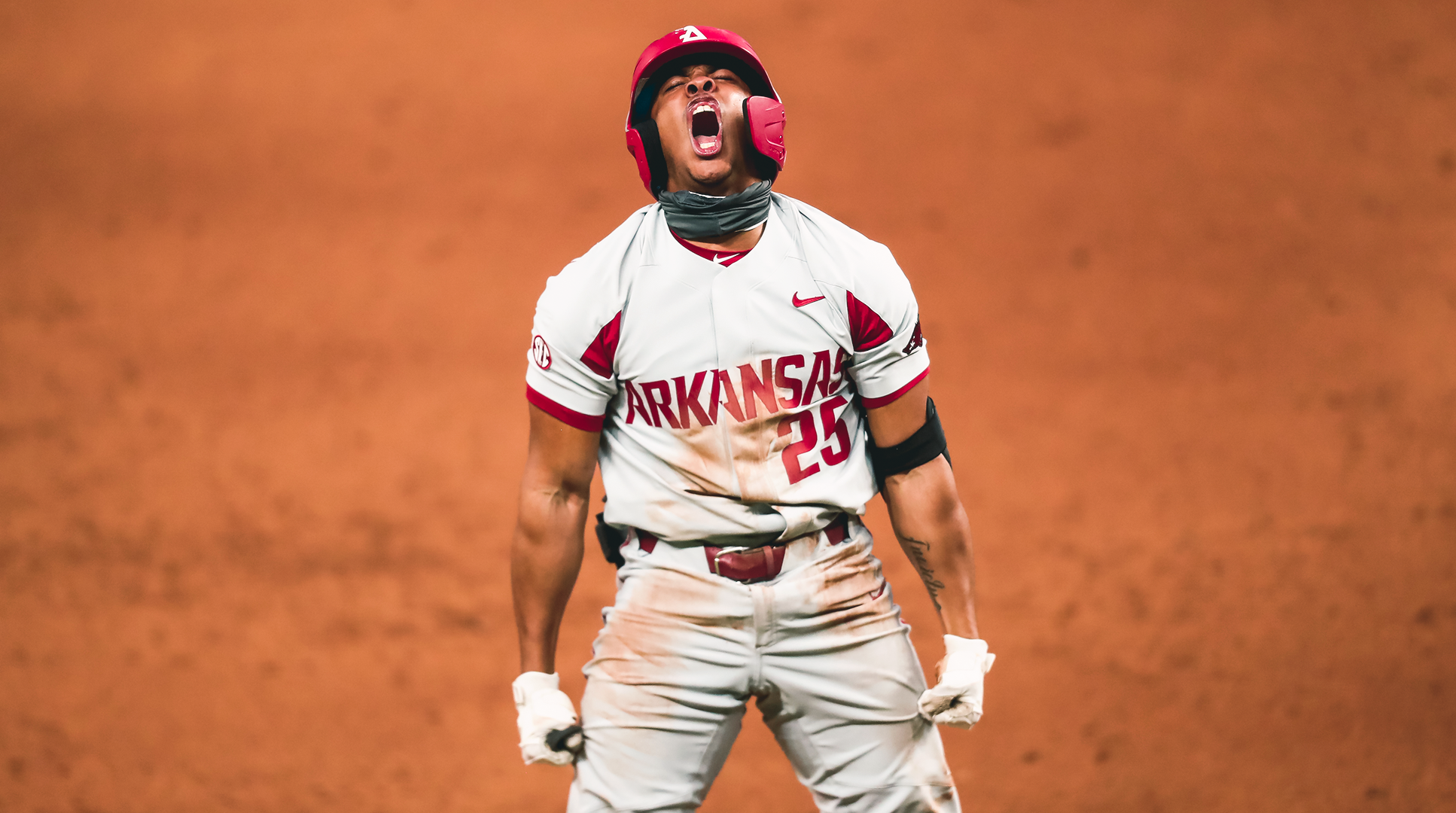 Hogs Complete Texas Trifecta Sweep
ARLINGTON, Texas – Texas is under new management.
No. 8 Arkansas finished off its trifecta sweep at the State Farm College Baseball Showdown on Monday night with a 4-1 comeback win against No. 10 TCU. The Razorbacks concluded their three-day trip to Globe Life Field in Arlington, Texas, with a perfect 3-0 record, defeating three top-10 opponents from the state of Texas in the process.
The Razorback pitchers combined for their second consecutive two-hitter and struck out 18 Horned Frogs in the win. Left-hander Lael Lockhart went 4.1 innings in his first start for Arkansas, allowing one run on two hits and two walks while striking out 8.
Bullpen arms Evan Taylor, Jaxon Wiggins, Ryan Costeiu and Kevin Kopps teamed up to toss the final 4.2 frames and were untouchable. The foursome did not allow a hit and combined to strike out 10, led by Kopps' five punch-outs in his two innings of work.
Wiggins, meanwhile, was electrifying in his Razorback debut. The freshman struck out the side, all swinging, and touched 98 miles per hour with his fastball.
TCU got going early, taking a one-run lead in the bottom of the second, and stayed ahead until the eighth inning. The Arkansas bats, silenced up to that point, came alive in the top half of the eighth, breaking out for two runs to open a 2-1 lead.
Outfielder Christian Franklin's game-tying RBI triple knotted the game at one apiece. He came across to score on first baseman Cullen Smith's single through the right side, which put the Razorbacks ahead for good.
Arkansas tacked on two more runs in the top of the ninth thanks to catcher Casey Opitz. The Hog captain doubled home designated hitter Brady Slavens before scoring on a wild pitch to put the Razorbacks up, 4-1.
The eighth-ranked Hogs defeated No. 3 Texas Tech, No. 9 Texas and No. 10 TCU during their season-opening jaunt to Texas. The Razorbacks scored 19 of their 21 runs this weekend in the sixth inning or later.
The Hogs are back in action later this week, hosting Southeast Missouri State in a four-game set at Baum-Walker Stadium. First pitch in the home opener is set for 3 p.m. Thursday, Feb. 25.
For complete coverage of Arkansas baseball, follow us on Twitter (@RazorbackBSB), Instagram (@RazorbackBSB) and like us on Facebook (Arkansas Razorback Baseball).