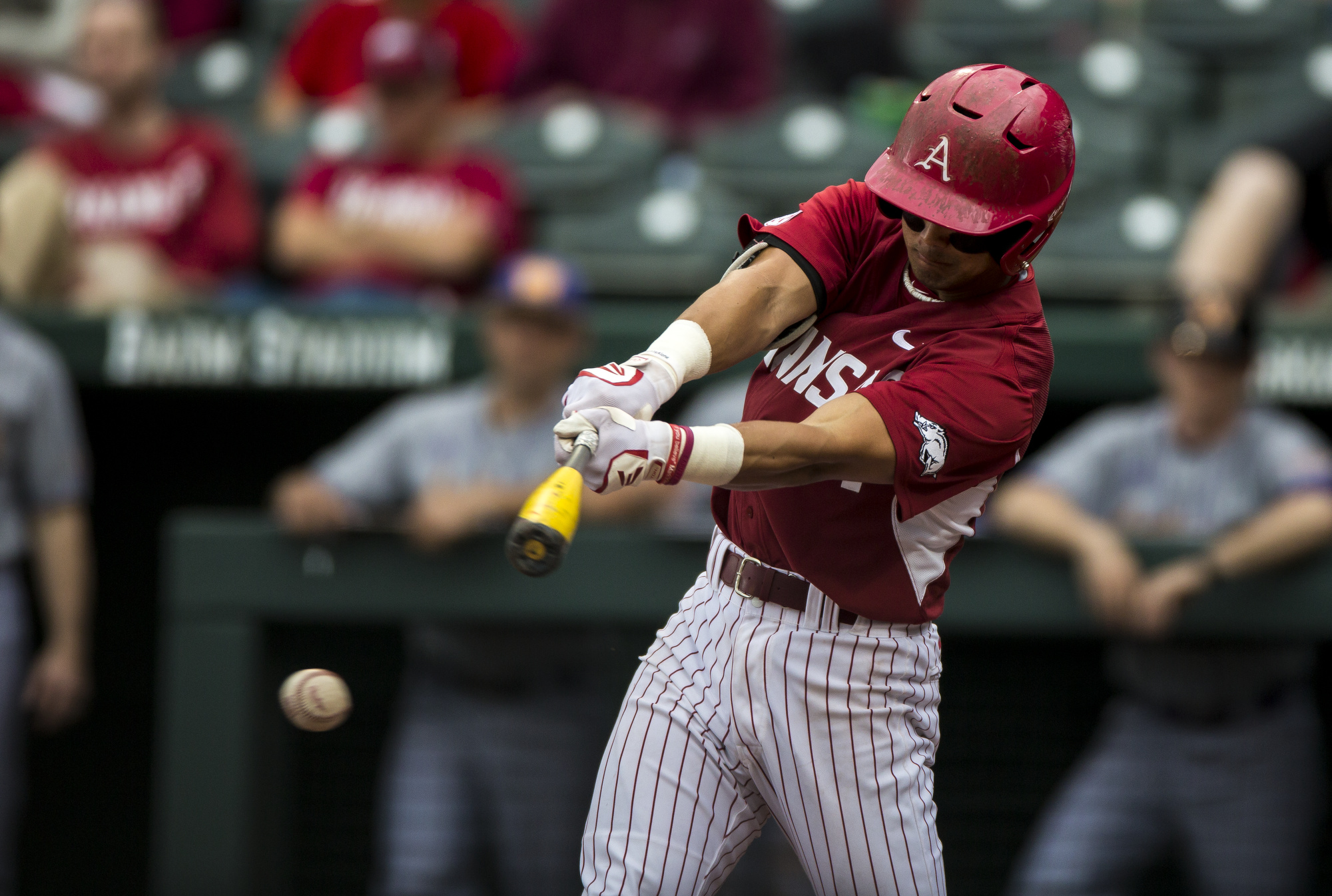 Hogs Double-Up Leathernecks In Series Win
Box Score (PDF) | DVH Postgame | Players Postgame
FAYETTEVILLE, Ark. – Five Razorbacks recorded multi-hit games Saturday afternoon against Western Illinois, led by senior Rick Nomura, who went a career-high 4-for-5 with a home run as the 14th-ranked Razorback baseball team rolled past the Leathernecks, 9-3 at Baum Stadium.
Arkansas (12-3) notched 15 hits in the win, including six doubles and two home runs. The six two-baggers was a new season-high for the Razorbacks as a team, while Western Illinois (2-10) was forced to use four pitchers in the loss, each giving up at least one run.
Along with Nomura, Luke Bonfield, Chad Spanberger, Eric Cole and Clark Eagan all recorded two hits or more in the ballgame. Bonfield came away with the second-highest total on the day as he went a perfect 3-for-3 with two runs scored and two doubles.
Spanberger tied a career-high four RBI in the game, three coming off a monster home run in the third inning to jumpstart the Razorback offense. Spanberger finished the game 2-for-3 with the home run and a double. Of his four hits this season, all have been for extra bases as he has two doubles and two home runs.
Freshman Blaine Knight got the win on the mound after coming in to relieve starter Keaton McKinney in the middle of the fourth inning. Knight entered the game with two outs and the bases loaded and proceeded to strikeout the first batter he faced, then only allow five base runners the rest of the way on three hits and two walks over 4.1 innings.
Knight moves his record to 2-0 on the year, while Joe Mortillaro got the loss for the Leathernecks as he is now 0-3.
Arkansas starter Keaton McKinney looked good through his first two innings of work, but struggled in the third, giving up two runs to tie the game at 2-2. Arkansas was able to score three more in the bottom half of the inning to re-take a good three run lead, but once McKinney gave up another run in the top of the fourth, Van Horn decided to go to the bullpen.
McKinney finished the game with 3.2 innings pitched, allowing three runs on five hits and walking four.
The Razorbacks lit up the scoreboard first in the second inning as Spanberger had the first of his two hits, doubling down the right field line to score Bonfield. He came around three batters later as Cole singled through the right side to make it 2-0. Cole finished the game 2-for-5 (.280) with a run scored and his first double of the year later in the game.
After Western Illinois responded in the top half of the third with two runs of their own, Spanberger gave Arkansas the lead for good with his homer to put the Hogs ahead 5-2. The table was set after a Nomura single and a Bonfield walk.
Arkansas' five through seven hitters consisting of Nomura, Bonfield and Spanberger, went a combined 9-for-13 (.692) Saturday afternoon, making up seven of Arkansas' nine runs and driving in six with two home runs and four doubles.
The Razorbacks continued to pad their lead scoring once in each of the 5th, 6th, 7th and 8th innings. Over those final four innings, the Hogs tallied seven hits, scoring four times. Nomura was responsible for two of those runs, hitting his second homer of the year in the fifth and then doubling home Clark Eagan in the eighth.
Arkansas and Western Illinois return to Baum Stadium for the final game of the series on Sunday with first pitch scheduled for 1 p.m. The game will be broadcast on SEC Network+.
For more information on Razorback baseball, follow @RazorbackBSB on Twitter.
RAZORBACK QUOTABLES
"Good job by our offense today putting a lot of pressure on Western Illinois. I think our hitters did a good job. We got deep into some counts and did a nice job of running and stealing bases. We had a couple of hit-and-runs. It seemed like almost every inning we got something going and that is one thing I like. We maintained our momentum through the entire game." – Dave Van Horn on the series victory
"(Keaton) McKinney has room to improve. He had difficulty locating his fastball; everything was elevated. (Blaine) Knight did an excellent job of getting out of the bases-loaded jam when we first brought him in. He produced a successful four innings and allowed us to build our lead." – Dave Van Horn on his pitchers
"I like doubles. They keep the game going. I like to hit two or three doubles in a row and then hit a homerun. Homeruns sometimes slow you down, but it is nice when you have the lead to gain a run here and there quickly with one swing. Those doubles seem to drive in runs, extend innings, and get pitch counts up." – Dave Van Horn on his team's six doubles in the game
"It felt pretty good. I had to work the past couple of weeks to get the feel back. It felt really good that they had the confidence in me to come in and get them out of that jam, and be able to show that I still have my stuff." – Blaine Knight on pitching effectively out of the bullpen
This guy right here (Luke Bonfield), a lot of credit to him. He's always hitting with me after games. We're always hitting in here. He's always encouraging me to keep my head up. But that's baseball. You can be 3-for-10 and be considered a hall of famer, but if you were playing football and you were 3-for-10, you aren't playing. It's a game of failure and you have to stay tough. – Rick Nomura on Luke Bonfield's breakout performance at the plate
"Before the game most of the hitters went to the indoor and worked on what coach (Tony) Vitello calls "No Peak", where you hit balls as long as you can. I feel like that really helps me and all of the other hitters. Just that approach that coach talks about." – Luke Bonfield on what was different about his approach Saturday
ARKANSAS NOTABLES
With his home run in the third inning, Chad Spanberger now has two home runs this season, both coming in the month of March.
Spanberger also has hit for extra-bases in each of his four hits this season (two doubles, two home runs).
Spanberger also had four RBI in the game, which ties his career-high set last season against North Dakota on Feb. 14, 2015.
Rick Nomura's home run in the fifth inning was his second long ball of the year.
Nomura went 4-for-5 in the game Saturday, setting a new career-high for hits in a game.
With their 15 hits against the Leathernecks on Saturday, the Razorbacks have tallied 10 or more hits in eight of their 14 games this season.
The six doubles by the Hogs is the most in a single-game this season.
Bonfield was responsible for two of those six doubles, a new single-game high for the sophomore, and doubling up his entire doubles total from 2015 (1).