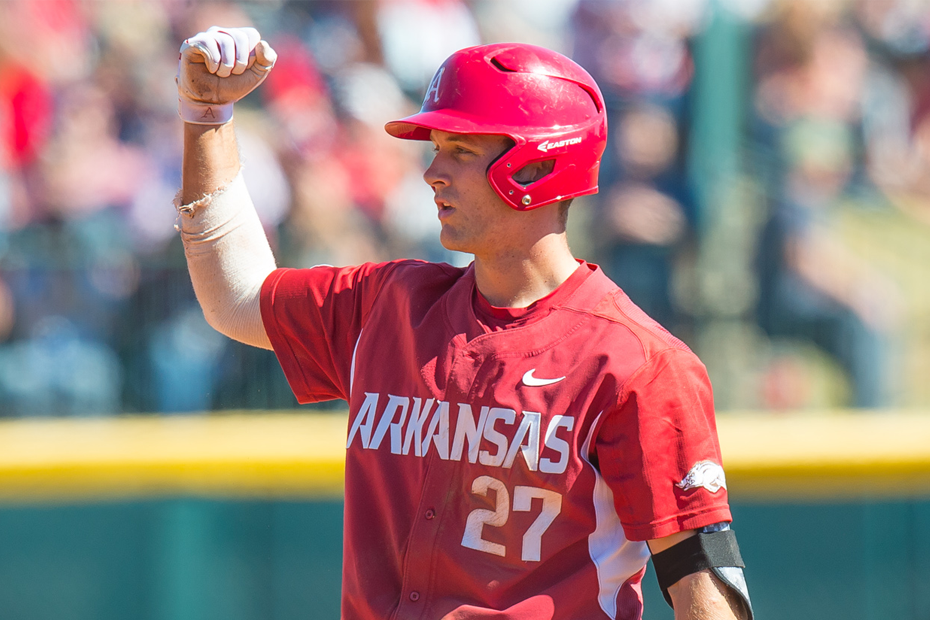 Hogs Drop Extra-Inning Heartbreaker to LSU
BATON ROUGE, La. – The Arkansas Razorback baseball team suffered a tough extra-inning loss to No. 13 LSU Saturday night, as the Tigers scored 4 runs in the bottom of the ninth inning and then scored the winning run in the 10th to win 10-9 at Alex Box Stadium.
Arkansas had a chance to win in the bottom of the ninth as relief pitcher Blaine Knight had already held LSU to just 1 run in the seventh and eighth innings and had 6 strikeouts. However, the Tigers scored four times after two Razorback errors to send the game into extra frames. Knight finished the game with 3 2/3 innings pitched and a new season-high 8 strikeouts.
In the 10th inning, LSU scored the winning run on a groundball single from Kyle Robertson deep in the hole at second base. Rick Nomura tried to get the out at first, but Robertson beat the throw and Jake Fraley, who doubled earlier, tried to advance to third. Arkansas tried to throw out Fraley, but threw the ball away and allowed the winning run to score.
Saturday marked the fifth time this year that Arkansas has gone into extras and its second loss in extra innings.
The Razorbacks tallied 15 hits in the game, forcing LSU starting pitcher Jared Poche' to be relieved in the middle of the second inning. Saturday marked the fifth time in the last seven games that the Hogs have had 10 or more hits in a game and had 7 of their 9 starters notch at least one hit.
Rick Nomura, Tucker Pennell and Cody Scroggins combined to go 9 for 13 in the game with 6 runs scored and 2 RBIs. Nomura finished the game with 2 doubles and Pennell had a career-high 4 hits, going a perfect 4 for 4 with 1 walk.
Starting pitcher Zach Jackson, although only throwing 4 innings, held LSU to just 1 run on 4 hits with 5 strikeouts. LSU had the bases loaded in each of the first two innings, but Jackson was able to minimize the damage, giving up just the 1 run in the second.
UP NEXT
The Razorbacks and Tigers will play the deciding game of their series Sunday with first pitch set for 1 p.m. CDT. The game will be broadcast on SEC Network+ and can also be heard on the radio on the Razorback Sports Network from IMG.
For more information on Razorback Baseball, follow @RazorbackBSB on Twitter.