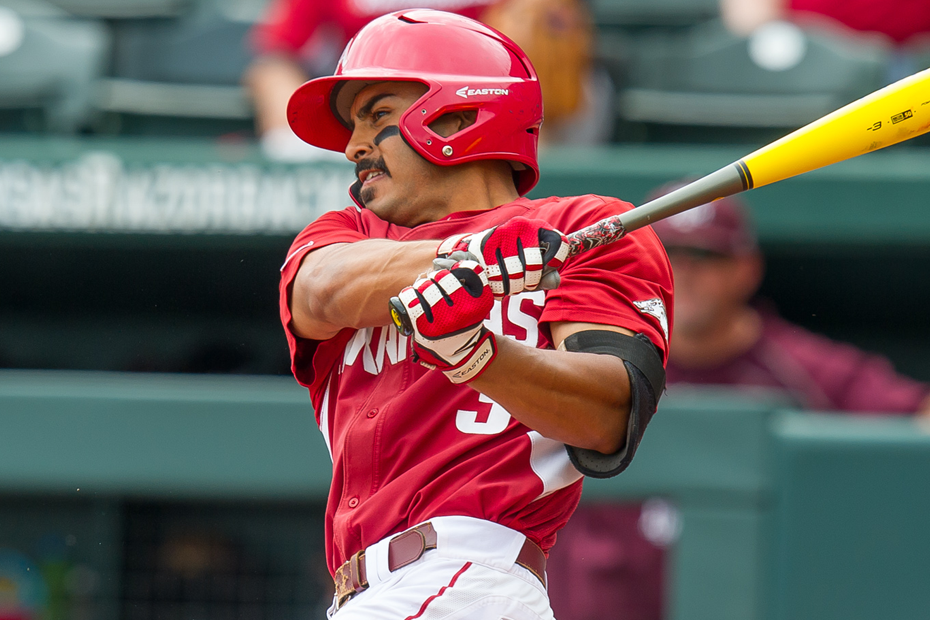 Hogs Drop Regular Season Finale to Bulldogs
STARKVILLE, Miss. – Clark Eagan's 2-run home run in the first inning gave Arkansas an early lead Saturday against No. 3 Mississippi State, but defensive errors led to a loss as the Hogs fell to the Bulldogs 9-4 in the regular season finale.
The Hogs (26-29, 7-23) couldn't string hits together until the late innings. Mississippi State's (40-14, 21-9) bullpen held Arkansas to just 2 hits between the third and seventh innings, but the Hogs pulled together 4 singles of their own in the eighth, scoring twice, giving the game its final tally.
Eagan's home run was his seventh of the year and part of a 1-for-4 game, which helped force MSU starting pitcher Konnor Pilkington out of the game in the middle of the third.
Eagan's bat has been hot toward the end of the season as he has hit .279 over his final five conference series. During that final 15-game stretch, Eagan has recorded at least 1 hit in 12 of those 15 games and tallied six multiple-hit games with 5 home runs and 12 RBIs.
Freshman Eric Cole capped off a good day at the plate for the Razorbacks, going 3 for 4, all singles. Michael Bernal also added 3 hits in the game, his third three-hit game of the year. For Cole, he sets a new season-high for hits becoming the 11th Razorback this year with a 3-hit game.
The Razorbacks committed 3 errors in Saturday's game, which led to five of MSU's six runs. In the series, the Hogs committed 10 errors, five coming in Thursday night's game 1 and two in game 2.
Ryan Rigby earned the win for the Bulldogs, improving his record to 5-1 after going 4 2/3 innings with 6 strikeouts, no runs and just 2 hits.
Jordan Rodriguez gets the loss after the go-ahead run reached with him on the mound. Rodriguez was later taken out for Doug Willey, but Willey gave up the double to the first batter he faced, allowing the run to score.
Arkansas starting pitcher Blaine Knight pitched well over 4 innings, scattering 5 hits and only allowing 2 runs, one being earned with 1 strikeout and 1 walk.
For more information on Razorback Baseball, follow @RazorbackBSB on Twitter.