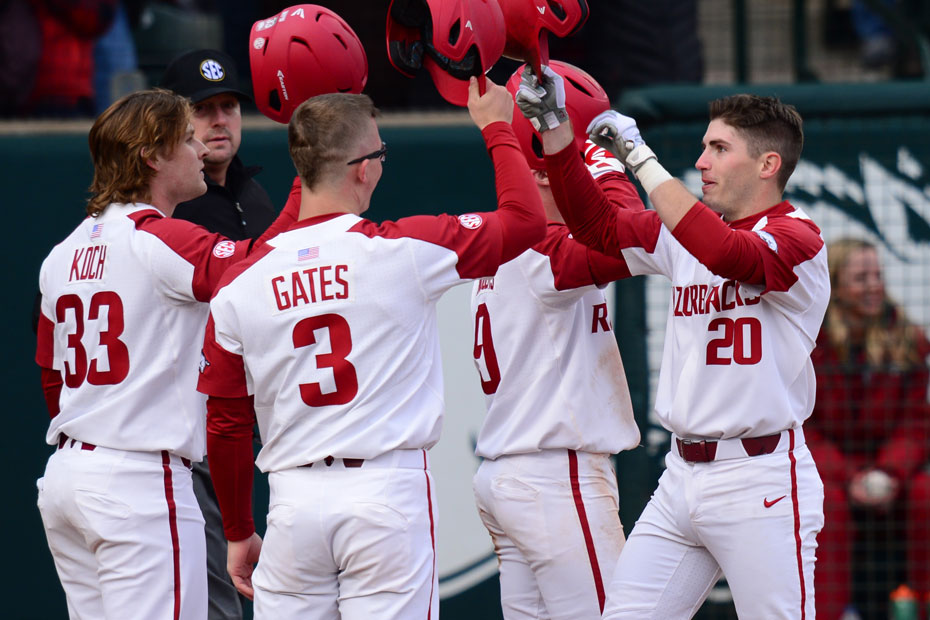 Hogs Earn Top-Four Seed Ahead Of 2018 SEC Tournament
BIRMINGHAM, Ala. — The fifth-ranked Arkansas baseball team earned the No. 4 seed for the 2018 SEC Tournament Saturday afternoon giving it a bye through Tuesday's first-round games, which are single elimination. The Razorbacks will play the winner of fifth-seeded South Carolina and 12th-seeded Missouri on Wednesday, May 23 at approximately 8 p.m. at Hoover Metropolitan Stadium.
The Razorbacks ended the regular season with a 37-17 record and an 18-12 mark in SEC play to finish as co-champions of the SEC Western Division with Ole Miss. It's the first division title for the Razorbacks since 2011 and fifth in school history. Four of Arkansas' division titles have come under current head coach Dave Van Horn.
Arkansas won five of its 10 conference series this year, including sweeps of Kentucky, Auburn, Alabama, and Texas A&M. The four sweeps all occurred at Baum Stadium and it marked the most conference series sweeps in the same season since 1999. Combined in those sweeps, Arkansas hit .342 with 100 runs scored and hit 22 home runs.
Redshirt senior Carson Shaddy leads the Razorbacks into the tournament, offensively, as he's hitting .354 with 10 home runs and 37 RBIs this season. His average, slugging percentage (.646), and on-base percentage (.451) are all top-four totals in the SEC.
The Razorbacks also bring in one of the best freshmen hitting duos in the nation in left fielder Heston Kjerstad and third baseman Casey Martin. Kjerstad and Martin are hitting .348 and .344, respectively, which are the highest averages among all freshmen in the SEC and top-11 averages among all freshmen nationwide.
Arkansas is in search of its first SEC Tournament championship in program history. It will be making its ninth appearance in the tournament in the last 10 years and 23rd overall.
The Razorbacks have made four SEC Tournament championship game appearances in their history, finishing runner-up in 1998 to Auburn, in 1999 to Alabama, in 2007 to Vanderbilt, and most recently, in 2017 to LSU.
Last year, the Hogs battled back from a first-game loss to reach the tournament final from the loser's bracket with a victory over Mississippi State and mercy-rule wins over Auburn and top-seeded Florida. First baseman Chad Spanberger was awarded as the tournament MVP and finished as the week's leader in RBIs (10), doubles (3), home runs (5), and total bases (26).
The most tournament wins for Arkansas came in 1999 when it won four games before falling to the Crimson Tide in the championship game. As head coach, Dave Van Horn is 19-24 in 13 SEC Tournament appearances.
2018 SEC Baseball Tournament Schedule
Tuesday-Sunday, May 22-27
Hoover Metropolitan Stadium, Hoover, Ala.

Tuesday, May 22
Game 1                 9:30 a.m.              #6 Vanderbilt vs. #11 Texas A&M [SEC Network]
Game 2                 TBD                        #7 Auburn vs. #10 Kentucky [SEC Network]
Game 3                 4:30 p.m.             #8 LSU vs. #9 Mississippi State [SEC Network]
Game 4                 TBD                        #5 South Carolina vs. #12 Missouri [SEC Network]
Wednesday, May 23
Game 5                 9:30 a.m.              #3 Georgia vs. Winner Game 1 [SEC Network]
Game 6                 TBD                        #2 Ole Miss vs. Winner Game 2 [SEC Network]
Game 7                 4:30 p.m.             #1 Florida vs. Winner Game 3 [SEC Network]
Game 8                 TBD                 #4 Arkansas vs. Winner Game 4 [SEC Network]
Thursday, May 24
Game 9                 9:30 a.m.              Loser Game 5 vs. Loser Game 6 [SEC Network]
Game 10              TBD                        Loser Game 7 vs. Loser Game 8 [SEC Network]
Game 11              4:30 p.m.             Winner Game 5 vs. Winner Game 6 [SEC Network]
Game 12              TBD                        Winner Game 7 vs. Winner Game 8 [SEC Network]
Friday, May 25
Game 13              3:00 p.m.             Winner Game 9 vs. Loser Game 11 [SEC Network]
Game 14              TBD                       Winner Game 10 vs. Loser 12 [SEC Network]
Saturday, May 26
Game 15              Noon                     Winner Game 13 vs. Winner Game 11 [SEC Network]
Game 16              TBD                       Winner Game 14 vs. Winner Game 12 [SEC Network]
Sunday, May 27
Game 17              2 p.m.                   Winner Game 15 vs. Winner Game 16 [ESPN2]
All Times Central
The second game of each session will begin 30 minutes after the conclusion of the first game.
For more information on Razorback Baseball, follow @RazorbackBSB on Twitter.