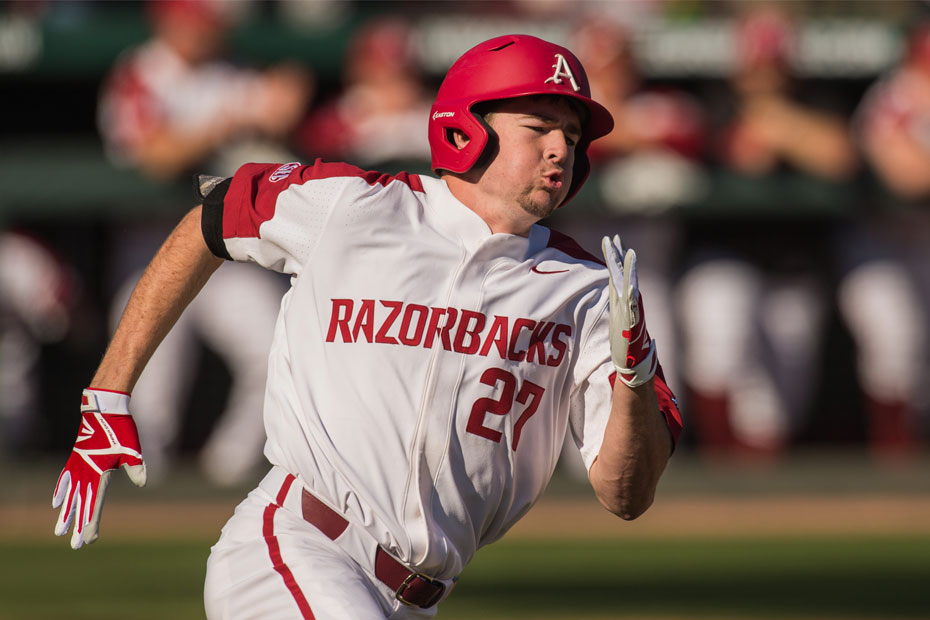 Hogs Fall In Both Games Of Doubleheader With Bulldogs
STARKVILLE, Miss. – Some breaks didn't go Arkansas' way on Saturday as the Mississippi State Bulldogs completed the three-game sweep over the third-ranked Razorbacks winning both games of the doubleheader 5-3 and 7-5 at Dudy Noble Field.
It's the first three-game series sweep that Arkansas has suffered this year and the two losses drop the Razorbacks' overall record to 28-13 overall and 10-8 in conference play.
Arkansas looked to be on its way to salvaging the final game when it jumped out to a three-run lead in the first inning, but could only score two more runs on top of that the rest of the way. Mississippi State rallied for the second time of the weekend, scoring six runs over the course of the fifth, sixth, and seventh innings and ended up with its fourth win in six games.
Sophomore Dominic Fletcher came away as the team's top hitter on the day, going a combined 4-for-7 (.571) with a run scored and a walk. Four different players recorded multi-hit games in the first game of the doubleheader, while Fletcher and senior Jared Gates were the only two with two hits or more in game two.
As a team, Arkansas had 13 hits in game one and 10 hits in game two Saturday, its' third of the last four games with 10 or more hits. This year, the Hogs have totaled 10 or more hits in 24 of 41 contests and are 18-6 in those games.
Game 1 | Mississippi State 5, Arkansas 3 (Box Score)
In the first game of the day, the Hogs and Bulldogs were locked in a low-scoring affair as starting pitchers Kacey Murphy and Ethan Small battled well into the sixth inning with only four runs crossing the plate through the first six innings.
Murphy ended up throwing 6.2 innings with three earned runs allowed, while Small went six innings and just one earned run allowed on six hits with six strikeouts. It was Murphy's third-straight start of six or more innings and he has yet to give up more than three earned runs in any appearance this season.
However, the Razorbacks could never fully catch up to the Bulldogs as a single run in the third, a two-run fifth, and a two-run eighth were all they needed to clinch the series, even with a furious late-game rally by the Hogs.
Evan Lee and Eric Cole both smacked solo home runs in the late innings to pull as close as one. Lee's came in a pinch-hit role in the seventh, his third of the year, while Cole's was part of a strong ninth-inning stand for his ninth of the year. In that ninth inning, down three runs, Arkansas was able to send seven batters to the plate, five with two outs starting with Cole's at-bat. The Hogs even got the bases loaded later in the inning, but were unable to connect on the game-tying hit they needed.
Freshman Casey Martin finished the game 3-for-5, just his second game this year with three or more hits. Heston Kjerstad, Carson Shaddy, and Fletcher all came away with two hits each in the game.
Game 2 | Mississippi State 7, Arkansas 5 (Box Score)
Arkansas jumped out to a three-run lead in the first inning of game two and looked to have new life as it tried to win at least one game of the series. The team took advantage of an MSU error that led to the game's first run and it was followed by a big two-RBI double from Jared Gates, his fifth double of the year.
Unfortunately, the Hogs were only able to score two more runs over the next eight innings, which gave the Bulldogs an opportunity to scratch their way back in. The big inning from Mississippi State came in the sixth when it scored four runs on three hits, only one being an extra-base hit, taking the lead for good.
Redshirt sophomore Isaiah Campbell pitched 5.2 innings on Saturday, giving up five earned runs on eight hits with six strikeouts. Campbell held Mississippi State to just two runs over the first five innings, but struggled to get out of the sixth inning as a two-out walk and a wild pitch eventually led to the key four runs that helped MSU take the lead.
Up Next
Arkansas returns home for its next five games starting with a two-game midweek series with Texas Tech on Tuesday at Baum Stadium. First pitch between the Razorbacks and Red Raiders is set for 6:30 p.m., while game two will be on Wednesday at 6 p.m. Game one will be televised on the SEC Network and game two will be on SEC Network+.
For more information on Razorback Baseball, follow @RazorbackBSB on Twitter.