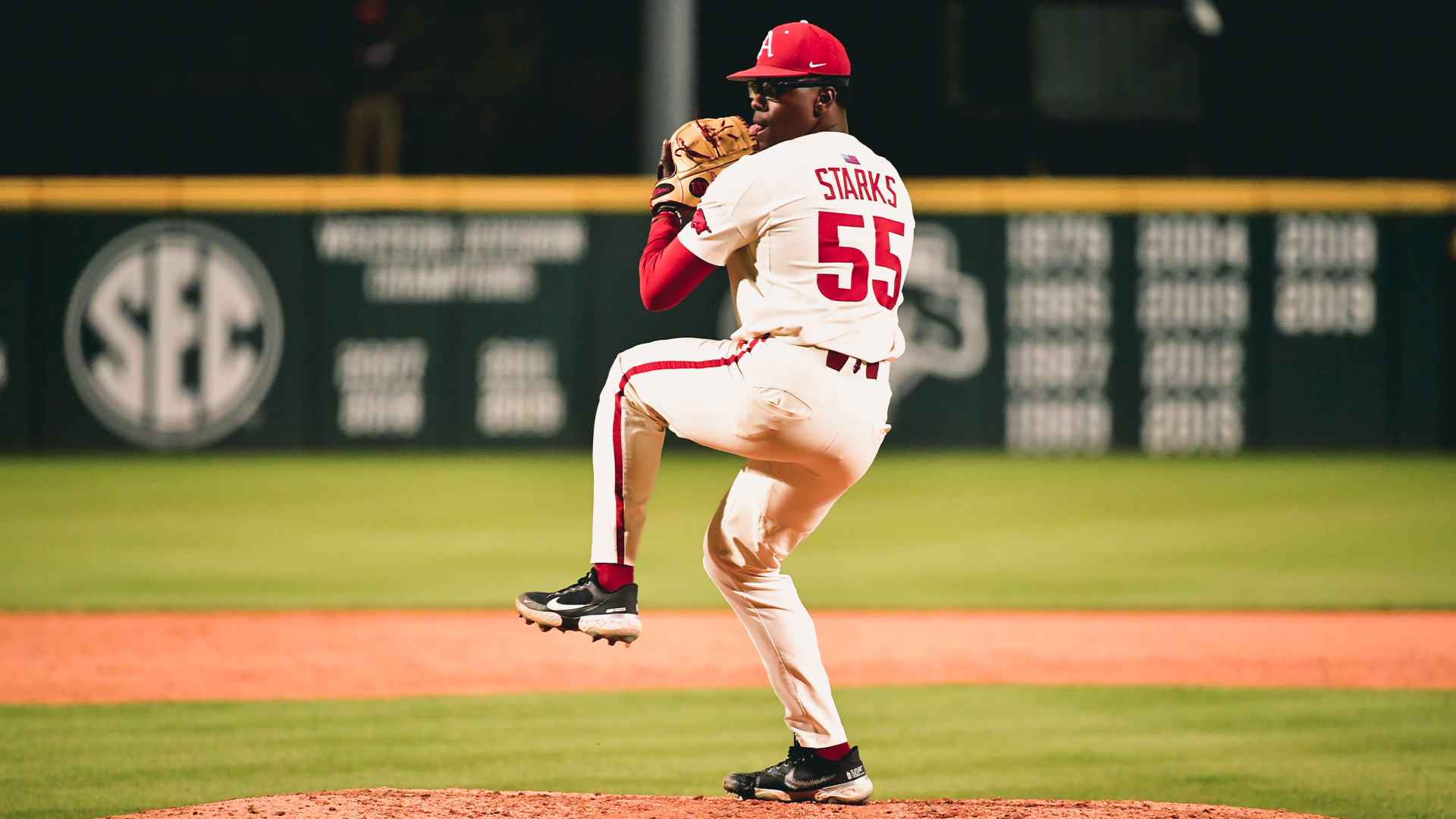 Hogs' Homestand Rolls On with SEC Action
FAYETTEVILLE, Ark. – On the heels of a historic Tuesday night at Baum-Walker Stadium, Arkansas carries an eight-game winning streak and a world of momentum into its third SEC series of the year.
The Hogs, now 20-3 overall, blasted Central Arkansas, 21-8, in the midweek clash between in-state foes. The Razorbacks scored 21 runs for the first time in a game since the 2016 season as Robert Moore drove in six runs and hit for the cycle, becoming the first Hog to do so since Kyle Harris accomplished the feat against Tennessee in 1994.
Arkansas, currently second in the SEC West with a 5-1 record, will host Auburn this week, looking to secure its third consecutive conference series win of the campaign. The Tigers come to town with an 11-11 overall record, including a winless 0-6 mark in league play.
First pitch in the opener is set for 6:30 p.m. Thursday, April 1. Game two of the series gets going at 6:30 p.m. Friday, April 2, before the finale at 2 p.m. Sunday, April 3.
Schedule
Thursday, April 1 – 6:30 p.m. – vs. Auburn – SEC Network+ – Listen – Live Stats
Friday, April 2 – 6:30 p.m. – vs. Auburn – SEC Network+ – Listen – Live Stats
Saturday, April 3 – 2 p.m. – vs. Auburn – SEC Network+ – Listen – Live Stats
Matchup & History
Thursday
Auburn RHP Cody Greenhill (2-0, 1.71 ERA) vs. Arkansas LHP Patrick Wicklander (1-0, 2.33 ERA)
Friday
Auburn LHP Jack Owen (0-1, 23.14 ERA) vs. Arkansas RHP Zebulon Vermillion (2-0, 3.14 ERA)
Saturday
Auburn RHP Joseph Gonzalez (0-2, 5.28 ERA) vs. Arkansas LHP Lael Lockhart (1-1, 2.77 ERA)
Arkansas and Auburn clash for the 94th time in history when the two teams meet Thursday evening. The Razorbacks trail in the overall series, 46-47, but own a 24-18 mark in games played in Fayetteville.
The Hogs have swept the Tigers in each of the last two series played at Baum-Walker Stadium, taking all three games in 2016 and doing so again in 2018. Arkansas is 31-21 overall against Auburn in the Dave Van Horn era with a 15-9 series lead at home, 15-12 edge on the road and 1-0 mark at neutral sites.
Tune In
All three of this week's games will stream live on SEC Network+ with Brett Dolan (play-by-play) and Troy Eklund (analyst) on the call. Catch all the action through the ESPN app on smartphones, computers and tablets or via Amazon Fire TV and Fire TV Stick, Apple TV, Chromecast, Roku, Xbox 360 and Xbox One.
The games can also be heard on the Razorback Sports Network from Learfield/IMG, including locally in Fayetteville on 92.1 FM. Phil Elson and Bubba Carpenter will have the call all series long.
Radio Affiliates
Conway – KASR-FM 92.7
El Dorado – KELD-AM 107.1 (FM Translator)
Fayetteville – KQSM-FM 92.1
Forrest City – KXJK-AM 950
Forrest City – KXJK-FM 106.5
Fort Smith – KERX-FM 95.3
Little Rock – KABZ-FM 103.7
Marshall – KBCN-FM 104.3
Mena – KTTG-FM 96.3
Rogers – KURM-AM 790
Rogers – KURM-FM 100.3
Stuttgart – KWAK-FM 105.5
Texarkana, TX – KKTK-AM 1400
Sooieville Sluggers
The nation's most homer-happy ballclub resides in Fayetteville.
Arkansas leads all of college baseball in home runs with 45 through its first 23 games of the season. The Razorbacks average an astounding 1.96 homers per game, which ranks third behind Fairfield (2.25 per game) and Northwestern (2.07 per game). Fairfield and Northwestern have played four and 14 contests, respectively, this year.
Christian Franklin leads the Hogs with his team-high seven home runs. Matt Goodheart, Brady Slavens and Cayden Wallace, meanwhile, have each launched six homers this season for the Razorbacks. Goodheart entered Tuesday's contest with a round-tripper in four consecutive contests, launching one in the series finale against Memphis before swatting home runs in each of the three games at Mississippi State over the weekend.
Arkansas' power numbers are also reflected in its team slugging percentage. The Razorbacks' slugging mark of .525 ranks sixth in the nation and second in the SEC, trailing only Vanderbilt (.549).
Something Special About Those Diamond Sports
Arkansas leads the country in home runs combined between its baseball and softball programs with 106. Courtney Deifel's squad has hammered 61 homers this season, which is second most in all of college softball.
The Razorbacks are one home run ahead of Oklahoma's baseball (21) and softball (84) teams' combined total of 105.
And That's The Bottom Line, 'Cause Baseball America Said So!
Arkansas is still the No. 1 team in the country, according to Baseball America.
The Razorbacks remained the top-ranked team in the publication's week seven poll, which was released Monday. It is the fifth straight week of the season that Arkansas holds the No. 1 spot in at least one of the six major polls.
The Hogs were previously the unanimous No. 1 team in college baseball, having led the Baseball America, Collegiate Baseball Newspaper, D1Baseball, National Collegiate Baseball Writers Association, Perfect Game and USA Today Coaches polls for two consecutive weeks.
For complete coverage of Arkansas baseball, follow us on Twitter (@RazorbackBSB), Instagram (@RazorbackBSB) and like us on Facebook (Arkansas Razorback Baseball).