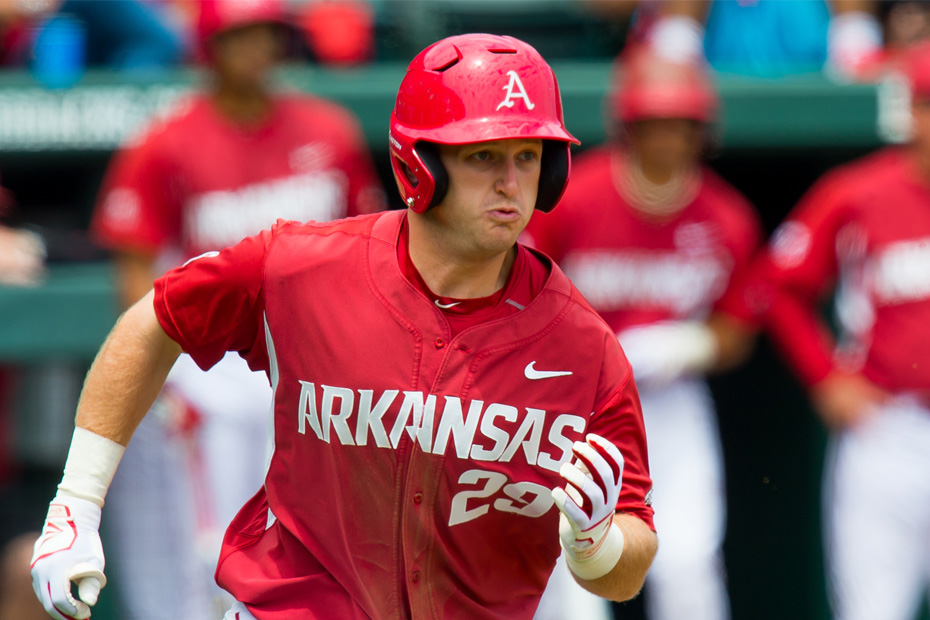 Hogs In Starkville to Finish SEC Slate
STARKVILLE, Miss. – The Razorback baseball team will finish off its conference schedule on the road this weekend as it travels to Starkville to face No. 3 Mississippi State for a three-game series starting Thursday. The series will run through Saturday with the final game broadcast on the SEC Network. First pitch on Thursday is set for 6:30 p.m. CDT.
Arkansas (26-26, 7-20) is looking to snap a 10-game losing streak when it takes the field on Thursday, but remains in contention to claim one of the final spots in the field of the Southeastern Conference Tournament. With only 12 of the 14 teams in the conference able to make the tournament, Arkansas currently sits in a tie for 13th with Tennessee and is a game behind Auburn and Missouri for 12th place.
The Razorbacks will look to get a good outing from junior Dominic Taccolini to start the series on Thursday. Taccolini is 5-4 this year in 12 starts, all in game 1 of weekend series. Taccolini is hoping to regain the form that notched a complete game 10-inning shutout against Kentucky four weeks ago as he brings in a 5.81 ERA with 58 strikeouts in 66 2/3 innings pitched.
Things to know
Freshman Isaiah Campbell threw one of his best games of the year last Friday night against Alabama, going a season-high five innings and only giving up 1 hit to give Arkansas a chance to mount a comeback.
Campbell retired the final nine batters he faced and could help bolster the starting rotation this weekend as he was mentioned by head coach Dave Van Horn as a possible starter for game 2 or game 3. This year, Campbell has a 3.77 ERA in 12 appearances with five starts and 22 batters struck out.
Sophomore Carson Shaddy continues to lead all Hog hitters into the weekend series with a .337 average. Shaddy is one of just three Razorbacks hitting over .300 this year, along with Luke Bonfield (.311) and Cullen Gassaway (.301).
Gassaway has been one of Arkansas' best hitters in SEC play as he's hitting .329 in 21 conference games with six doubles and 10 RBIs. Gassaway went 5 for 8 (.625) at the plate last week against Alabama, which included his third three-hit game of the season in Sunday's finale.
Freshman right-hander Blaine Knight is another arm that may see more production this weekend against the Bulldogs. Knight, who started out the year as one of Arkansas' primary weekend arms, has now become one of the Hogs' best pitchers out of the bullpen.
In 11 appearances out of the bullpen, Knight has accumulated a 0.74 ERA in 24 1/3 innings pitched. He and fellow freshman Barrett Loseke (0.00) are the only two pitchers with a sub-1.00 ERA out of the bullpen this season. Overall, Knight has a 3.05 ERA, but has only given up three runs in his last 10 appearances, two coming in his Sunday start last week against Alabama.
Follow Live
Thursday and Friday's first two games of the series this weekend with Mississippi State can be seen online on SEC Network+. Saturday's final game between the two teams will be broadcast on the SEC Network.
Phil Elson (play-by-play) can be heard on the radio via the Razorback Sports Network from IMG. Fans in the Fayetteville area can listen to the game on the flagship station 92.1 FM The Ticket or online at ArkansasRazorbacks.com.
Probable Starters
Thu | 6:30 p.m. | (ARK) RHP Dominic Taccolini (5-4, 5.81 ERA, 58/24 K/BB) vs. (MSU) RHP Dakota Hudson (8-3, 2.52 ERA, 91/27 K/BB)
Fri | 6 p.m. | (ARK) TBA vs. (MSU) RHP Austin Sexton (6-2, 3.69 ERA, 78/20 K/BB)
Sat | 5 p.m. | (ARK) TBA vs. (MSU) TBA