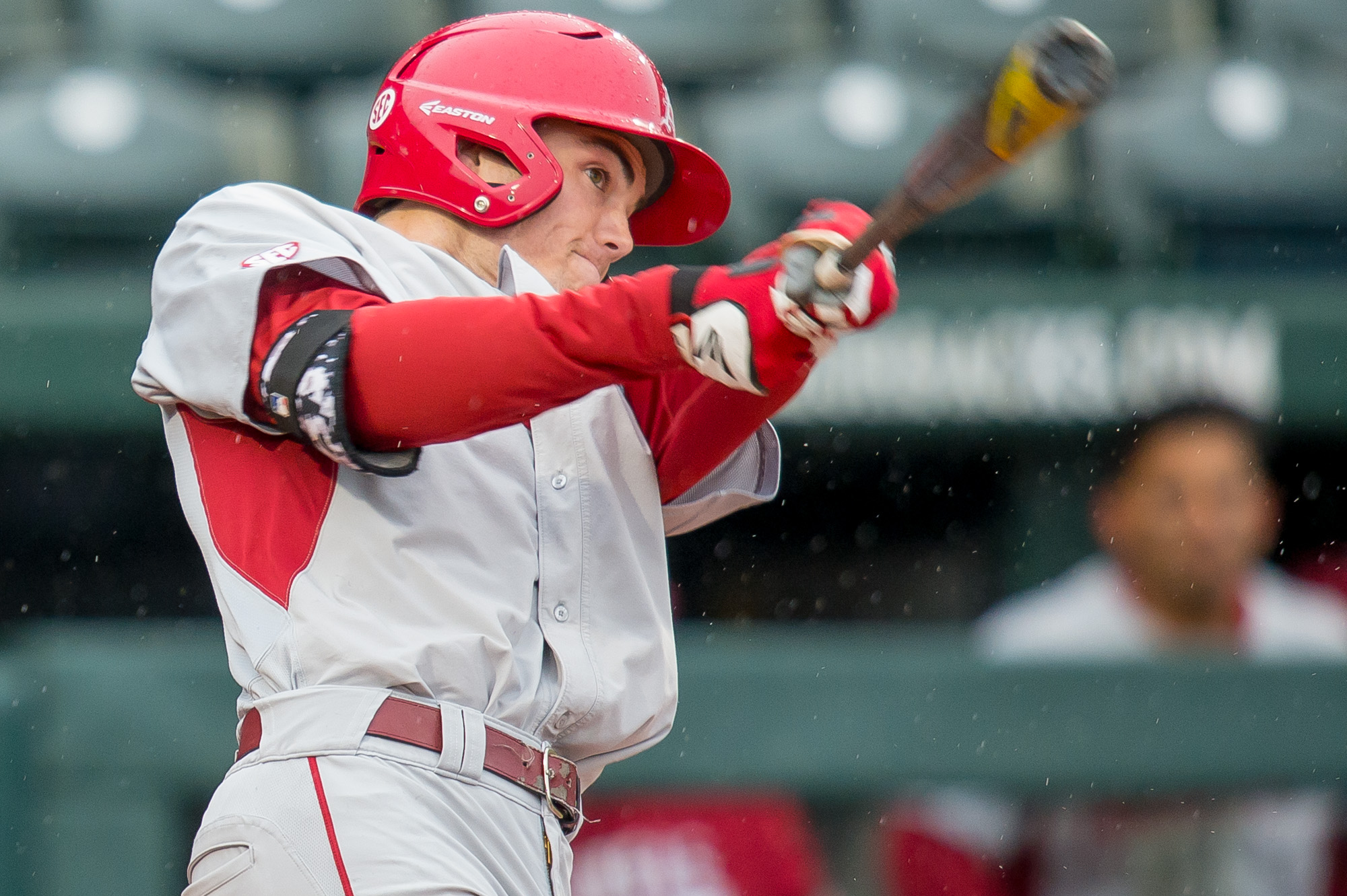 Hogs Manufacture Good Win Over Rice
HOUSTON, Texas – Junior Dominic Taccolini picked up his second victory of the season and Zach Jackson picked up his second save in as many opportunities Friday night as the No. 18 Razorbacks beat No. 24 Rice, 5-2, at Minute Maid Park to remain undefeated at 6-0.
Taccolini, who allowed two runs in the fourth inning after the Hogs had taken the initial 2-0 lead, was really in control for the majority of the night, scattering five hits with six strikeouts and only one walk. Jackson picked up the three inning save after coming in to pitch in the seventh, striking out four and only allowing one hit. The save was his 13th of his career.
"I thought we did a good job of playing to the competition," Arkansas head coach Dave Van Horn said. "I thought we stepped it up today. Dominic and Zach both did a great job tonight. With this being Dominic's hometown, I was concerned he'd be a little too hyped up, but he came out and was under control. He used that moving fastball a lot and threw some breaking balls in there."
At the plate, Carson Shaddy finished 2-for-4 with two RBI, including the key sacrifice fly in the seventh that gave the Hogs a much needed insurance run heading into the final innings.
Clark Eagan and Austin Catron both had two-hit ball games, as well, as Eagan had two doubles in the game. Arkansas only managed seven hits in the game, but benefitted from late walks given up by Rice starting pitcher, Jon Duplantier, and a wild pitch that broke the 2-2 tie in the seventh.
Unlike its last two games, Arkansas had to work a little to manufacture the runs it needed to beat the Owls. It all started in the second inning when Cullen Gassaway hit a lead-off double. He moved all the way around to score later in the inning after groundouts by Rick Nomura and Luke Bonfield, giving the Hogs the 1-0 lead.
The Hogs added another in the fourth in similar fashion after Shaddy singled and Eagan doubled. Shaddy was able to score on a Gassaway ground out, making it three of Arkansas' five runs that were scored via groundouts.
Rice tied the game up in the bottom half of the fourth on a Dayne Wunderlich two RBI single, which turned out to be Taccolini's only real mistake pitch of his entire outing. He was able to settle down right away as he retired the next six of seven batters he faced to finish out his six-inning outing as strongly as he started.
The Razorbacks finally broke through again in the seventh scoring twice after Duplantier loaded the bases on a walk and two hit batters. A wild pitch scored pinch runner Darien Simms to push Arkansas ahead 3-2 and spelled the end for Duplantier.
Arkansas added one more in the inning after Rice made a pitching change, getting a deep sacrifice fly by Shaddy for the insurance and that fourth run would be all it needed for the remainder of the game as Jackson shutdown Rice for the final three frames.
"Jackson isn't just a one inning guys," Van Horn said. "He could be a starter for us if we wanted to use him that way. We've been calling him our 'wild card.' If we pitch him three innings today, we probably won't pitch him tomorrow and then have him close on Sunday."
Jackson struck out four of the nine batters he faced, striking out the side in the eighth and finishing the game off with another strikeout in the ninth. Jackson has struck out nine batters in his three appearances so far this season. That total ties for the team lead and is most for a non-starter in the Razorbacks' lineup.
Arkansas is back at Minute Maid Park Saturday afternoon for its second game of the Houston Shriners Hospitals for Children College Classic, as it will face No. 9 Houston (4-1) at 3:30 p.m. The game can be seen on MLB Network except in Arkansas, Louisiana, Texas and Oklahoma. Fans in those states can view the game on ROOT Sports Southwest.