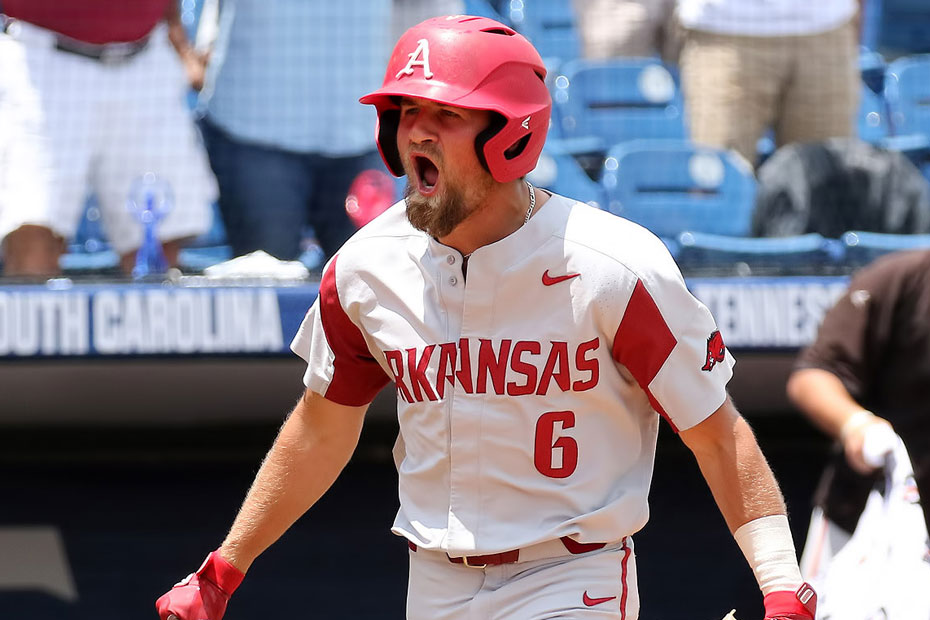 Hogs Move On To Semifinals With Complete Performance
Box Score (PDF) | Tournament Bracket
HOOVER, Ala. – The fourth-seeded Arkansas Razorbacks played long ball again Friday afternoon, while getting another strong start from right-handed pitcher Blaine Knight, to defeat the top-seeded Florida Gators, 8-2, in the third round of the 2018 SEC Tournament.
The win places the Razorbacks into the tournament semifinals for the second-consecutive year and third time in the last five years. They will play the winner of LSU-Florida for a spot in the championship.
Freshman third baseman Casey Martin continued to stay hot with the bat with a second inning two-run home run, while Knight had a strong six-inning outing, holding Florida to just one run, earning his second win over the Gators this year and 10th for the season.
Martin now has three home runs in just two tournament games and has 13 home runs for the year, tying the Arkansas freshman single-season record (Zack Cox – 2009).
As for Knight, the junior remained undefeated for the season (10-0) by allowing just one run, a home run, over six innings and allowing four hits coupled with four strikeouts on 99 pitches. The Bryant, Arkansas native now claims two wins this year over the top-ranked team in the nation and is the only pitcher in the country with a perfect 10-0 record. He's also the first Arkansas pitcher with 10 or more wins in a season since Ryne Stanek won 10 in the 2013 season.
The Hitting
Seven of Arkansas' starters recorded at least one hit off the Florida pitching staff in Friday's game. Martin and shortstop Jax Biggers recorded two hits in the game to lead all players. Martin now has four hits through two tournament games and extends his hitting streak to five games. Biggers was making his first start since fracturing his left index finger on a bunt attempt against Texas A&M (May 11), but showed no rust, going 2-for-3 at the plate with singles in the fifth and ninth innings.
After Martin's home run in the second, Arkansas was able to add two more runs in the sixth inning, piecing together two-RBI singles from Dominic Fletcher and Jared Gates. The Hogs saw their first three batters reach base in the inning before Fletcher's RBI and then got Gates' hit with two outs that eventually led to the exit of Florida starter Jackson Kowar.
Fletcher also showed out in the field with, yet, another diving catch and throw to double off a runner. In the third inning, Florida had runners on first and second with two outs before Nelson Maldonado laced a low liner to centerfield. Fletcher made the diving catch and was able to catch Jonah Girand trying to tag up and advance to third, ending the inning. The Gators only got two other runners to third base throughout the rest of Knight's outing.
In the ninth inning, Arkansas put an exclamation point on the win when redshirt junior Hunter Wilson hit a grand slam off Gator pitcher Andrew Baker, his first career home run and third grand slam by an Arkansas player this year (Jordan McFarland, Eric Cole).
Wilson came in as a pinch runner for Luke Bonfield in the eighth inning and stayed in the game as the designated hitter. He got a chance to hit in the top of the ninth after Arkansas had loaded the bases with two outs. Wilson took a 1-0 pitch over the right field wall, extending the Hog lead to 8-2.
Wilson is the third player in this year's tournament to hit a grand slam, joining Auburn's Edouard Julien and South Carolina's L.T. Tolbert. He only had 43 at-bats with 11 hits on the year, two for extra bases, before his ninth-inning slam on Friday.
The Pitching
Knight moved to 10-0 on the year with his six-inning outing against the top-seeded Gators. He saw his ERA drop to 2.78 with just the one run allowed and joins Florida's Brady Singer as the second pitcher in the SEC with 10 or more wins on the season.
The bullpen behind Knight did its job also as junior Barrett Loseke and sophomore Matt Cronin locked up the final three innings, holding Florida to just one run on one hit with seven strikeouts combined. Loseke threw a perfect seventh inning and came back for the eighth, but ran into trouble when Florida put two runners on with no outs, leading Dave Van Horn to bring in Cronin.
Cronin got out of the jam with just one sacrifice fly allowed and he struck out two in the process, including SEC Player of the Year Jonathan India.
The Navarre, Florida native was amped up for the final inning as he struck out the side to end the game and locked up his 11th save of the year, second in as many outings. Cronin is now just two saves away from tying the all-time Arkansas record for saves in a season (13, Colby Suggs in 2013).
Razorback Quotables
Blaine (Knight) is one of those guys when he pitches we usually play really well behind him. It's like our defense is on its toes. They compete for him, and he competes for us. I thought he did a good job. It was a hot day, humid. When out, as usual, he gives us a chance to win. I'm just proud of him and our team for getting up early and coming out here and getting after it." – Head coach Dave Van Horn on the win over Florida
"I felt pretty good. My breaking ball was a little shaky. I kept airing it, and it was up. I hit a guy with it. I was trying to keep it in the zone, but everything else was really good. Against Florida, I tried not to make mistakes over the plate. They are a team that if you make mistakes, they will punish you. They're No. 1 for a reason. I was trying to make them hit my pitches and let my defense do the rest." – Blaine Knight on his six-inning outing and 10th win of the year
"When I was on deck, Coach Van Horn told me to be ready to slap something the other way because that's usually what I do. I got a breaking ball down and got the bat head out and let the wind do the rest, I guess. It was fun. It was a good time. It was everything you dream about. That's for sure." – Hunter Wilson on his ninth-inning grand slam
"I thought Blaine threw a really good game. He's thrown well all year, but like coach said, it does seem like every time he pitches our defense really plays behind him. We have a lot of trust in him. I'm just glad we can go out and do what we do with him." – Casey Martin on Blaine Knight's performance
Up Next
Arkansas now waits to see who its opponent will be in the tournament semifinals between eight-seed LSU and top-seed Florida. Both the Gators and Tigers are set to face off at the Hoover Met later tonight, but rain has delayed the game prior to it between seven-seed Auburn and two-seed Ole Miss.
Game time for the Razorbacks will be 30 minutes after the conclusion of the first semifinal game, set for Noon in Hoover.
For more information on Razorback Baseball, follow @RazorbackBSB on Twitter.