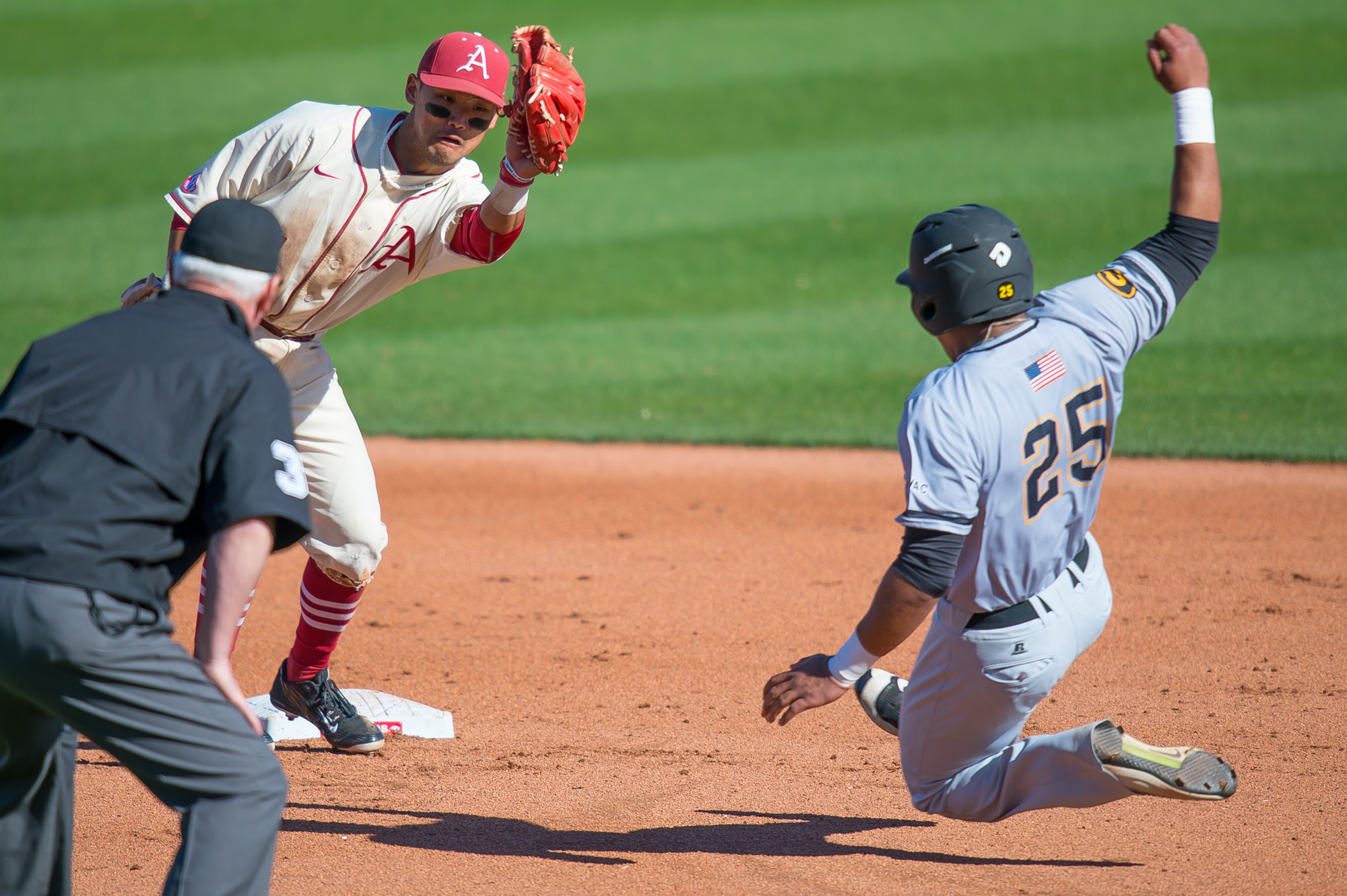 Hogs Ready To Go For SEC Opener At South Carolina
Arkansas Notes vs. South Carolina (PDF) | Watch ESPN/SEC Network+
COLUMBIA, S.C. – After an 18-game non-conference schedule, the 13th-ranked Razorback baseball team opens the SEC portion of its schedule this weekend in Columbia, South Carolina as it will face the No. 12 Gamecocks for a three-game series starting Friday at Founders Park.
Arkansas (15-3) enters the game on a five-game winning streak and has yet to lose a series this season, coming off a two-game midweek sweep of Grambling State and a three-game sweep of Western Illinois. Arkansas is off to one of its best starts in recent years, reaching the 15-win plateau quicker than in the last three seasons.
Dominic Taccolini will get the ball Friday as he will be making his fifth-straight Friday start on the mound. Taccolini leads the Arkansas pitching staff with a 2.16 ERA and has three wins with only six runs given up and five walks over 25 innings or work.
South Carolina (17-2) enters the weekend with one of the best pitching rotations in the SEC as they lead the conference with a 1.97 team ERA. Friday starter Clarke Schmidt has four wins in four starts and has only given up one run in 28.1 innings.
Follow Live
Fans can catch the entire series on SEC Network+ and the WatchESPN app with Derek Scott (PXP) and Trey Dyson (Analyst) on the call. Also, all three games of this weekend's series can be heard on the radio via the Razorbacks Sports Network from IMG with Phil Elson (PXP) calling the action.
Arkansas and South Carolina's Friday SEC opener will be part of the "SEC Bases Loaded" special on the SEC Network. The Bases Loaded show is a live compilation of seven games — all 14 SEC teams — taking place that evening across the southeast. Kyle Peterson and Chris Burke, will join Dari Nowkhah to provide analysis and play by play for the Bases Loaded presentation. The network will whip-around to all seven games throughout the evening taking "live look-ins" as the games are being played.
Probable Starters
Fri. | 6:30 p.m. CT | (ARK) RHP Dominic Taccolini (3-0, 2.16 ERA, 23/5 K/BB) vs. (USC) RHP Clarke Schmidt (4-0, 0.32 ERA, 32/5 K/BB)
Sat. | 3 p.m. CT | (ARK) TBA vs. (USC) RHP Braden Webb (3-1, 1.80 ERA, 21/13 K/BB)
Sun. | 12:30 p.m. CT | (ARK) Keaton McKinney (0-0, 6.46 ERA, 4/9 K/BB) vs. (USC) RHP Adam Hill (4-0, 0.47 ERA, 32/3 K/BB)
LEADING OFF
The Razorbacks are fresh off a two-game midweek sweep of Grambling State to finish off a 10-game homestand. On Tuesday, Arkansas put up 14 runs and sophomore Carson Shaddy went 3-for-3 with a career-high six RBI, the most by a Razorback in a single-game since Brett Eibner in 2010, defeating the Tigers, 14-4.
On Wednesday, Arkansas pulled out the one-run victory using the speedy Darien Simms on the basepaths in a pinch-run situation. Simms stole second, then reached third on the bad throw from the catcher and later scored on a wild pitch, winning the game for Arkansas, 3-2.
Senior infielder Rick Nomura seemed to break out of his hitting slump as he hit his second home run of the season in Arkansas' 9-3 win over the Leathernecks Saturday to secure the series win. Nomura went 4-for-5 in the game, a career-high in hits and scored three runs, while driving in two. Nomura hit his third home run on Tuesday vs. Grambling State, part of a 3-for-4 day with a career-high four runs scored. Over his last six games, the Hawaiian has gone 10-for-22 (.455) at the plate, driving in nine runs and hitting three home runs, while scoring nine times
Arkansas pitchers Dominic Taccolini and Zach Jackson combined for one of the best performances on the mound this season when the two hurlers combined for a season-high 14 strikeouts last week against Western Illinois. Taccolini turned in his second seven inning outing of the year, striking out nine (tying career-high) and had a no-hitter through the sixth inning. Jackson struck out five batters in his own right over the game's final three innings.
Freshman Barrett Loseke was given the opportunity for his first career start Sunday in the series finale against Western Illinois. Loseke didn't disappoint going a season-long four innings, while only giving up one hit with no runs. Over the 10 innings he's pitched this season, Loseke has yet to give up a run.
RAZORBACK HISTORY VS. SOUTH CAROLINA
Arkansas leads the all-time series, 37-29, with South Carolina as Friday's game will be the 67th meeting between the two clubs. The two teams did not face off last year, but the Hogs took 2-of-3 from the Gamecocks back in 2014 in Fayetteville, Ark.
South Carolina last won a series against Arkansas in 2012 during the regular-season and also took two games from the Razorbacks in 2012 at the College World Series.
HOGS AND GAMECOCKS LAST 12 RESULTS
| | | | |
| --- | --- | --- | --- |
| Date | Location | Result | Score |
| April 5, 2014 | Fayetteville, Ark. | W | 7-0 |
| April 4, 2014 | Fayetteville, Ark. | W | 4-1 |
| April 4, 2014 | Fayetteville, Ark. | L | 2-1 |
| March 24, 2013 | Columbia, S.C. | W | 5-3 (11) |
| March 23, 2013 | Columbia, S.C. | W | 4-2 |
| March 22, 2013 | Columbia, S.C. | W | 15-3 |
| June 22, 2012 | Omaha, Neb. | L | 3-2 |
| June 21, 2012 | Omaha, Neb. | L | 2-0 |
| June 18, 2012 | Omaha, Neb. | W | 2-1 |
| May 6, 2012 | Fayetteville, Ark. | L | 10-7 |
| May 5, 2012 | Fayetteville, Ark. | W | 7-6 |
| May 4, 2012 | Fayetteville, Ark. | L | 8-6 (10) |
PREVIEWING THE ARKANSAS ROTATION
Righty junior Dominic Taccolini makes his fifth Friday start in a row this week as he goes up against South Carolina's number one pitcher, Clarke Schmidt.
Taccolini has gone at least five innings in each of his four starts so far this year, with a season-high seven innings twice (Central Michigan and Western Illinois).
Taccolini has a 2.16 ERA to go with three wins. He's pitched 25 innings and allowed just six earned runs with 23 strikeouts and has only walked five batters all year.
The junior also has yet to to give up an extra base hit this season out of 12 hits total.
Sophomore Keaton McKinney gets the call for Sunday as he's made four starts in as many weekends heading into the SEC opener.
McKinney has a 6.46 ERA with 15.1 innings pitched, allowing 16 hits, nine walks and striking out four.
His best outing came two weeks ago when he pitched a season-high seven innings, giving up just one earned run and retiring the last 15 of 16 batters he faced.
Dave Van Horn has yet to announce a starter for Saturday's game two.
CARSON SHADDY BREAKS OUT THE BAT
On Tuesday against Grambling State, sophomore third baseman Carson Shaddy did something that a Razorback hadn't done since 2010, tally six RBI in a single-game.
Not since 2010 with Zack Cox and Brett Eibner had a Razorback had six or more RBI in a game. Eibner's came in an NCAA Regional game against the same Grambling State team. Eibner finished with three home runs and seven RBI.
Shaddy went 3-for-3 with two doubles, two runs scored and six RBI against the Tigers, setting a new career-high for doubles and RBI in a single-game.
The Fayetteville-native had notched an RBI in five-straight games before putting up six on Tuesday against Grambling State. The two doubles were also his first two-baggers of the season.
Shaddy joins three other Razorbacks that have had two doubles in a game this season (Bonfield, Eagan and Pennell).
Shaddy is currently leading the team with a .391 average with 25 hits, eight for extra bases, five home runs and 18 RBI.
His five home runs is currently tied for the SEC lead.